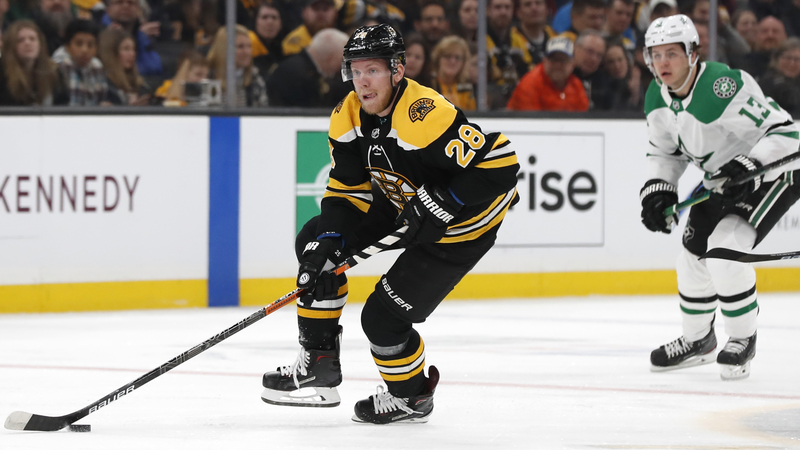 By: Lucas Pearson | Follow Me On Twitter @LucasPearson_
What is up with Kase and Ritchie?
There is a lot up in the air with the Bruin's two most recent acquisitions. We know Ondrej Kase was the only player to not travel to Toronto with the team. It's been said that the Czech Republic native will meet the team later, but if he's healthy, what role will he have? He's only played six games with Boston, and with younger guys (that will be mentioned later) getting more chemistry with the team, it will be interesting to see what type of role he'll have when he's with the team.
That same story remains true with Nick Ritchie. Despite traveling to Toronto with the team, Ritchie has just now made his first on ice appearance in Ontario's capital, in an optional skate this morning. He wasn't featured Bruin's lineup in the exhibition game and it's anyone's guess as to when he'll join the Bs for a game. The physical forward would be a really nice addition to the lineup, and his presence would be a welcome addition to the forward group.
How will the kids play?
The Bruins seem to have three players penciled into their lineup that have yet to play a playoff game in their NHL career. The trio of players are Anders Bjork, Jack Studnicka and Jeremy Lauzon. I recently wrote an article about how I believe Bjork has a good chance to break out in the playoffs. He's an incredibly skilled player that has had success in every league he's been in. The Notre Dame alum has developed into a really good 200-foot player and is a guy I can totally see having a Marcus Johansson like run in the playoffs.
As for Studnicka, it appears that he will get the start to the right of David Krejci on the second line and I love it. He's done everything you want in a young player making the jump to the pros. He led the entire AHL in shorthanded goals and was within the top 15 in both total goals and points. Getting the chance to play in the top six in the NHL playoffs as a 21-year-old is not something many can do, especially for a President's Trophy winning team. It's been all praise from teammates and I'm really excited to see how he does after his promising showing in the exhibition game.
We saw Connor Clifton take big steps in his NHL career last year as a rookie in the playoffs, and now Jeremy Lauzon is looking to do the same. The French-Canadian plays the perfect playoff style of hockey. The adjective I would use to describe him certainly wouldn't be shy as he already has 10 fights in his short NHL career. He's added a nice physical presence next to Matt Grzelcyk and that bottom pair has been a big part of the B's success. Since joining the big club, the Bruins have had a 15-3-1 record in games Lauzon has played in.
Can Rask replicate last year's playoff success?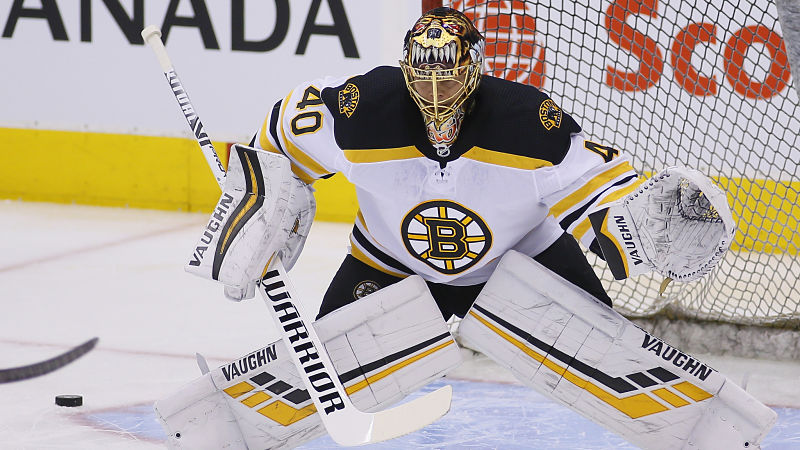 Rask was excellent in the 2018-19 Playoffs. Saying anything but that would be idiotic.  Outside of the final game of the Cup, Rask was absolutely dominant in elimination and series clinching games. In five elimination games, the Finnish tender allowed just four goals to go with a .973 save percentage. And as crazy as it may sound, he was even better in series clinching games. He allowed ONE goal in the three games, good for a .990 save percentage and if you picked this up, well done, had more shutouts than goals allowed. Those are elite numbers. 
It will definitely be interesting to see how the time off will affect the B's starter coming off of his best regular season since winning the Vezina in 2014. Luckily if Rask falters for any reason, they have one of the best backups in the league in Jaroslav Halak. But let's hope it doesn't come to that.
Will the formatting of the playoffs hurt the Bruins?
Well the immediate answer is yes. As they were six points up on the second place team in the league, Bs were poised to finish the regular season as the number one seed. They would've had home ice throughout the entirety of the playoffs but are now forced to play in a round robin to determine where they finish. If the Bs fail to maintain the top spot in the East they would end up playing a better team than they would have normally faced. Can you believe if they end up playing the Penguins in the first round instead of a team around the 7-9 seed? No disrespect to any of those teams, but that would be incredibly tough on the Presidents Trophy winning team. 
If there's any pro out of this, it would be the fact that the Bruins now play high intensity games that matter, but without a lose or go home stipulation. Maybe if they don't show up in the three round robin games it sends a message. Maybe if they DO show up it will give the team confidence and add a little swagger to their play. I guess we'll just have to wait and see.
Can the veterans succeed after so much time off?
There's no questioning if the leadership of the Bruin's veterans will be there when the playoffs begin, it will. But will their usual great play be there as well? Zdeno Chara (42), Patrice Bergeon (34), David Krejci (33) and Brad Marchand (31) have all had amazing NHL careers, but without a proper training camp and so much time off, it may be tough to get back into the swing of things with the intensity of playoff hockey. Brad Marchand said earlier in quarantine that he thinks younger teams like the Maple Leafs and Lightning will have the advantage over teams with an older core. With that being said, you know Bruce Cassidy and co will have the Bruins ready to play when the time comes.
Check out the new Black N' Gold Hockey Podcast episode 187 that we recorded below! You can find our show on many worldwide platforms such as Apple Podcasts, Google Podcasts, iHeart Radio, Spotify, SoundCloud, and Stitcher.
[soundcloud url="https://api.soundcloud.com/tracks/865048084″ params="color=#ff5500&auto_play=false&hide_related=false&show_comments=true&show_user=true&show_reposts=false&show_teaser=true&visual=true" width="100%" height="450″ iframe="true" /]
Please subscribe to our new Black N' Gold Hockey YouTube channel! We'd really appreciate the continued support. Click HERE for exciting Black N' Gold online content!!
Please subscribe to our new Black N' Gold Hockey YouTube channel!