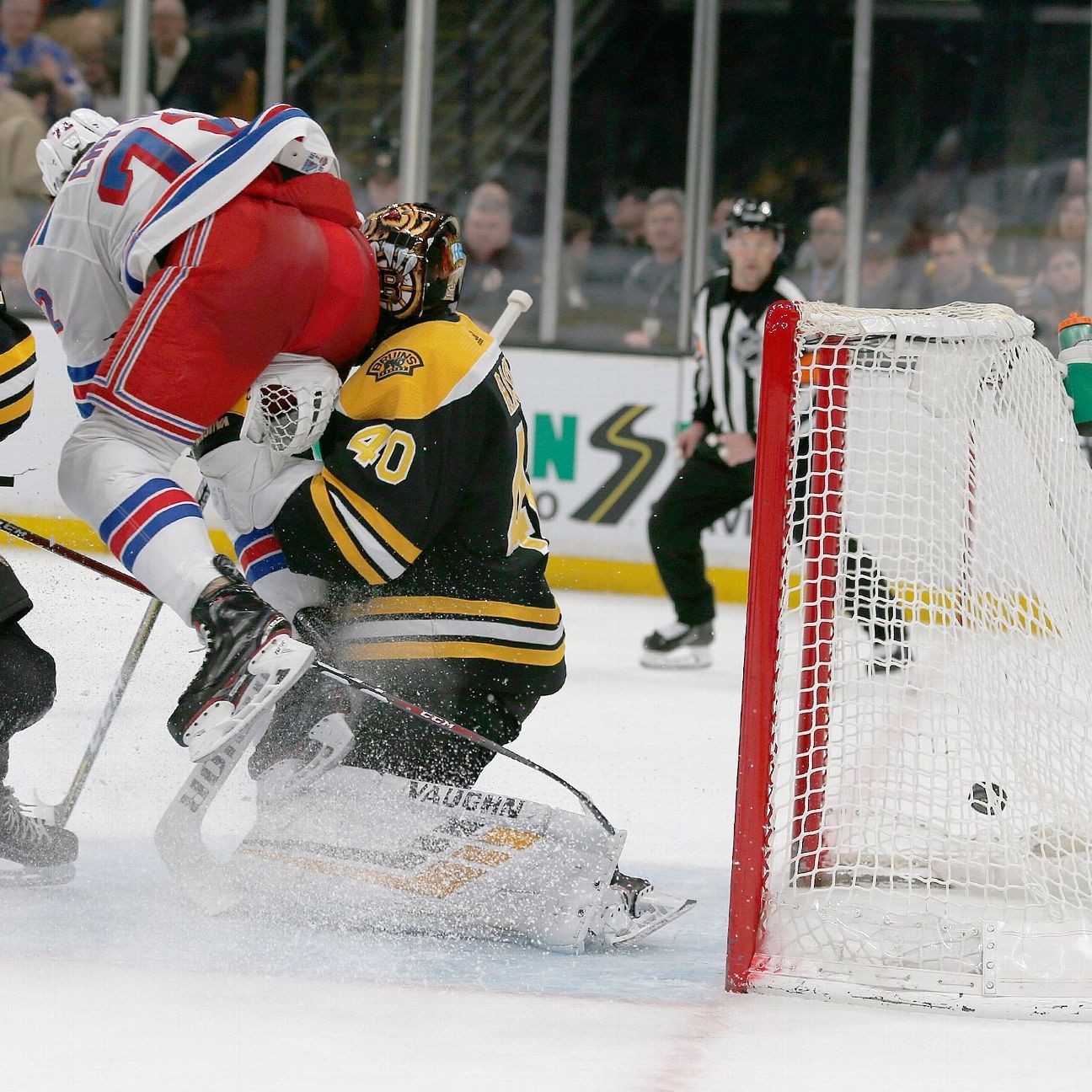 ( Photo Credit: ESPN.com )
By Nick Sutherland  |  Check Me Out on Twitter (@Sudsy8)
Late in the first period of the Saturday night's Bruins versus the Rangers game, Tuukka Rask was injured by a hard drive to the net by NY Rangers forward Chytil, he went to the net hard and ended up with his back end towards Rask. The hit on the Boston goaltender forced him to fall back and hit his head on the post. It was not a good look as Tuuka stayed down for multiple minutes as the trainers got to him rather quickly. With that being said, we as a fan base need to know who could be the potential replacement for Halak as the new backup goaltender until Rask seemingly passes the NHL's concussion protocol.
Providence currently has two goaltenders on the active roster; with Zane McIntrye having a better season to date than his counter-mate Daniel Vladar. McIntyre the 6′ 2″ 205 lb goalie from Minnesota had a rough beginning of the year for Providence, but since the December 29th game against Hersey, he has been tremendous. In his last 10 games started, starting with a game against Hersey, he has posted a 2.20 GAA and has won 9 of those 10 games. His only blemish was the game against Binghamton Devils on December 21st in which he let up 5 goals on 22 shots.
Zane McIntyre presumably next man up if Rask is out. He's playing best hockey of season with wins in five straight starts

— Mark Divver (@MarkDivver) January 20, 2019
https://platform.twitter.com/widgets.js
The month of January has been great for McIntyre. In his last 8 games, he has a .911 SV%. McIntyre has yet to be called up since the 2016-17 season where he started 3 games for the Bruins but struggled mightily in those contests. The 26-year-old netminder has yet to register his first career NHL win. With that being said, he projects as a career AHL player but could get spotty back up games a low ceiling goaltender in the NHL.
( Photo Credit:  Providence Bruins / Flickr )
The other Providence goaltender is Daniel Vladar, a 2015 third-round pick of the Bruins is a 6'5" 190lb native of the Czech Republic. He has gotten spot starts in the last two seasons in the AHL with the majority of the time spent at ECHL affiliate Atlanta, but this year he has been given a bigger workload in Providence. Now, he is a '97 birthdate, so he is tremendously young. He has a much higher potential than 26-year-old McIntrye does with Vladar not turning 22 until the off-season.
Here's Dan Vladar making the sprawling, desperation save as he's dead to rights on the PK tonight. Vladar is big and tall, but he moves with purpose and efficiency in the crease. He's also very athletic and has the potential to be a starter in the NHL. #NHLBruins pic.twitter.com/EXHGUxFiEF

— Bruins Network (@BruinsNetwork) November 2, 2018
https://platform.twitter.com/widgets.js
Vladar has struggled a bit the last few months, in his 10 starts in December and January so far this season he is 3-4-3 with a .899 Save percentage. Some of those losses have come from a high volume of shots that he is seeing, two games against Springfield in January he stopped 72 out of 80 shots.     Some goalies develop slowly, but he has the size to be a true starter in the NHL. He has struggled this year in the AHL with a 6-8-4 record. He began the year pretty strong but has only won one regulation game since 12/8.
( Photo Credit:  Alan Sullivan Photography )
I would imagine the Bruins call up McIntyre if they do indeed lose Rask for a significant amount of time. The B's are currently in day number four of the nine-day league-mandated bye week and get back to work on Tuesday, January 29th, 2019, against the Winnipeg Jets. Rask will have up to 10 days to recover. The Bruins are usually pretty vague when they release injury information, with that being said, I figure they are going to call this an upper-body injury. We all know that it probably is a concussion for Rask.
Check out the available tickets from our advertising partner SeatGiant for your next Boston Bruins game. Click the link below, and when purchasing any event ticket, from the NHL, NBA, MLB, NFL to concerts and shows, please use discount code BNGP to save a little money. Thank You!