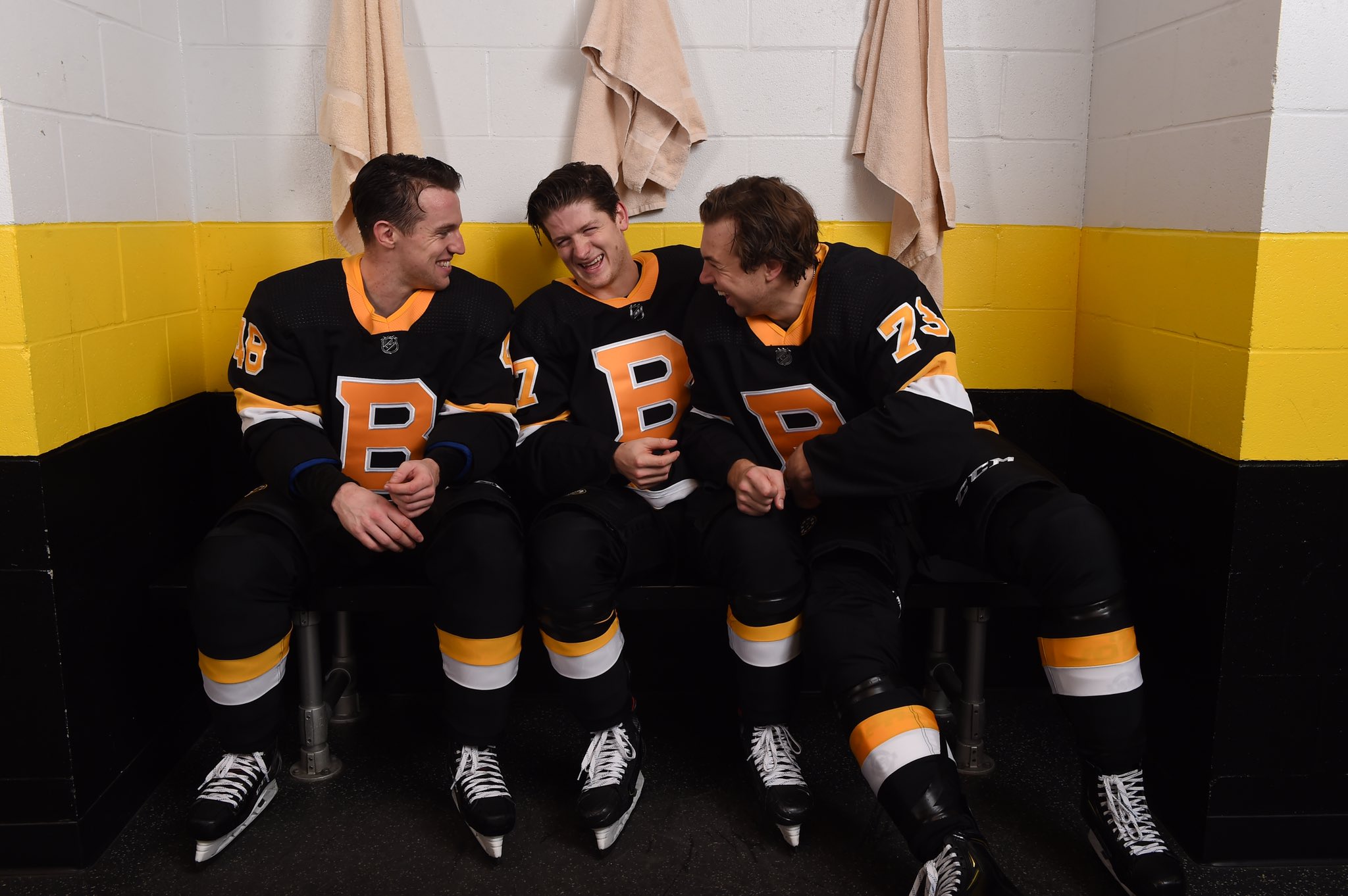 (Photo Credit: Boston Bruins)
By: Evan Michael | Follow me on Twitter @00EvanMichael
The Boston Bruins have been CARVING UP the competition this year. The team is tops in the Atlantic. Tops in the East. Tops in the league! As we recently shared here on the Black N' Gold blog, they're also tops in the community:
Mayor @marty_walsh and @BPDPCGross from @bostonpolice have joined up with Big Zee to carve some turkey at @SFHBoston. 🦃 #NHLBruins pic.twitter.com/T2d2fO62ef

— Boston Bruins (@NHLBruins) November 28, 2019
It's a lot to be thankful for, indeed! Speaking of giving thanks, the Thanksgiving holiday is often looked at as a marker on the schedule. If a team is inside the playoff bubble come Turkey Day in the U.S., there's a good chance they'll make a realistic run for the NHL's second season come the New Year.
And with the NHL Thanksgiving Showdown now putting national audience attention on how top teams are performing nearly a third of the way into the season, the B's will fittingly be debuting their third jerseys to close out November at home at TD Garden against the Rangers.
👀 #NHLBruins pic.twitter.com/09gEjcMNpM

— Boston Bruins (@NHLBruins) November 24, 2019
The buzz "B"-hind this new alternate jersey was initially mixed, with social media calling up similar designs for the B's 2019 Winter Classic jersey and the team's 75th NHL Anniversary jersey worn back in 1992-93 (of which I have an Andy Moog home ice gem). However, as more and more posts, pics and clips showcased the historical reverence of the design combined with modern-day jersey mesh and tech, the overall look and feel of this sweet sweater got a boost in popularity — especially with "models" like this:
Bjorkie and Cliffy may have a second career in modeling.#NHLBruins pic.twitter.com/feTuR7sPI1

— Boston Bruins (@NHLBruins) November 24, 2019
I, for one, find the simplicity of the logo to be its strong point — not to mention the eye-popping color and size of the big block "B" crest at its center. Truly, if anything should be front and center on a third jersey, it's the letter/logo that best symbolizes the history and familiarity of the team.
Hitting the ice and the shelves Black Friday.
Get yours on 11/29 at the ProShop powered by @47.

More details: https://t.co/T3CoFP5c4s pic.twitter.com/aOGTfp17tQ
— Boston Bruins (@NHLBruins) November 24, 2019
Speaking of history, the new third jersey design is inspired by two of the franchise's earliest logos and looks. Between 1930-1936, Boston featured the "block B" on every jersey — first in black and then in brown. I featured these in my Best Bruins Logos article right here on the BN'G blog last year. The first time it appeared in gold in big block lettering was in the late '40s / early '50s, as our friends at SportsLogos showcased in a retrospective picture collage below:
(Photo Credit: SportsLogos.Net)
Add in the fun fact that the B's will debut this all black (n' gold) jersey on Black Friday, and of course have it on sale for all the holiday shoppers, and what you have is the perfect recipe for a fulFILLing day of fanfare and fun.
The NEW third jersey for the Bruins:

Love 'em it hate 'em? pic.twitter.com/WkEWUV73Zs
— Wicked Take (@WickedTake) November 24, 2019
The B's are confidently on pace to make history this season. Now that they'll be wearing a part of history as well, I'm liking the look of things to come… first, second, even THIRD time's around!
Happy Black Friday, Black N' Gold Supporters! Please subscribe to our new YouTube channel! We'd really appreciate the continued support. Click HERE for exciting Black N' Gold online content!
[youtube https://www.youtube.com/watch?v=D4MR0BSHfTo&w=560&h=315]
Please subscribe to our new Puck Lines Podcast YouTube channel for Bruins recap videos brought to you in partnership with Black N' Gold Hockey!!