(Photo Credit: The Boston Globe)
By Mike Cratty                                                                                       Twitter: @Mike_Cratty
The Boston Bruins 2017-2018 lineup is sure to feature some new faces, and lack some old faces, but who will be those new faces? Dominic Moore, Joe Morrow have already found new teams, and John-Michael Liles and Drew Stafford aren't expected to be back. Colin Miller was plucked by the Vegas Golden Knights in the expansion draft, and Jimmy Hayes was bought out. Some replacements within the organization are in order, but could a free-agent, or two help fill some holes?
There are younger players that could step in. Realistic options include Jake DeBrusk, Danton Heinen, Kenny Agostino, Anders Bjork, Peter Cehlarik, Sean Kuraly, Rob O'Gara, and Matt Grzelcyk.
There are three free-agents that I have in mind. Those free-agents are veteran winger Thomas Vanek, and defensemen Johnny Oduya and Brian Campbell. David Pastrnak will likely command somewhere around $6 million of the Bruins $12,976,665 of cap space. Leaving room to sign a veteran of two on a reasonable deal.
Thomas Vanek
(Photo Credit: The Hockey News)
Let's start with a guy who has been known to light up the scoresheet the Bruins, Thomas Vanek. He is only 33-years-old, an age as I see as a perfect veteran age, 33-35 years old.
Vanek spent this past season with the Detroit Red Wings and the Florida Panthers. He played 48 games a Red Wing and potted 15 goals, along with 23 helpers, good for 38 points. Pretty good numbers on a struggling team.
He was then acquired by the Florida Panthers as a deadline rental for a 2017 conditional third-round draft pick and Dylan McIlrath. With the Panthers, he had two goals and eight assists, totaling 10 points in 20 games.
David Krejci needs a more capable veteran on his wing. David Backes just didn't gel with David Krejci, Vanek can play on both wings and could be a much better fit that can still produce. A move like this could move David Backes to third line center, a position in which he could thrive in. He is a natural center and just isn't a great winger.
Contrary to the opinion of some, I think 20-30 games with Providence is the right thing for Jakob-Forsbacka Karlsson. Unless of course, he kills it in camp and the preseason. The Washington game aside last season, he needs to get used to the pro game before jumping into an important bottom-six role.
If having a sturdy presence on David Krejci's wing works out, we could increase in production from David Krejci as well and growth from whoever plays on the other side.
Johnny Oduya
(Photo Credit: NHL.com)
Johnny Oduya was acquired by Chicago the from Dallas at the deadline for forward Mark McNeill and a conditional 2017 fourth-round pick. He carries a valuable veteran presence, as well as playoff experience and success.
He has won two Stanley Cups with the Chicago Blackhawks (2013, 2015) and puts up serviceable bottom-pairing numbers. He has 106 playoff games under his belt since first seeing NHL action in 2006. Four of the playoff runs he has been a part of have gone at least 13 games.
Last season was a bit of rough one for Oduya, only playing in 52 games as a member of both the Dallas Stars and Chicago Blackhawks. In 37 regular season games with the Stars, Oduya had a goal and six assists. With the Blackhawks, in 15 regular season games, he had a goal and an assist, equalling two points.
Brian Campbell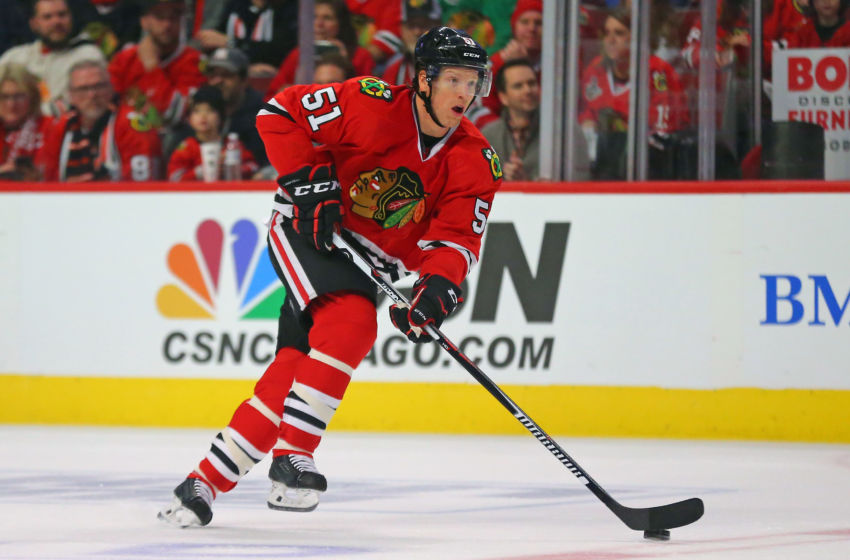 (Photo Credit: Blackhawk Up)
Lastly, there is Brian Campbell, Campbell doesn't fit in my idea of a prime veteran age, but he is a player that I like a lot and could bring a lot to the Bruins. Durability, playoff experience and success and consistency are the things that stick out when talking about Brian Campbell.
Since being drafted in 1997, but not playing in a playoff game until 2005, Campbell has played in 107 playoff games. Beating former Hawks teammate Johnny Oduya, five of the playoff runs he has been a part of having gone at least 13 games.
Campbell has played in 326 of 328 regular season games over the past four seasons. That is remarkable for a player during their mid to late thirties. Add 10 playoff games over the past two seasons to that.
Last season, he had five goals, 12 assists, and 17 points in 80 games as a Chicago Blackhawk.
Possible Lines
The lines could look like this, this partly based on my hopes for who slots in and who doesn't:
Forwards
Marchand-Bergeron-Pastrnak
Cehlarik-Krejci-Vanek
DeBrusk-Backes-Bjork
Beleskey-Nash-Acciari
Schaller/Vatrano
*Sean Kuraly, Danton Heinen and Jakob Forsbaka-Karlsson spend time in Providence seasoning their games, Frank Vatrano could be traded, Ryan Spooner will be*
Defense
Chara-McAvoy
Krug-Carlo
Campbell/Oduya/Miller-McQuaid
O'Gara/Grzelcyk/Postma
*If Campbell or Oduya sign, Kevan Miller plays on the right side with them. McQuaid either becomes the seventh defenseman, or he is traded*
Goalies
Rask
Khudobin
These are lofty hopes as of now, but shouldn't be ruled out. That third forward line could be lethal. Jake DeBrusk and Anders Bjork are very talented, but they don't need to be in the top-six in order to show their talents. Playing on the third line with a veteran in his natural position could be very beneficial.
Peter Cehlarik is a player that played well with David Krejci last year in short time and has a solid two-way game. He could fit very nicely with David Krejci and whoever the second line right-wing will be with another shot.
The defense is interesting. With what Torey Krug is being paid, he needs to make the jump into a top-four role. Carlo is more defensively minded than McAvoy, which could help make the jump easier for Krug.
The serviceable veteran presences of Campbell or Oduya would be welcomed on the third pair. This is a Bruins team that showed us something last year against the Eastern Conference runner-up Ottawa Senators, without Brandon Carlo. Both Campbell and Oduya have won Stanley Cups. Their playoff experience and successes could be huge in getting the Bruins past the first round and maybe further.
They aren't defensemen who will produce at a high level but will serve a purpose and could be very valuable in a playoff run.
Some have speculated Jakub Zboril as a guy who could make the team. Zboril has come far, but I think some AHL time would be good for him. The jump from the QMJHL to the NHL is a big one.
This Boston Bruins lineup has a lot of questions, and things will become more clear as the summer progresses.