(Photo credit: Bruce Bennett)
By: Chris Nosek | Follow Me On Twitter: @cnosek6342
So we've already established the fact that Don Sweeney had a near complete rebuild to undertake when he took over the position of Bruins General Manager. After trading away some popular veterans and having some rocky times through free agency, Sweeney found himself with some low-risk veteran players, and a number of draft picks in the early rounds over a number of seasons. With a clear strategy of "draft and develop," the most defining aspect of Sweeney's career as GM for the B's organization is how well do the players selected on draft day ultimately perform/pan out. Knowing that none of his draft selections have had a complete career, we can only assess the players based on their performances at their current levels and where they stand in regards to an NHL roster spot — regardless of which organization they are currently with. So how has Sweeney fared so far in this most crucial aspect of his position?
Drafting
Even though the 2016 draft was the first draft where Sweeney carried the "General Manager" title, the 2015 draft was the first one that Sweeney really had a hand in the players who were chosen. So going to back to the first draft Sweeney heavily participated in with this organization, how has he performed and where are his draft selections now?
2015
Jakub Zboril                          Jake DeBrusk                                        Zachary Senyshyn

Brandon Carlo                      Jakob Forsbacka-Karlsson                  Jeremy Lauzon

Dan Vladar                            Jesse Gabrielle                                      Cameron Hughes

Jack Becker
After some wheeling and dealing — combined with some down seasons for the Flames and Kings — Sweeney found himself with three consecutive picks in the first round along with three picks in the second round for the 2015 draft. Many felt that a combination from the six picks in the top 61 would be enough to boost Boston about 8-10 picks higher in the first round so they could select the top defensive prospect Noah Hanifin, a native of Norwood, Mass. Unfortunately, none of the teams above them were willing to help Sweeney in such a manner — causing Hanifin to be selected 5th overall by Carolina. Sweeney thus found himself with three consecutive selections to make.
(Photo credit: Bruce Bennett)
Jakub Zboril, Jake DeBrusk, and Zach Zenyshyn will forever have their careers linked to one another as Sweeney picked each one at 13th, 14th, and 15th overall. Senyshyn has been a bit derailed in his development due to various injuries, however, he along with Zboril have shown great strides in their growth and both competed for spots on the NHL roster this season. Even though they are both starting in Providence, they will be able to offer great depth this season and as veteran pieces start to fall off the roster to free agency. Debrusk, on the other hand, posted 43 points over 70 games last season and won himself a spot on the second line next to David Krejci. The biggest surprise from this group came from 20-year-old Brandon Carlo stepping up in the 2016-17 season and stealing a top-four spot on the blue line fresh out of the draft.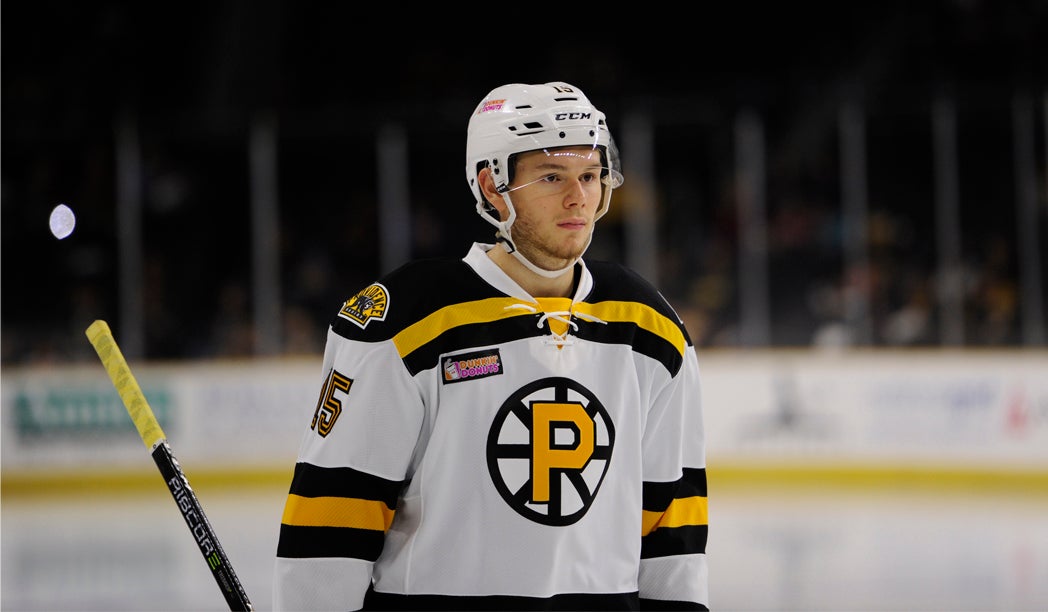 (Photo Credit: providencebruins.com)
Coming out of a seven-round draft, any general manager would be thrilled to have two NHL regulars and two future NHLers only three years later. Sweeney, on the other hand, put himself in a better position than that by having six remaining selections. With those other selections, he chose Dan Vladar, who is showing incredible growth at every level and will be a regular in Providence with Zane McIntyre this season and will most likely surpass him as the next NHL goaltender behind Rask. If his development path continues as it has been over these past 3 years, it is clear that he currently stands as the heir apparent to Tuukka. Lauzon also has shown consistent development and growth even though he was quickly designated for Providence out of the preseason, there is currently a nice logjam on this team along the blue line that means Lauzon can focus on fine-tuning the finer points of his game and wait for his chance to steal an opening in the lineup.
With Forsbacka-Karlsson and Gabrielle joining Zboril, Lauzon, Senyshyn, and Vladar in Providence, this would be a fantastic draft (despite the recent attitude problems they may be dealing with when it comes to Gabrielle). Staying off the radar have been Hughes and Becker have been playing their game in the NCAA while Hughes joins the Baby Bruins for the first year of his ECL this season. Compile these strong, young players with the future picks that Sweeney and the organization will make, some will certainly be moved for picks and other pieces – that won't mean they were bad draft picks.
2016
Charlie McAvoy                               Trent Frederic                                  Ryan Lindgren

Joona Koppanen                             Cameron Clarke                                Oskar Steen
After having (and making) 10 selections during the 2015 draft, having only six selections in 2016 seemed like so few in comparison. After finishing up his career at Boston University,  1st round pick Charlie McAvoy skipped over Juniors and the AHL as the Bruins had to dig deep into their blue line depth during the playoffs in 2016-17. This caused them to burn the first season of McAvoy's ELC. His 3 points in 6 games and average 26:12 of ice-time during the playoffs, was enough to prove that even at only 19 years old he was ready for the NHL. Now that he is a top-pairing defenseman, partnered with Zdeno Chara, and his abilities on the power play and 5-on-5 have solidified him as an anchor on this blueline for many more years to come.
 (Photo Credit: Jeffrey T. Barnes)
Like JFK and Studnicka, Trent Frederic performed admirably in the preseason this season while vying for the third-line center position. Ultimately, like JFK, he was sent down to Providence, but Frederic proved that he too is not far from being ready to make the jump to the NHL level. With Bergeron and Krejci having 4 and 3 years remaining on their contracts JFK, Studnicka, and Frederic all have the ability to take their time and develop their game without the pressure of needing to be NHL-ready right now. Even if Clark, Koppanen, Lidgren, and Steen don't develop as projected, this draft would already be a success for Sweeney as McAvoy and Frederic look like they will be key pieces in the NHL for many more seasons. I don't see all four of these guys making it to the NHL in a Bruins sweater as there is so much competition in the organization. That means they could be dealt away for either draft picks or in a package for veteran talent.
2017
Urho Vaakanainen                       Jack Studnicka                               Jeremy Swayman

Cedric Pare                                    Victor Berglund                            Daniel Bukac
(Photo credit: bostonbruins.com)
So far from this draft class, the first three picks Sweeney made are really standing out, and this group is being led by Jack Studnicka. At only 19, Studnicka put himself in the running for the open third-line center position after just five games in Providence last season. In his three seasons with the Oshawa Generals, Studnicka has scored 26, 52, and 72 points while playing in 62, 64, and 66 games played, and he has averaged slightly more than a point per game for most of his career at all levels. Although he made a great push for the open third-line center role this season, you can't read too much into his being sent back to Oshawa because he isn't even eligible to play for the Bruins in Providence.
Again, when it comes to the number of people currently battling for NHL roster spots, the benefit for Urho Vaakanainen is that he can work on his game at his own pace. He has proven thus far to be a solid two-way player on the blue line, which is what the Bruins will need as more defenders are due up for contracts. The 19-year-old defender moves the puck well and makes quick decisions and will have at least one season in Providence to fine-tune the skill set he already possesses. His progression has allowed him to make the roster going into this season as Torey Krug will be starting the season on IR with a re-aggravated ankle injury. Swayman, also only 19 years of age, is working his way through the University of Maine and his progress made the Bruins confident enough in their depth between the pipes they subjected Zane McIntyre to waivers earlier this preseason. McIntyre cleared through the waiver process and will split the time with Dan Vladar as projected; however, his clearing waivers could be a case of an unwritten rule between GMs to not claim other teams waived players as they cut down to 25 players going into the season. If he gets called up during the season to replace an injured Rask or Halak, I'm not sure McIntyre clears waivers again.
2018
Axel Andersson                               Jakub Lauko                                     Curtis Hall

Dustyn McFaul                                  Pavel Shen
Sweeney made it clear going into the draft that he was going to try to swing a deal to obtain a 1st round pick as he was without one going into Dallas because of the deal that brought in Rick Nash. Having the fewest picks of any draft to date, Sweeney was able to steal Axel Andersson and Jakub Lauko. Out of nowhere, Lauko was this season's Brandon Carlo, and at only 18, he made the roster out of the preseason. Lauko is able to play the left side and the center positions while offering solid skating, speed, and a shot that can find the back of the net.
To recap; Don Sweeney has drafted a total of 27 players across his four drafts with the Boston Bruins. Of the 27 players, he already has FIVE players in the NHL with McAvoy, Carlo, and DeBrusk playing crucial roles on this Bruins team, with another 10-12 players who are vying heavily for NHL roster spots or will be over the next year or so. Presuming none of the other players develop their talents fully (an unlikely possibility) that would put Sweeney at having found 15 NHL players (let's be conservative) out of 27 draft picks. That would be a success rate of about 56%. Although that doesn't seem like a very high percentage, we will certainly need to re-evaluate these draft classes in another year or two to have a final number. Given the short period of time that has passed since their selection this is an incredible draft rate to fine NHL talent, and more importantly, Sweeney has been able to identify players at areas of need before a critical moment for the organization.
Over the next five seasons (assuming no trades are made) Sweeney will need to have replacements for; Bergeron, Krejci, Chara, Miller, Krug, Backes, and Rask. It would see that Sweeney has potentially been able to check off a number of these slots with the likes of; JFK, Studnicka, Carlo, Vaakanainen, McAvoy, Frederic, and Vladar. This is going to be an incredibly fun season for watching the Boston Bruins, however, it will be just as exciting to watch the Baby Bruins down in Providence as we look to see which of these youngsters can push some of the veteran players (like Kampfer, Wagner, Backes, or Nordstrom) out of a job.