(Photo Credit: Boston Bruins)
By: Evan Michael | Follow me on Twitter @Evan007onTV
The Sports Museum honored former Boston Bruins coach (and one-time player as you may recall from an earlier article I wrote for the Black N' Gold Blog) Don Cherry at the TD Garden on Wednesday, November 28th amid a crowd of other sports legends connected to the city and the region. Still fashionably flamboyant & crazily charismatic as ever, Cherry arrived truly "well-suited" for the celebration as you can see from the B's Twitter account below:
Now that's a good-looking suit.

Hockey legend and former #NHLBruins coach Don Cherry is back at @tdgarden tonight as one of the honorees at @TheSportsMuseum's 17th Annual Tradition. pic.twitter.com/QYsmCkL3MW

— Boston Bruins (@NHLBruins) November 29, 2018
Don Cherry, 84 yrs young, looking as sharp as ever. Nice to have him back on Causeway St. #Tradition2018 #NHLBruins pic.twitter.com/aL9VokQwqB

— Tricia McCorkle (@triciamcc1) November 29, 2018
The Tradition event is an annual ticketed gala that raises money (and awareness) for The Sports Museum, one of the "hidden gems" inside the home of the B's that many fans forget is a must-see stop in my humble hockey opinion (IMHHO, as you may recall). As described by its website:
The Sports Museum is a non-profit educational institution that has served Boston and New England for the past 40 years.

Founded in 1977 and housed on Levels 5 & 6 of the TD Garden, The Sports Museum features a half-mile of exhibits celebrating the history and character of Boston sports.

Through its educational programs Boston vs. Bullies (www.bostonvsbullies.org) and Stand Strong, The Sports Museum leads the way in using the power of sports to help kids build character and prevent and stop bullying. All told, more than 25,000 upper elementary and middle school students each year experience a character building Sports Museum educational program.

Delaware North Companies, Inc. – Boston (the company that owns the TD Garden and the Boston Bruins) provides The Sports Museum with office space, exhibit space, and management support. The presenting sponsor of The Sports Museum is New Balance Athletics, Inc.
That's right… it features a HALF-MILE of exhibits celebrating the history & character of Boston sports, especially the Bruins. And when it comes to the team's history, there may be no bigger character than Don Cherry. To wit:
[youtube https://www.youtube.com/watch?v=AkRQKa3fz4U]
And this was from earlier this year, mind you. Do yourself an entertaining favor and just google his "Coach's Corner" broadcasts for Hockey Night in Canada with Ron McLean, in particular the older ones. You'll BEAR witness to one of the most colorful, kooky, critical and at times uncensored personalities the game has ever known (which is old news for many spoked-B followers who are in their 40's and above but required viewing for anyone within and around the millennial age bracket).
Speaking of brackets, when the B's unceremoniously bowed out of their 1979 playoff one against their arch rivals–the Montreal Canadiens–in game 7 due to a historic too-many-men-on-the-ice blunder with the lead and only minutes to go, a less than cherubic Coach Cherry fielded what may be the best post-game presser in the annals of hockey history… or at least Bruins history:
[youtube https://www.youtube.com/watch?v=v1WIHEJwYqE]
I've never been able to look at any of my Aunts in the same way ever again. If this sentence and sentiment doesn't make sense… please take the time to watch the above clip from :25 seconds to :30 seconds (or skip it if you don't want to be offended, which in this day & age seems to happen no matter what someone says so just watch it and laugh already will ya).
(Photo Credit: SportsNet)
What's no laughing matter (perhaps, outside of his suits)? The legacy that Cherry has left behind for the entire Bruins organization and fan base, like him or hate him. He led the B's to four straight Adams Division titles (as it was called back in the 70's, named for the founder of the Boston Bruins, in fact, Charles Francis Adams), two Stanley Cup Finals (it should've been three, I know), and a Jack Adams Award as the NHL's "Coach of the Year" in 1976.
(Photo Credits: Coach's Corner & HHOF)
Which is why, among many other coaching & commentating accomplishments, Cherry was the hockey man of the hour at The Tradition gala in Boston this holiday season — and no doubt the center of attention after being introduced by one of his "Big Bad Bruins" Terry O'Reilly. You didn't need to be a professional or aficionado of the game to appreciate what a special night this must have been for all involved.
Big night at the @tdgarden with @TheSportsMuseum and #The Tradition!https://t.co/YqRX2oGNxs @lorenandwally @1057WROR

— Hank Morse (@HankMorse) November 28, 2018
Legend. #doncherry. that suit. #thetradition @spittinchiclets pic.twitter.com/Gm5c5i6Eob

— Bryan Goodwin (@BDrizly) November 28, 2018
And as Kevin Paul Dupont of the Boston Globe recently wrote of Cherry, he was indeed "an original behind the Bruins' bench" and will continue to be on broadcast airways across Canada (and occasionally the United States) for years to come.
Don Cherry an original behind Bruins' bench @GlobeKPD https://t.co/RuLoL9Vafr via @BostonGlobe

— Kevin Paul Dupont (@GlobeKPD) November 24, 2018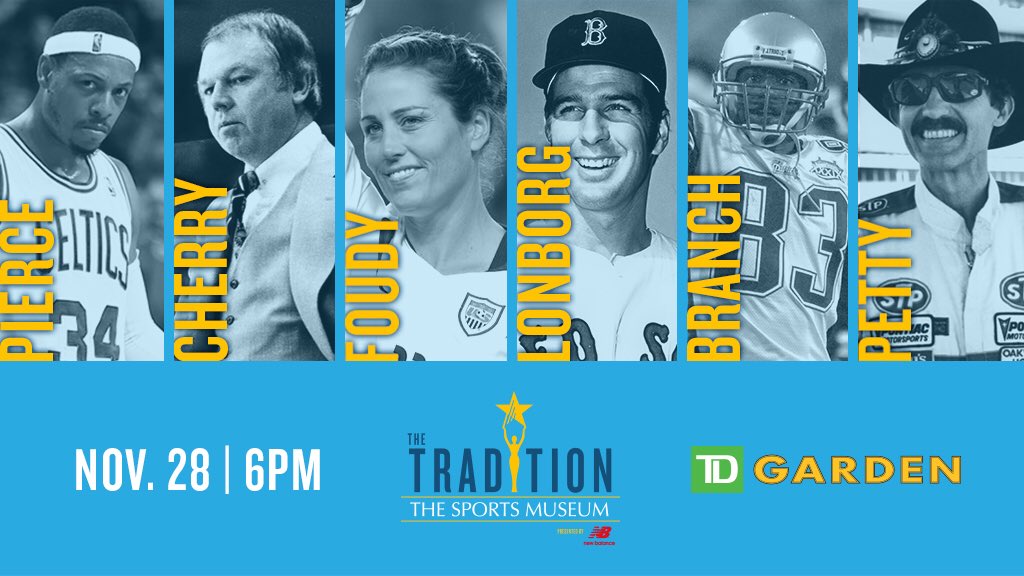 (Photo Credit: The Sports Museum)
Congratulations, Coach! Talk about an evening & event of stars… with a CHERRY on top!!!
Check out the available tickets from our advertising partner SeatGiant for your next Boston Bruins game. Click the link below, and when purchasing any event ticket — from the NHL, NBA, MLB, NFL to concerts and shows — please use discount code BNGP to save a little money. Thank You & Happy Holidays!