(Photo Credit: Boston Bruins)
By: Evan Michael | Follow me on Twitter @00EvanMichael
"Happy New Year!"
It's a phrase we all say and have heard of and will continue to share at this time of year. But what constitutes "happy"? That's always the big question mark/gray area for many of us individually. And it's how we end up defining our annual resolutions list and IF we can stick to it for longer than a hot second.
For your Boston Bruins… here's my hot take on what will make them "happy" heading into the New Year and how, as a team and organization, they can make a run at the 2019 Stanley Cup playoffs. So, without further ado, here is your Bruins New Year's Resolution List:
1. GOOD HEALTH
As Bruins' Health Has Improved, So Has Their Performance On The Ice https://t.co/NSRx4FFhu7 via @NESN

— Bill Frazier (@bfrazier65) December 27, 2018
Improved health should indeed lead to improved performance as the above story indicates, but as we've seen all season for the B's, staying healthy has been as difficult as finding scoring from the 4th line (except for that last game versus the Sabres I'll get to in a moment). It seems every time there's a bit of good news on the health front for one player, another player gets put on the DL. When Bergeron finally comes back, Marchand gets hurt. When Big Z returns, Charlie Mac goes down. It seems every time Coach Bruce Cassidy takes to a podium, he always has to report on someone needing to sit or not being able to suit up for the B's or how he needs to re-juggle his lines… again… to make it work. Case in point:
🎥 Bruce Cassidy previews tonight's game with Buffalo and talks about David Backes' three-game suspension: pic.twitter.com/I8Z8ik0qiY

— Boston Bruins (@NHLBruins) December 29, 2018
It doesn't take an Einstein-level IQ, no matter what level you're watching the B's from, to realize that if/when this team can actually play a game at FULL HEALTH, then the team could go on a run similar to their 18-game point streak from '17 into '18 last year. It was this stretch of hockey that catapulted the B's into not only a playoff contender, but a legitimate Eastern Conference threat. Sure, the same level of talent from that team isn't skating for the Black N' Gold this season, but the B's have enough youthful skill and veteran savvy to make up for it… especially if you can field two top lines at 100% health playing at peak performance levels. Oh yes, the New Year will be happy indeed if this resolution comes true!
2. SCORING CONSISTENCY
Ryan Donato scored a pair of goals Sunday, his fourth and fifth this season, and perhaps that's a sign that things are on the upswing for the rookie Bruins winger (via @GlobeKPD) https://t.co/T5gYUgB24B

— Boston Globe Sports (@BGlobeSports) December 27, 2018
As this recent article in the Boston Globe suggests, "the Bruins are struggling to score, and some of the onus falls on their young players." Thankfully, a few of those youngsters may be finding their groove at just the right time (namely Ryan Donato), while others may be getting a second chance in Boston thanks to the recent suspension of one David Backes (Anders Bjork we're all speculating). No matter who is on the ice, the aforementioned "upswing" is one-thousand percent needed if the B's are to pick up points and stay in the playoff picture in 2019.
The same goes for the experienced core of the team. The B's can ill afford to have nights where No.s' 37, 46, 63 & 88 put up zero points, not with there unmatched skill, speed & scoring prowess. You could argue that Cassidy plays a role in this by how he pairs his lines, but I'm a firm believer that no matter who's added as a "third winger" to any pair from above, they should be able to raise their game (and abilities and talents) to match those of Bergy, Krec, Marchy & Pasta.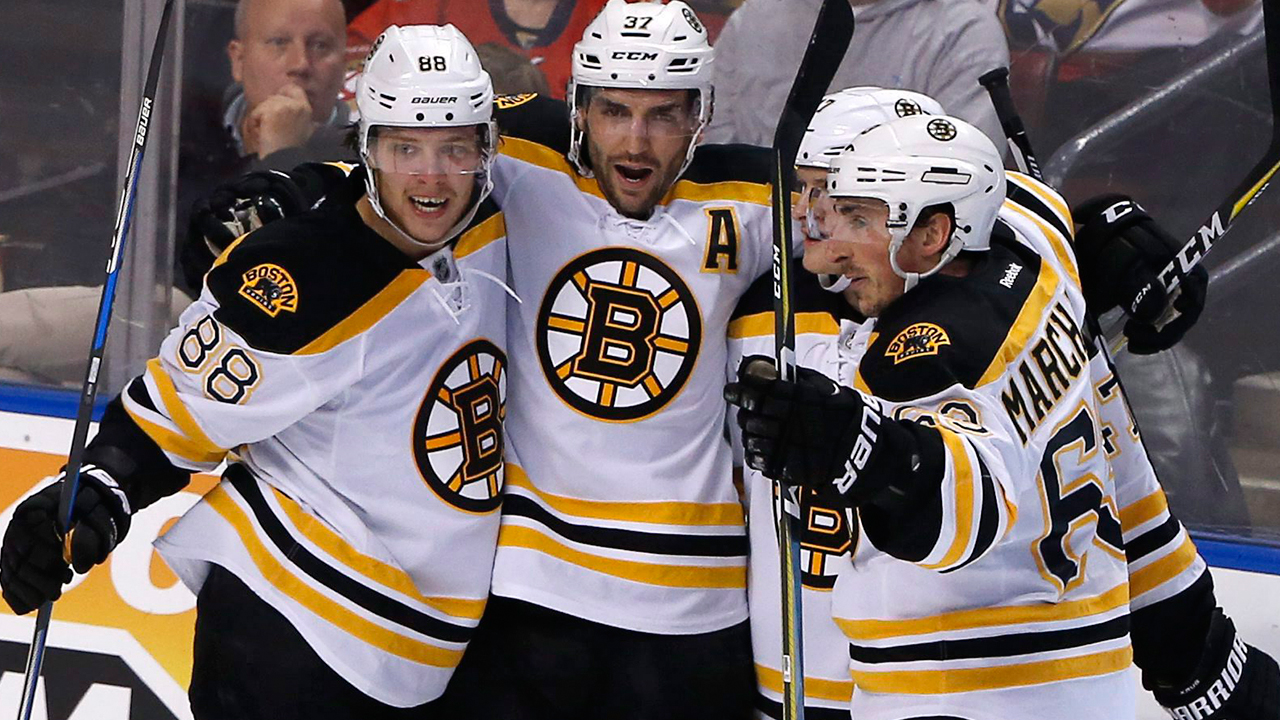 (Photo Credit: SportsNet)
As we know, the problem is no matter the combination Cassidy chooses, it hasn't been able to last. Constant health promulgates consistent scoring. So if the B's hope to have a Happy New Year, then we'll need both of the above to take effect — and stay in effect — so it doesn't affect the team's ability to win and put up points!
3. SOLID GOALTENDING
Tuukka Rask might melt the ice with this 🔥goalie mask for the Winter Classic https://t.co/9O89ySZRnP

— Sports Illustrated (@SInow) December 29, 2018
You know what won't melt the ice? The freezing cold Tuukka takes that have truly taken over social media this year. What's the easiest way to shut it out (and shut others up)? Solid goaltending all throughout the remainder of the 2019 schedule. For Rask AND Jaro Halak. The B's final game of 2018 will hopefully be the start of exactly that kind of stretch as [for what felt like the first time in a while] the team celebrated "Two U's, Two K's, Two Points" from Tuukka in a big save-filled performance between the pipes:
 [youtube https://www.youtube.com/watch?v=2iHUp3EewAs]
More importantly, it sets up Rask for a nice little run of starts where he can keep the momentum going and get on one of his famous "point streaks" that have been known to catapult the B's in the standings. After all, he lost his 21-gamer to the Sabres so it would only "B" fitting to start a new one at the expense of Buffalo, am I right?
(Photo Credit: The Boston Globe)
I'd also love to be right when it comes to the continued strong performance of Halak that even Rask has tipped his cap to so far this season. Yes, Jaro has built up a more impressive pedigree of stats and W's to start the year when compared to his crease counterpart. But if the B's want to truly be a contender and be competing for multiple points every game, they'll need BOTH goalies to keep them in it for 60 minutes, if not more. Too many games, especially recently, have resulted in Boston being blown out midway through the 3rd with little chance to mount a comeback. If Rask & Halak can make their New Year's Resolution to just "keep the team in it," which we all know they possess the raw ability to, then I think more celebrations could be in order for the boys in Black N' Gold in 2019!
4. WIN THE WINTER CLASSIC
The #WinterClassic is almost upon us and it is redemption time for the #NHLBruins, but how so? Check it out here!

Boston Bruins: 2019 Winter Classic Is a Chance At Redemption https://t.co/EsztSMSGJQ via @tkdmaxbjj #GoBruins #BruinsHockey #BruinsFam #HockeyTwitter #Boston

— Max Mainville (@tkdmaxbjj) December 27, 2018
Why not literally and figuratively start the New Year off on the right foot / skate than by winning the Winter Classic "on the road" at Notre Dame against a hated original six rival the Chicago Blackhawks!? That sounds like the PERFECT way to begin 2019 — and to officially start a "winning streak" with two W's in a row (one to end a year and one to start a year… not too shabby, if it happens)!
(Photo Credit: Sports Illustrated)
Of course, a lot of things will need to go right for that to happen, namely the B's actually showing up to the game unlike a few years ago at Gillette Stadium against Montreal. Just the sight of my jersey from that game makes me want to puke at how bad it was (and in case you need a reminder of the joke of a team the B's put on the ice, look no further than Matt Kalman's tweet below):
How did this lineup not do better in the 2016 Winter Classic?😛 pic.twitter.com/kTa7TyHMa4

— Matt Kalman (@MattKalman) December 29, 2018
It can't get any worse, right? I'm confident it can't and won't this year. The B's will be coming off one of their best road W's of the season (and comebacks) and catching Chicago during what some may call a rebuilding phase. It's a game Boston CAN win, SHOULD win and WILL win, even if we all have to "will" it to happen. It could also mark quite the milestone game for Tuukka Rask if he indeed gets the nod between the pipes:
Tuukka Rask is playing in his 468th game Saturday. He moved into a tie with Tiny Thompson for the most games played by a goaltender in @NHLBruins franchise history. #BOSvsBUF #NHLStats https://t.co/aERFbDfXcB

— NHL Public Relations (@PR_NHL) December 30, 2018
A Tiny Thompson takeover for Tuukka? Talk about some New Year's history! I'll resolve to see that on January 1st and beyond. Wouldn't that make us all a bit HAPPY?
Check out the available tickets from our advertising partner SeatGaint for your next Boston Bruins game. Click the link below, and when purchasing any event ticket, from the NHL, NBA, MLB, NFL to concerts and shows, please use discount code BNGP to save a little money. Thank You and have a Happy New Year! 
—-> Boston Bruins 2018-19 Regular Season Schedule and Official SeatGiant Ticket Info <—