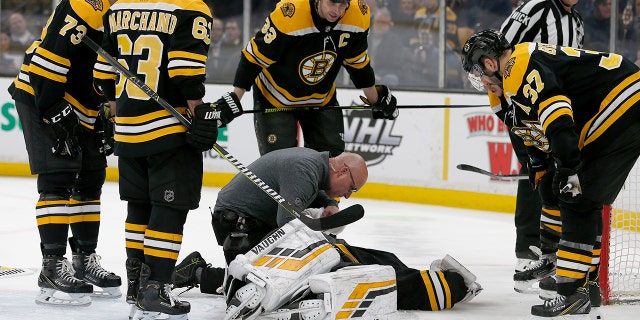 (Photo Credit: Fox News)
By: Evan Michael | Follow me on Twitter @00EvanMichael
What have the Boston Bruins been up to lately? Just goofing around on social media?
The Rock. The Grinch. Harry Styles. Danny DeVito.

It's the bye week, so what better time for some #NHLBruins celebrity look-alikes: pic.twitter.com/C8Nz4VnveH

— Boston Bruins (@NHLBruins) January 24, 2019
Gimme a break! Well, that's exactly what the NHL did, in fact, give the Bruins from January 20th through All-Star Game weekend, right up until the team takes on the wily & winning Winnipeg Jets at home on the 29th. That's a full week+ off with plenty of time to have fun, connect with friends & family, make nickname/lookalike videos as shown above, and truly take a break from the mental & physical grind of the game — a grind that EVERYONE who pays attention to this team could plainly see was wearing (and tearing) on them, from the players to the coaches to even "must-make-a-move-management," as the internet declared.
Just a random prediction here.

Bruins will come roaring out of the all-star break & at one point will make an impactful trade, and that along with the addition of Cehlarik and improved play from Halak will lead the Bruins to a 22-8-2 record to finish out the season. #NHLBruins

— That Bruins Kid (@bruinsfan3725) January 21, 2019
And if the B's are to come roaring out of their bye-week break–hot on the heels of a Pasta-filled All-Star soiree in San Jose–then they'll actually need to catch a break. What I mean by this is the B's will need to get healthy and STAY healthy (sending lots of good vibes to Tuukka Rask for a quick recovery), something that hasn't happened at all during the first half of the season; they'll need to make the most of their now games-in-hand and see other playoff-bubble teams in the East lose some ground; and they'll need to actually have a goal and/or goalie challenge call go in their favor for the first time in hockey history (yes, I know this is a hyperbolic jest but the Bruins MUST own the record for most goals disallowed/overturned/challenges screwed in the last few years, am I right?).
.@BostonSportsBSJ: NHL Notebook: Bruins 'getting used to' disallowed goals, is Atlantic even more competitive than initially thought? https://t.co/UkqXNU5BsW pic.twitter.com/RCgvvsQVc7

— BostonSportsJournal (@BostonSportsBSJ) November 25, 2018
Is that right? The Bruins have had more goals disallowed by the NHL this season than any other team?

— Mary Lynn Smith 🖤💛🐻🏒❤ (@smithml1015) December 22, 2018
Whenever the bruins have a goal disallowed but then that same player goes and scores a beauty, I love listening to @RealJackEdwards yell "THAT ONE COUNTS"

— Joe Estey (@jestey_22) January 6, 2019
So, how do the B's accomplish all of the above? By putting themselves in the best position to get that break they so desperately deserve. And that starts with playing UP to the competition on the ice and focusing on the style of hockey which makes the B's, at their buzzing best, so very hard to play against. To quote Head Coach Bruce Cassidy after the team's recent losses to Montreal, Philly & New York (all teams the B's were ahead of in the standings at the time those games were played):
"Are we playing down to the level of competition or are we going to play to our standard… The message from us as a coaching staff over the last two, three years is we need to play to our standard. So, I guess that's the message we have to get back to."
(Photo Credit: Trifecta Sports)
The B's will also need to "take care of their own" and NO, that doesn't mean bring in an enforcer to light up another player after a big hit or take down. It means giving the appropriate and timely response to an important sequence of play during a game — i.e. not giving up a goal after immediately scoring one; taking advantage of the man advantage and putting opponents away or stretching the lead when given the opportunity (too many blown 2-goal leads and against non-playoff teams); being aggressive, and when necessary, getting in the face / dropping the gloves to assert your dominance and liven up the bench; and making the tough & timely save.
32 points out of a possible 50 against non-playoff teams.

23 goals surrendered within 5 minutes of a Bruins goal.

The #NHLBruins might be staying afloat in the Atlantic, but I dredged up 7 telling stats for the club to address coming out of the break: https://t.co/3r6EyMlvHt

— Conor Ryan (@ConorRyan_93) January 24, 2019
The schedule isn't getting any easier, especially with two difficult road trips lined up and three more games against the we-never-lose/light-up-the-league Lightning. Literally, the B's season & playoff hopes could come down to one or two games and two or fewer points. How do you ensure you're on the right side of the standings when everything shakes out in April? You play hard, you play to win every night and you hope your veterans and youthful skill players all hit their strides at the same time.
Good job JFK

— Boston Bruins Sweden (@BruinsSweden) January 20, 2019
Oh, and speaking of JFK:
[youtube https://www.youtube.com/watch?v=DvWrKmTXer0?start=171]
Check out the available tickets from our advertising partner SeatGiant for your next Boston Bruins game. Click the link below, and when purchasing any event ticket, from the NHL, NBA, MLB, NFL to concerts and shows, please use discount code BNGP to save a little money. Thank You!
—-> Boston Bruins 2018-19 Regular Season Schedule and Official SeatGiant Ticket Info <—