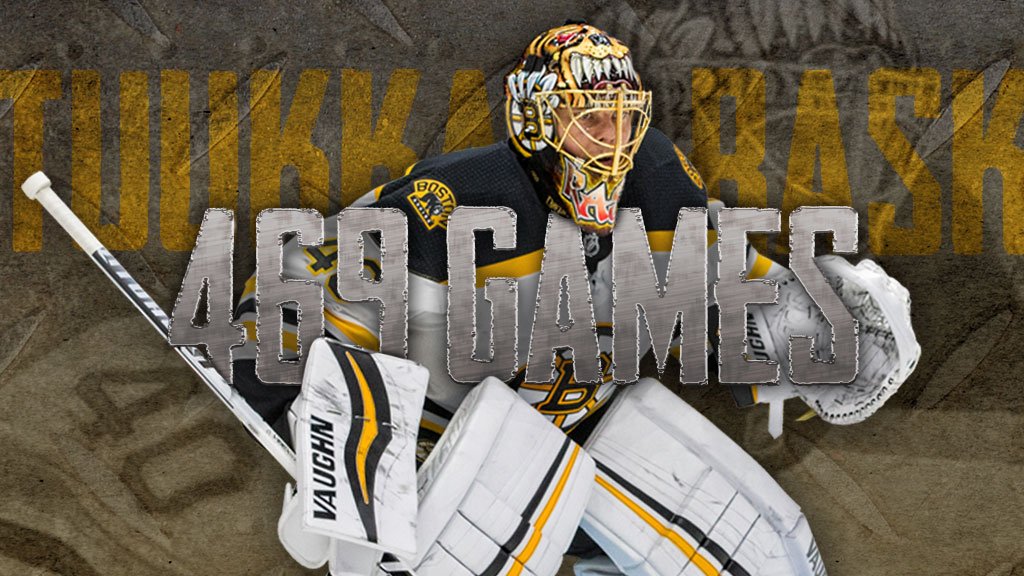 (Photo Credit: NHL Bruins)
By: Evan Michael | Follow me on Twitter @00EvanMichael
The 2019 Winter Classic truly was "a classic" in every sense of the word, from the B's timely goals & saves to their timeless outfits & jerseys (more on that later). Speaking of time, Boston's much-maligned keeper of the crease Tuukka Rask made the most of it, first after getting the nod from Coach Cassidy he'd be starting in net over Jaroslav Halak, then after stopping 36-out-of-38 shots and leading the B's to their second straight come-from-behind victory AND second ever Winter Classic win.
🎥 Patrice Bergeron and Tuukka Rask address the media after the #NHLBruins 4-2 win over Chicago in the #WinterClassic☘️: pic.twitter.com/kvmbfvLTj3

— Boston Bruins (@NHLBruins) January 1, 2019
36 saves = a Winter Classic victory.

469 games = the most by a goalie in #NHLBruins history.@tuukkarask | #WinterClassic☘️ pic.twitter.com/CmMKv1TvLp

— Boston Bruins (@NHLBruins) January 2, 2019
But, as you'll note from the team tweet above (and the NHL's PR department below), Rask also accomplished quite a fitting FIRST. With the start, he became the Bruins' all-time leader for a goalie when it comes to "Games Played," surpassing longtime legend and Hockey Hall of Famer Tiny Thompson in the process.
Tuukka Rask is now the all-time leader in games played by an @NHLBruins goaltender.

The #WinterClassic is the 469th regular-season game of Rask's career, moving him ahead of Tiny Thompson (468). pic.twitter.com/rIvaSXTNpZ

— NHL Public Relations (@PR_NHL) January 1, 2019
And he did so in style, literally & figuratively, by wearing that aforementioned timeless throwback jersey from the B's circa 1932 wardrobe case which, and this is certainly not a coincidence, was from the era of Tiny Thompson! You don't say? I do say… and did say… over the Summer in my "Best Bruins Logos" article for the Black N' Gold Blog.
Congrats to @tuukkarask for overtaking Tiny Thompson for "most games" for a goaltender in #NHLBruins history! It must be their timeless fashion sense, right? More on @BlackNGoldPod Blog!🐻🥅🏒🏟 pic.twitter.com/cZHkVbCX3p

— Evan Michael (@00EvanMichael) January 2, 2019
Additionally, here's a fun fact that deserves a little Paul McCartney/Michael Jackson magic that I'd like to "Say, Say, Say" again & again: Rask needs only 5 more wins to break another huge Tiny record (I've always wanted to write that): Most Franchise Victories! As The Hockey News previewed before this season began:
When Tiny Thompson suited up in his final game for Boston all the way back in 1939, he was the franchise's all-time leader in games played, and Thompson's 468 games remain the most ever played by a Bruins netminder. Sometime around December, though, Rask, who has played 19 fewer games in Boston, should be set to surpass Thompson and break the nearly 80-year-old mark. And if all goes well, he could also break Thompson's other record, too: no Bruins goaltender has won more than 252 games for the franchise, but Rask is only 15 victories away from taking that team record, as well. — Jared Clinton, The Hockey News
Rask's Winter Classic "W" was his tenth of the season so before the month is out, he could be achieving yet another milestone moment in a B's sweater (253 career wins), and again making history & taking history from "one of the game's early innovators" as The Hockey News also highlighted below in their informative & engaging Tiny Thompson Top 100 Goalies of All-Time profile:
Top 100 Goalies of All-Time: A life-long rink rat who could handle the puck with his stick and hands, Tiny Thompson was one of the game's early innovators.

Read now with All-Access: https://t.co/IcVazAhbKe

— The Hockey News (@TheHockeyNews) December 31, 2018
I don't think I'd be going out on a limb (a limb that in full disclosure I have gone out on before) in predicting ALL of the above won't sit well with the Tuukka Haters Club, a club that regrettably gains membership all too easily & all too frequently without the slightest bit of logic or hockey sense. Sure, his personality & play sometimes opens the door for criticism & complaints, especially this season. But, even the blackest Black N' Gold thoughts can show a bit of gold on the historic feats being featured in this eponymous blog, and elsewhere throughout the Internets.
Tuukka Rask delivers the big game the Bruins needed with a 36-save performance in the #WinterClassic: https://t.co/ORwivT9T68

— 98.5 The Sports Hub (@985TheSportsHub) January 1, 2019
I mean, it takes a helluva career — one that I personally think still has enough in the tank to take the B's to The Cup (and WIN) — to accomplish what Rask has, and will, this season alone. And to now be in the same company as Tiny Thompson, whose first name was Cecil… well, that's nothing to scoff at for the finely-finishing Fin or his fans (which I'm predicting won't be growing despite the accolades, unfortunately).
Random old #NHL goalie photo: (Getty Images cutline) "Cecil 'Tiny' Thompson, goalkeeper for the Boston Bruins, closes his eyes as an opponent approaches with the puck." (circa 1935) pic.twitter.com/P28w6sCax1

— Sam McCaig (@SamMcCaig22) October 11, 2018
So, to paraphrase a quote about another famous Cecil (B. DeMille), I think Tuukka Rask is ready for his close-up. He's definitely deserving of it. I can think of 469 reasons why (with another 253 on hold).
Check out the available tickets from our advertising partner SeatGiant for your next Boston Bruins game. Click the link below and when purchasing any event ticket, from the NHL, NBA, MLB, NFL to concerts and shows, please use discount code BNGP to save a little money. Thank You & Happy New Year!
-> Boston Bruins 2018-19 Regular Season Schedule & Ticket Information From SeatGiant.com <-