(Photo Credit: Fansided)
By: Evan Michael | Follow me on Twitter @00EvanMichael
You could call it a "Cult of Personality" — especially if you're a fan of 80's rock band Living Colour — that's successfully surrounding the Boston Bruins right now. And it's not just how the team is playing on the ice, 19-game point streak records aside. It's how the players are interacting off the ice (indeed, Behind The B if you will) that's proof this team is perhaps a bit more socially connected with each other than in year's past. As a result, it's very easy to cheer on, root for & enjoy the B's no matter how you watch or cover them (writer/blogger/fan), especially with the type of special season they're putting together game after game.
There's something about this Bruins team. Man.

— Amalie Benjamin (@AmalieBenjamin) March 8, 2019
Charlie McAvoy on this Bruins team: "We're a family. We're a brotherhood."

— Conor Ryan (@ConorRyan_93) March 8, 2019
So Bruins lost tonight, but the fact that they had me believing a comeback was possible is one of the reason why I love them.
There is just something about this team…

— jackie (@axxtion) March 11, 2019
There is just something about this team, indeed. Long gone are the days where the B's locker room or bench was the only place you'd find teammates complimenting or commiserating with each other. Now, players can keep the playful chirping & chiding going all off-day long thanks to their social media savvy… something we all know can have a devastating impact to team sports if not approached or handled correctly. Thankfully, this current Black N' Gold group does it just as entertainingly as their on-ice play as of late… and you can best "B"-lieve it's one of those intangibles bringing the team, the fans & the region together.
Please excuse my friend @Bmarch63 Unfortunately, his pills didn't wear off post game before he got on @Twitter pic.twitter.com/XCTEo2JVi5

— Torey Krug (@ToreyKrug) March 6, 2019
Came across the big mans ten year challenge. They say men get bettwr looking with age. Couldn't agree more with this @NHLBruins @NHL #duderocket pic.twitter.com/0EX4R3nw7b

— Brad Marchand (@Bmarch63) March 11, 2019
Of course, Brad Marchand & Torey Krug have been using Twitter to tease each other mercilessly all season long with truly trolling take-down threads that have caught the eye of ALL hockey fans these past few weeks. In the GenZ/Millennial age of communication, this is camaraderie at its fun-centric finest. But, they're also recognizing just how impactful a "tweet" or social media message can be to the people who follow them — and what a world of difference a simple response can make, as in the recent case of big B's fan Jillian Murphy who enjoys throwing shade just like Marchy does:
When Jillian Murphy tweeted at Brad Marchand, she never expected to get a response.

But she did – and the experience of a lifetime followed: https://t.co/FHPTigOTGi

— Boston Bruins (@NHLBruins) March 11, 2019
As NESN recently featured, the B's social presence is now spilling over onto Instagram, where Marchand and other teammates are making the most of their positive outreach, a move that will undoubtedly lead to comments (and commenters) a-plenty as the playoffs approach and EVERY move the Bruins make will be under the microscope, no matter the platform or platitude. Yet, I like it. I support it. I hope it becomes an insta-hit!
[youtube https://www.youtube.com/watch?v=deT7dBuYNOA]
When did many of us realize this B's team was going to be a "hit"? — and in a way much more meaningful than any inefficient enforcer types? I'd say when we got a peak at the Peaky Blinders from the Winter Classic. There was just something different (in a good way) about how these guys were approaching big games, big moments & big opportunities to showcase their togetherness and team pride.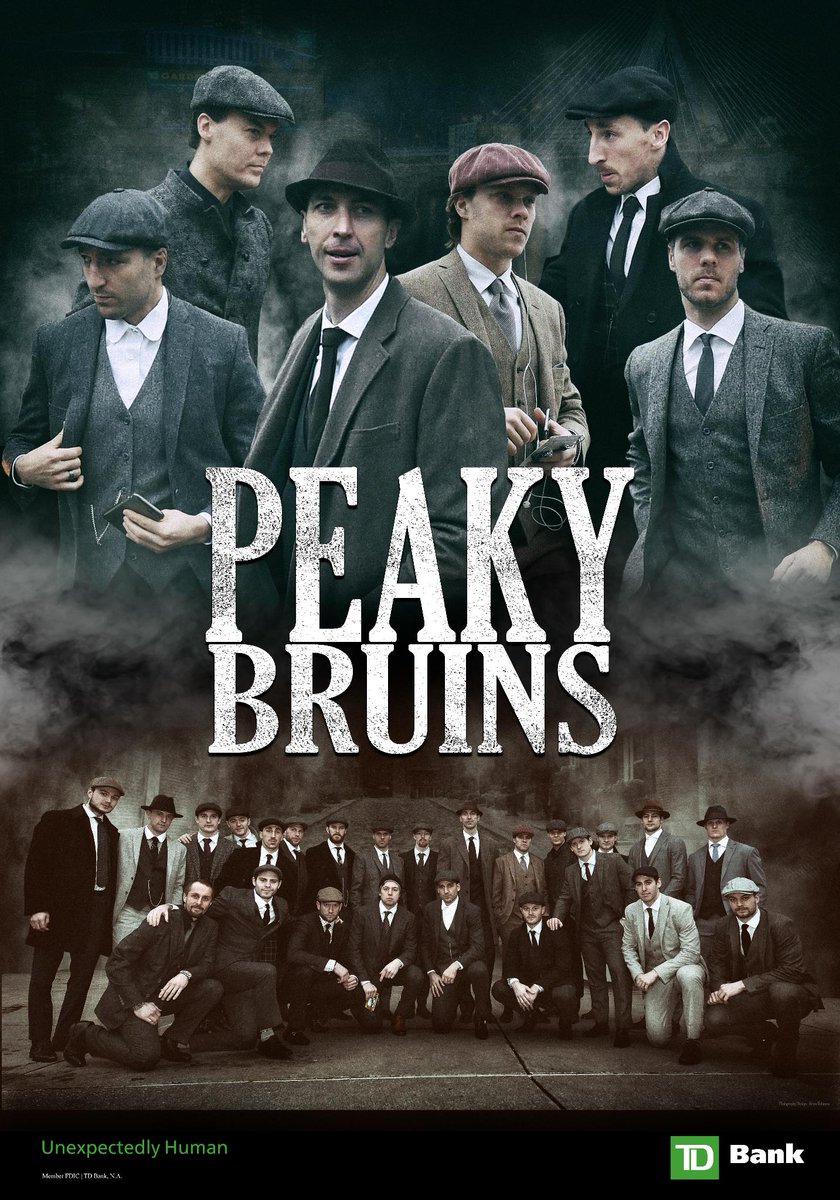 (Photo Credit: TD Bank)
I don't think it will, or should, stop for the remainder of the season either. Because as we all have witnessed over the past two decades of Boston sports dominance, there are just some teams that are more magical than others; there are just some fits within a lineup that achieve remarkable results, no matter the level of pressure or passion. And the 2018-2019 Boston Bruins, as successful of a social bunch as their ever was one, are on the verge of being one of those personality-driven teams where the results, like the spotlight, will follow.
Yeah you do too… 🙄 https://t.co/aq8K6HfIeK

— Chris Wagner (@chriswags23) March 6, 2019
And we should all feel pretty good about getting to see it up-close and personal in living (Black N' Gold) color!
Check out the available tickets from our advertising partner SeatGiant for your next Boston Bruins game. Click the link below, and when purchasing any event ticket, from the NHL, NBA, MLB, NFL to concerts and shows, please use discount code BNGP to save a little money. Thank You!