(Photo Credit: USA Today Sports)
By: Evan Michael | Follow me on Twitter @00EvanMichael
With all the recent hubbub in the Hub of Hockey on how the Bruins' youth movement is moving forward (or backward?), especially considering the season-long influx of Providence talent being showcased in Beantown, I thought the timing of a recent article from The Athletic concerning Boston's recent draft history was quite interesting, fortuitous, and even eye-opening. Here's the tweet that proved to be a head-turner/knee-jerker upon seeing it — then reading it:
Total points by draft picks (2003-2018):
1. Boston Bruins: 5,994
30. Vancouver Canucks: 2,648

Total games played by NHL grads:
1. London Knights: 10,343
2. Kitchener Rangers: 5,733
3. USNTP: 5,628

Everything in between: https://t.co/1w5kp8fEzg

— Scott Wheeler (@scottcwheeler) March 20, 2019
So, the Bruins' draft picks in the 21st century thus far have produced the most points out of every NHL franchise? Let me cue a universal Black N' Gold reaction: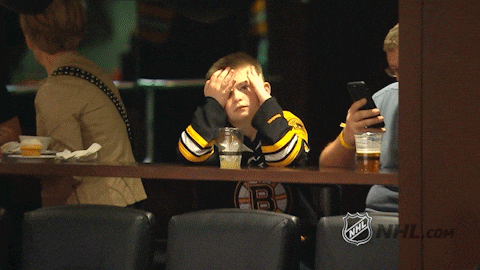 (GIF: NHL.com)
"Huh?" is exactly right. But, then I started thinking about it… or more accurately more astute journalistic minds starting thinking about it, and commenting on my social media about it, which in turn turned my thoughts about it to have an about face.
How many of those points were scored for the Bruins?

— Bernie O'Donnell (@BODonnellinGray) March 21, 2019
A valid point, indeed! Sure, the B's have seen some of their top draft picks since 2003 — the first year of this draft study — score the majority of their NHL points for another franchise, namely Phil we're-no-longer-thrilled Kessel & Tyler traded-too-soon Seguin. But, it's still pretty impressive when you actually sit back and reflect on it, especially considering just how mercilessly the city, the media and the fans scrutinized Boston's 21st-century GM's for their lack of "draft success" on the whole (yes, we're referring to you Mike O'Connell and Peter Chiarelli — and to more recent effect Dealin' Donny Sweeney).
 [youtube https://www.youtube.com/watch?v=6Sg4uq5eCSE?start=169]
Yet, for all the "misses" over the last sixteen years for the Bruins (let's not even bring up one name from 2007, where a combined 6 draftees combined for 5 career NHL points), there are some names that will forever make the aforementioned points breakdown truly worthwhile. And here they are, ranked in descending order, based on how many points they've banked for the B's (and still CONTINUE to produce for them):
David Pastrnak – 280 Points (2014)
 (Photo Credit: FanSided)
To order up a serving of "Pasta" every time No. 88 scores a goal or notches an assist would be akin to heart failure. Thankfully, the deliciously nicknamed David Pastrnak impacts our ticker in many other ways — specifically, making it race with excitement & adrenaline whenever he touches the puck or skillfully skates around a deft defender. To wit: the B's most recent "W" against the Rangers in which he had as many points as the number one star credit he was given postgame. Love or hate the recently unemployed "Chia" pet up in Edmonton, but you've got to give him credit (or at least his scouting team) for Pasta. Let's keep those 5-point games on the menu!
Brad Marchand – 556 Points (2006)
[youtube https://www.youtube.com/watch?v=TJ98Jk2t0e0]
He's the most productive pest in modern-day NHL history and he's as big of a character as you'll ever find in B's history — and that's saying something! He's Brad Marchand and he's only just begun, to paraphrase a Carpenter's classic (not to be confused with former Bruin Bobby Carpenter–another point-filled pugilist). And to think both Kessel and Milan Lucic preceded him in 2006 when interim GM Jeff Gorton was doing his damnedest to pry Nicklas Backstrom away from the Caps for every pick the B's had! Would "Marchy" have been on that potential list? Who bleepin' cares now is what I say. And to think… Twitter and Instagram weren't even a part of Marchand's life yet!!!
David Krejci – 637 Points (2004)
[youtube https://www.youtube.com/watch?v=oohdjtiO_rE]
The above video says it all: when you have a highlight reel gone viral because you had the most points in the postseason for your Stanley Cup-winning team, then you deserve plenty an accolade. Ironically, all David Krejci deserves right now is a 2nd-line winger who can consistently score ala David Pastrnak! Or, did we just see that recently? I digress. But, while on the subject of scoring, let's not overlook just how invaluable the Czech center has been for the B's since he was drafted more than a decade ago — ironman status included starting last season. Just think: if he keeps producing and playing alongside another popular B's draft pick (Jake DeBrusk), then this point-filled list is going to need an update real soon!
Patrice Bergeron – 811 Points (2003)
(Photo Credit: Barstool Sports)
Trying to describe just how much Patrice Bergeron means to the Bruins organization, the franchise, the fandom… well, it's an impossible task because you literally can't say enough about him as a player and as a person. Thankfully, BN'G colleague @phonymahoney did that for us shortly after "Bergy" celebrated his 1,000th game in a Bruins' jersey:
There's a quiet grace about Patrice Bergeron that makes people forget exactly how good a player he is, and it's unbelievable how long he's been an important fixture in the Bruins' lineup. One of the best players in the world, Bergeron is a member of the Triple Gold Club (World Junior Championship, Olympics, and Stanley Cup), and a four-time Selke Trophy winner, as the National Hockey League's best defensive forward. This is a player who is so consistently effective night in and night out, that the only reason any of the milestones he's achieved as a Bruin have been remotely surprising is because it's so easy to forget he's been with the team for 15 years.
Not bad for a second round pick sandwiched between Mark Stuart (93 career NHL points) and Masi Marjamaki (goose egg) way back in '03! And as we just discovered all but a game ago, No. 37 in his 15th season with the B's just eclipsed yet another earmarked milestone alongside his inspired linemate on this list:
Brad Marchand and Patrice Bergeron are the sixth and seventh different players in @NHLBruins history to record a home point streak of 17+ games. #NHLStats #NYRvsBOS pic.twitter.com/iqKxBHaZb3

— NHL Public Relations (@PR_NHL) March 28, 2019
Talk about a solid three years of drafting in the early oughts for the B's! So, do you now measure the success of the Bruins' modern draft machine a bit differently considering all of the above? Do also believe the team is only going to add to these impressive totals what with all the young scoring talent yet to emerge (aka on the cusp)? You do! Well, good.
Point taken!
Check out the available tickets from our advertising partner SeatGiant for your next Boston Bruins game. Click the link below, and when purchasing any event ticket, from the NHL, NBA, MLB, NFL to concerts and shows, please use discount code BNGP to save a little money. Thank You!