(Photo Credit: NESN.com)
By: Evan Michael | Follow me on Twitter @00EvanMichael
While the beleaguered "beLEAFers" belabor their Bieber, the Bruins and Boston are basking in Rask who was up to the masked task in a riveting Game 7 at TD Garden. And for what feels like the first time (dare I say, only a Foreigner of hockey would not know this), the praise is finally universal for "Tuukks." Here's a collection of commentary backing up the B's backstop who, with his team's back against the wall, led them into the second round of the Stanley Cup Playoffs!
The Media:
(Photo Credit: 98.5 The Sports Hub)
Tuukka Rask was why the Bruins won Game 7 on Tuesday night. It was his best of the series and his best playoff performance in a long time. @WEEI https://t.co/089r12ZN79

— Evan Marinofsky (@emarinofsky) April 24, 2019
With Tuukka Rask At The Top Of His Game, Bruins All Of Sudden On Path For Stanley Cup Finals via @CLNSMedia – https://t.co/Vdg1XD4AR2 pic.twitter.com/NTKgQVDPUp

— CLNS Media Network (@CLNSMedia) April 24, 2019
Tuukka Rask saved the Bruins when they needed him https://t.co/WhtDKY94x0

— The Boston Globe (@BostonGlobe) April 24, 2019
COLUMN: With a 32-save performance in Game 7 where he stood tall for the Bruins in the second period, Tuukka Rask shut up his critics, including yours truly, in a big game playoff moment https://t.co/KNCw6rNV1f

— Joe Haggerty (@HackswithHaggs) April 24, 2019
So @_TyAnderson had his "How 'bout them apples" moment with @mikefelger this afternoon. #NHLBruins @NHLBruins @tuukkarask @FelgerAndMazz @TonyMassarotti @bigjimmurray @IAmJamesStewart @BillyLanni #Bruins #BooHooTuukkaCrew pic.twitter.com/fRe0ysK2yE

— 98.5 The Sports Hub (@985TheSportsHub) April 24, 2019
🗞️STANLEY CUP PLAYOFFS🗞️#NHLBruins G Tuukka Rask Silences Critics Again With Clutch Game 7 Win Over #LeafsForever But How Long He Ever Get The Respect He Deserves?

My latest for @featurd_io: https://t.co/I2lk1jQ8yX pic.twitter.com/CbztEPWz53

— Jimmy Murphy (@MurphysLaw74) April 24, 2019
The Team: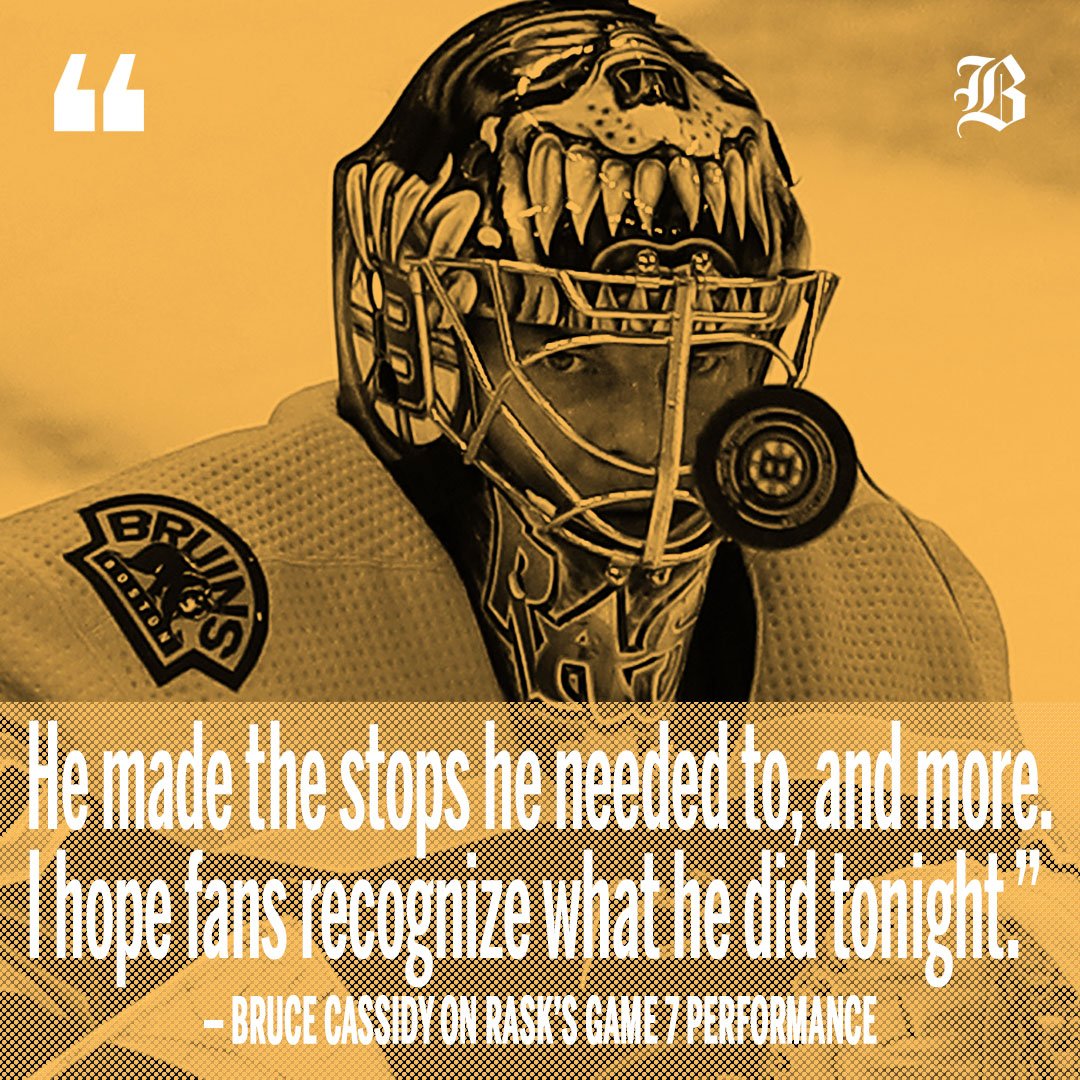 (Photo Credit: The Boston Globe)
Bruce Cassidy has a request for the anti-Tuukka Rask crowd after the goalie's Game 7 performance. https://t.co/Zr29ooX8Rr pic.twitter.com/9LqyqUyI9u

— NESN (@NESN) April 24, 2019
"Everybody gets to take a deep breath today…I'm proud of our group."#NHLBruins GM Don Sweeney looks ahead to Round 2 vs. Columbus and recaps the team's Game 7 victory over Toronto: pic.twitter.com/hwwfeb1OOn

— Boston Bruins (@NHLBruins) April 24, 2019
🎥 Zdeno Chara discusses the #NHLBruins Game 7 victory over the Maple Leafs: pic.twitter.com/k78JUC6JoW

— Boston Bruins (@NHLBruins) April 24, 2019
The Fans/Internet:
You voted Tuukka Rask as the @JetBlue Player of the Game for his 32 saves in last night's Game 7 victory. pic.twitter.com/6ETOceLXuG

— Boston Bruins (@NHLBruins) April 24, 2019
Rask deserves credit for Bruins advancing with Game 7 win https://t.co/rosrTU2fPU via @NHL

— Lace Em Up (@LaceEmPodcast) April 24, 2019
Great Bruins win last night & for anyone who knows knows I'm not a huge Rask fan BUT last night he STOLE that game imo. I've got 2 other observations about that series but I'm keeping those close to the vest out of respect.
Go BRUINS!!! pic.twitter.com/C9A3dP1pDA

— Sean says play like Neely! Go B's! (@SeanTR2017) April 24, 2019
Tuukka Rask's Game 7 history heading into Tuesday gave plenty of ammo to his naysayers. He answered the bell Tuesday with the best Game 7 performance of his career. @_TimRosenthal has more on Rask's stellar outing to close out the series. https://t.co/JhmDuw9nXn pic.twitter.com/1ajS7Ult9v

— Bruins Daily (@BruinsDaily) April 24, 2019
Tuukka Rask drinking the tears of all the sports radio callers. pic.twitter.com/83htkqFxob

— Dan Ryan (@bruinshockeynow) April 24, 2019
The BeLeafers:
What can we expect from a #CBJ #NHLBruins series? Was Tuukka Rask's performance enough to silence his critics?@BJaffe breaks it down #StartingLineup @gregbradyTO @gregbradyTO

🎙: https://t.co/VXgyFfR24Z pic.twitter.com/nEgGoBvJF3

— Sportsnet 590 The FAN (@FAN590) April 24, 2019
LOS ANGELES: Tuukka Rask made 32 saves as the Boston Bruins routed the Toronto Maple Leafs 5-1 to extend Canada's Stanley Cup drought on Tuesday.Bruins goaltender Rask was in superb form as Boston completed a 4-3 series victory in front of their home.. https://t.co/wCO4Vv7Z7B

— Sports Lab (@sportslab7) April 24, 2019
This is always my favourite part of the Leafs getting bounced from the playoffs each year. Rask for Raycroft LOL #LeafsForever #NeverForget #StanleyCup https://t.co/5ocJxSBqIw

— Boyler (@Boyler33) April 24, 2019
So, what comes next in net for the fortuitous Fin whose fighting finish finally finished the loser Leafs? Obviously, it's Columbus. And then perhaps the Islanders. Then maybe the Sharks. Then hopefully THE CUP! I can guarantee one thing… if –actually WHEN– that happens, Tuukka Rask will never have to worry about criticism or praise again. He'll truly be able to bask in it all…just like we should be doing right now!