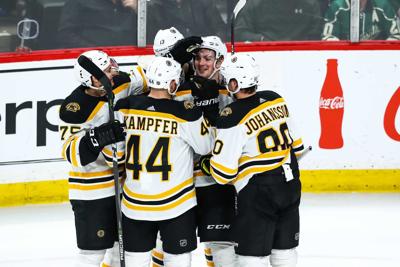 (Photo Credit: USA Today Sports)
By: Evan Michael | Follow me on Twitter @00EvanMichael
And so it began… an NHL career on one hand and cell phones constantly posting to Twitter on the other — two separate and disparate occurrences coyly (and perhaps even Coyle-ly) connected thanks to the new No. 19 in Boston, Zach Senyshyn:
Let's be real, nobody knows what to expect from Zach Senyshyn, though he's already maligned because he was taken one pick before Barzal. So before he skates his first NHL shifts tonight, I tried to outline what folks at least should know about him.https://t.co/53B7jrFLoG

— Logan Mullen (@ByLoganMullen) April 4, 2019
So, what SHOULD folks know about the B's prized prospect both lauded & lamented simultaneously for what he's never done yet and still yet to do in a Black N' Gold sweater?
He was the 15th Overall Pick in 2015 NHL Draft
He was a scoring stud in the OHL
He was constantly scrutinized in the AHL
He was never given a chance in the NHL… until now
Bruce Cassidy prescribes rest for a handful of Bruins to make sure they're as fresh as possible for next week's playoff series v Toronto.
Jaro Halak goes in goal, #19 Zach Senyshyn makes his debut.
8pm on NESN. pic.twitter.com/b6p70IORmu

— Jack Edwards (@RealJackEdwards) April 4, 2019
.@ZachSenyshyn is on the ice in Minnesota.

Congrats, Zach! #NHLBruins pic.twitter.com/UwuynkMVnp

— Boston Bruins (@NHLBruins) April 5, 2019
And in the hallowed hockey history of memorable Bruins' debuts, I'd call Senyshyn's nothing to shun. In fact, he shined in the limited but productive ice time he was given by head coach Bruce Cassidy.
Zach Senyshyn has been on the ice for more shot attempts FOR for the B's than David Pastrnak or Patrice Bergeron in significantly fewer minutes (5v5)…👀👀

— Spencer Fascetta (@PuckNerdHockey) April 5, 2019
#NHLBruins Cassidy on Zach Senyshyn, "I thought he played pretty well. He had a lot of chances early on. Was ready to play. Did his job. A lot of good things."

— Shawn Hutcheon (@ShawnHutcheon) April 5, 2019
What does "played pretty well" translate to, especially when paired with fellow newbie B's Charlie Coyle & Marcus Johannson for most of the night? Well, outside of solid stick handling, puck possession & body positioning… how's about scoring your first career NHL goal in game number numero uno in front of your fanning-out folks! Here's a look from multiple angles from multiple tweets:
They don't ask how.@ZachSenyshyn | #NHLBruins pic.twitter.com/hwQa1EmzQ1

— Boston Bruins (@NHLBruins) April 5, 2019
Zach Senyshyn buries the empty-netter in his first NHL game. 3-0 Bruins. pic.twitter.com/w4tG9w4Dbe

— Conor Ryan (@ConorRyan_93) April 5, 2019
Zach Senyshyn gets his first NHL goal. ENG but still. 3-0 #NHLBruins pic.twitter.com/NINuV1Rpa0

— Marina Molnar (@mkmolnar) April 5, 2019
You down with ENG? Yeah, you know me! Or, at least him now. Him being Zach Senyshyn, all Seny-suited up following his memorable Minnesota debut, proudly profiling a picturesque puck of perfectly positioned portraiture seen below:
One down. 👌@ZachSenyshyn | #NHLBruins pic.twitter.com/H7FpTSplrf

— Boston Bruins (@NHLBruins) April 5, 2019
So, what does the future hold for a young man who now holds a more impressive one-game statistical resume than a certain other notable '15 draftee, sarcasm set aside so we can slyly celebrate before reality sets in?
Empty Netters in their first NHL game:

Zach Senyshyn: 1
Mat Barzal: 0

— Mike Cratty (@Mike_Cratty) April 5, 2019
I bet we're all hoping for something surreal… something that reminds us of other talented & promising B's prospects who matured late and blossomed in the spoked-B despite the hate, hype & hyperbole directed their way before they even played an NHL game. I know Senyshyn's teammates are already tickled pink for their baby-faced brother, as you can see from their smiles & sentiments on the ice & off (himself included)!
Congrats @ZachSenyshyn!! pic.twitter.com/3UuwNeEysm

— Marina Molnar (@mkmolnar) April 5, 2019
Bruce Cassidy reacts to Zach Senyshyn first NHL goal (@TDBank_US) pic.twitter.com/XxAEkbJQDW

— NBC Sports Boston (@NBCSBoston) April 5, 2019
How will you describe that one in 30 years?@ZachSenyshyn: "Oh, top shelf, dangled a couple guys…" pic.twitter.com/DkloGamIBK

— Boston Bruins (@NHLBruins) April 5, 2019
It's reassuring to know he, too, is taking it all in stride, with laughter, graciousness & gratitude at the forefront of a hockey skillset and mindset just waiting for even more chances to Seny-shine in Boston.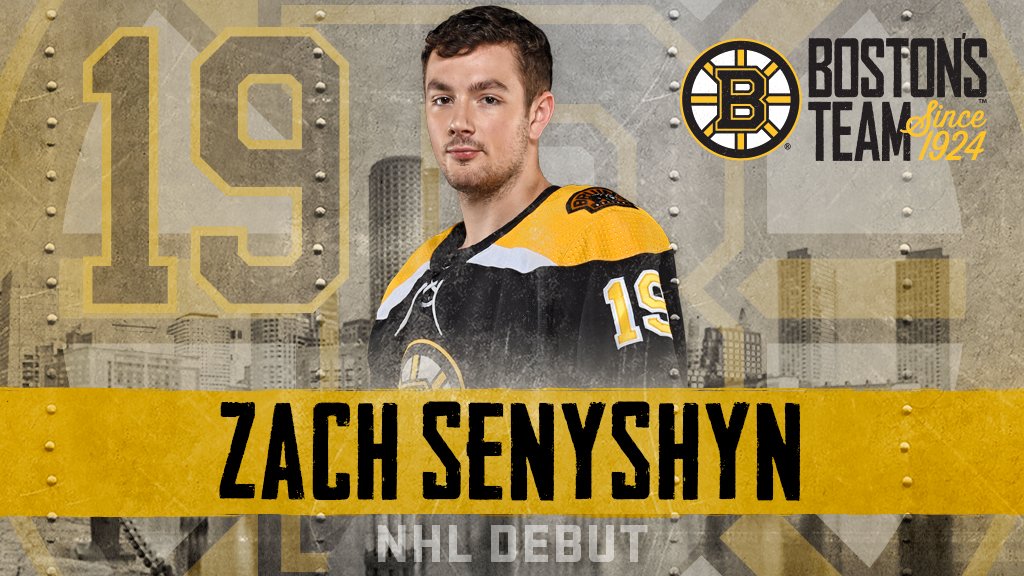 (Photo Credit: Boston Bruins)
Check out the available tickets from our advertising partner SeatGiant for your next Boston Bruins game. Click the link below, and when purchasing any event ticket, from the NHL, NBA, MLB, NFL to concerts and shows, please use discount code BNGP to save a little money. Thank You!