(Photo Credit: WGME)
By: Evan Michael | Follow me on Twitter @00EvanMichael
Call them the Canes. Call them the Whalers. Call them the Jerks! But, whatever you do, don't call them inexperienced when it comes to battling the B's in pivotal playoff match-ups. Hartford-turned-Carolina and Boston have had a healthy history of clashing for the Cup (even regional recognition if you want to really surge up a storm). Let's take a look back at all the times these two talented teams have met up in the postseason aka the NHL's most exciting season:
Bruins vs Whalers: 1990
 [youtube https://www.youtube.com/watch?v=lu4xjtTtATI]
Almost ten years after the Hartford Whalers officially became an NHL franchise in 1979 (they were originally the New England Whalers of the defunct WHA), the team finally met the Bruins in the first round of the Stanley Cup Playoffs — or as it was called at the time the Adams Division Semifinals. The series went the distance with the Bruins overcoming what could have been a devastating 3OT game six loss to emerge victorious in game seven. Craig Janney scored what would become the series-clinching GWG in a 3-1 win, with Andy Moog outdueling the inimitable Peter "El Sid" Sidorkiewicz in net.
(Photo Credit: Pinterest)
Bruins vs Whalers: 1991
 [youtube https://www.youtube.com/watch?v=CXSbtaEgHAY]
In a rematch of the 1990 Adams Division Semifinal, the B's and Whalers again played a hard-fought series. This time, the Bruins' offense proved just too much to handle for Hartford with the Black N'Gold taking down the White, Green N'Blue in six games. Cam Neely, Ray Bourque and Craig Janney led the way for Boston while Andy Moog proved to be the ultimate puckstopper again between the pipes. These two meetings really showcased how the Bruins' best players, when playing at their best, could change the course of a game and a series — exactly what will need to happen NOW for Boston to continue its playoff success.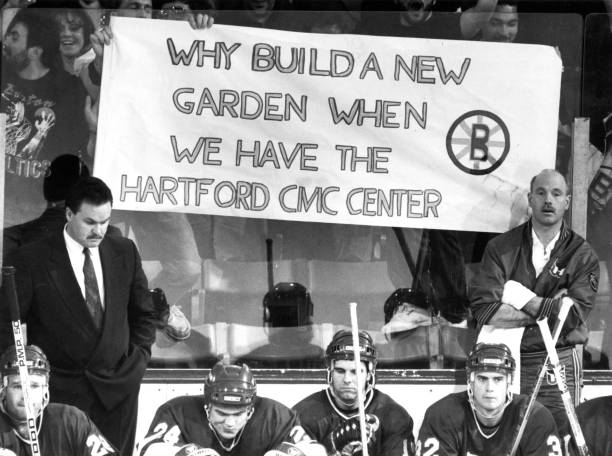 (Photo Credit: Getty Images)
Bruins vs Hurricanes: 1999
 [youtube https://www.youtube.com/watch?v=zAHs6xsIIhs?start=413]
When the franchises met for the third time in the Stanley Cup Playoffs, a lot had changed: Hartford had moved to Carolina and became the Hurricanes (the team was playing in Greensboro then before moving to Raleigh); and the NHL had changed its division & conference structure, as well as playoff seeding, so the number three ranked Canes who won the Southeast Division wound up playing the sixth-seeded Bruins from the Northeast Division in the Conference Quarterfinals aka Round One.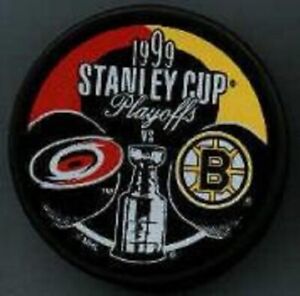 The B's dispatched Carolina in six games with none being as memorable as the 2OT game five affair. Anson Carter scored the game-winner on a beautiful feed from Jumbo Joe Thornton after the B's rallied from two down in the third period (see above).
Boston would close it out at home (another change as it was The FleetCenter in '99) for the third consecutive playoff series win between their once-local now coastal rivals.
(Photo Credit: Ebay)
Hurricanes vs Bruins: 2009
 [youtube https://www.youtube.com/watch?v=TbicxHODSPg]
It's been exactly a decade since the B's and Canes last faced off in puckdom's perennial postseason. And it was a painful one so apologies for the '09 reminder. Coming off a near President's Trophy-winning season with 116 points and a Northeast Division Championship, the B's made quick work of the hated Habs in Round One before moving on to face Carolina in the Eastern Conference Semifinals. The Canes had narrowly defeated the New Jersey Devils in seven games so the match-up heavily favored Boston. It showed in game one but it was all Carolina after that. With the B's facing a 3-1 series deficit, they routed the Canes at home (now TD Banknorth Garden) before winning game six on the road. That set up a winner-take-all game seven back on home ice before a raucous Gahhhhden crowd (I remember it well). The B's were trailing 2-1 in the third when old friend Milan Lucic tied things up and sent the game to OT. But that's when the flukiest of Carolina players scored the flukiest of goals — Scott Walker's whiffer off a rolling rebound that eluded a tired Tim Thomas — to send the Canes onto the ECF. This was their first playoff series win against Boston in franchise history… and it still stings today!
(Photo Credit: NBC Sports)
Bruins vs Hurricanes: 2019
As I alluded to earlier, in order for the B's to best the Canes and continue their winning ways this year, their best players — namely Bergeron, Marchand, Krejci, Pastrnak & Rask — will need to keep the momentum going from the Columbus series and produce, produce, produce. If there's one thing the 2019 Carolina Hurricanes / Hartford Whalers are good at, it's playing UP to their opponent and, as we've seen from recent playoff history, better than their opponent (to wit: the defending Cup Champ Capitals and the energetic Islanders of Brooklyn). BN'G colleague @tkdmaxbjj will have more on what this series could mean for both teams right here so check back in with your Black N' Gold squad soon — after all, it's #InOurBlood!
A machine is not built from a single part. A system cannot operate alone. And a team is not comprised of an individual. These are just some of the men whose skill, speed, and ferocity combine to form the Boston Bruins.

View the full gallery at https://t.co/FouwceBeDs. pic.twitter.com/n8U9VoLt5p
— Boston Bruins (@NHLBruins) May 8, 2019
*Bonus B's/Canes History:
(Photo Credit: Canes Country)
There are some moments in hockey that even if they're not from the playoffs, they still belong in a team's shared history/story together. These are a few of those unforgettable moments!
The Boston Brawl of '90
[youtube https://www.youtube.com/watch?v=udpFFN88tXU]
Don't mess with Cam Neely. Or Craig Janney. Or Glen Wesley. Or Chris Nilan. Or Jim Wiemer. Or Lyndon "off the bench" Byers for that matter (yes, stay watching until that moment — don't let Byers pass you by, dare I say).
The Czerkawski Crosscheck of '96
[youtube https://www.youtube.com/watch?v=tbSYsTeYs6Q]
Much the same way Bobby Orr got trailblazed after scoring (although this incident was not on nearly as grand or momentous of a stage), one time B's legend Marius Czerkawski got Czer-cross-checked after his timely tally back in '96. The B's didn't have a lot to fight for during those years so at least they stuck up for each other when the Whale wanted to wallop!
The Shorty Shellacking of '10
 [youtube https://www.youtube.com/watch?v=iLuzLJPbh58]
I don't think this will ever happen again in the NHL. And man oh man was it a pleasure to watch (especially after what had happened the year previous): three shorthanded goals in just over a minute on the same Hurricanes powerplay. Talk about being swept away!
Feel free to let us know what YOUR favorite Bruins/Canes/Whalers memories are by commenting below or sharing on social media using the #BruinsFam hashtag!