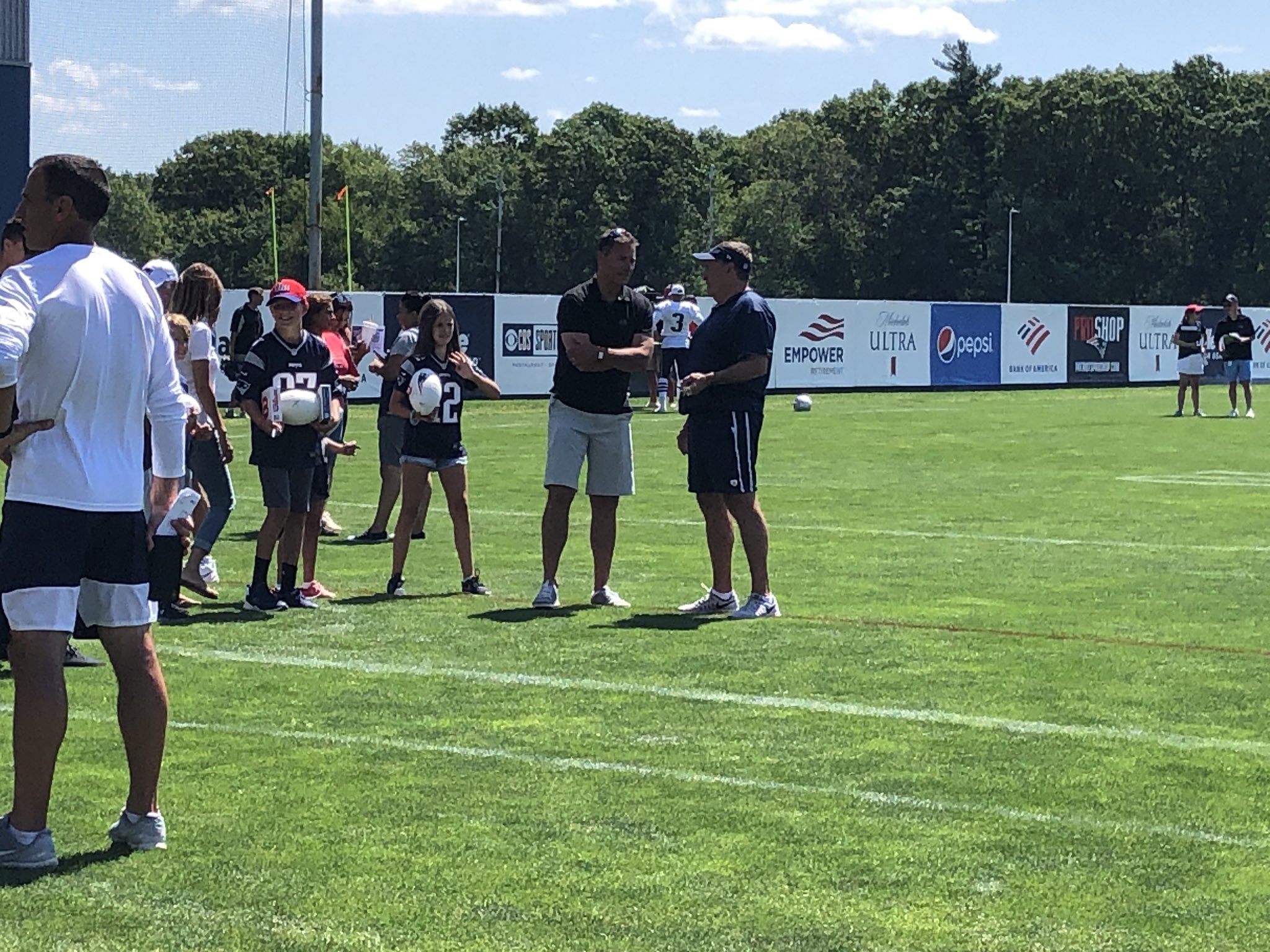 (Photo Credit: Mike Reiss – ESPNBoston.com)
By: Evan Michael | Follow me on Twitter @00EvanMichael
Cassidy and Belichick. Not a bad Coach's Corner to be in, no disrespect to B's alum Don Cherry and his North-of-the-border broadcast bud Ron MacLean.
And as many members of the Boston media reported Monday, the Bruins' bench boss attended his second consecutive #PatsCamp and took it all in with his family by his side.
Coach Cassidy and his family are hanging out in Foxboro this morning to take in #PatsCamp. 🏈 pic.twitter.com/TJJSb96SWA

— Boston Bruins (@NHLBruins) August 12, 2019
Now, Cassidy's son Cole may have a career in football on his hands (hands that Kraftly caught this pigskin on camera earlier)…
Cole Cassidy: the newest @Patriots kick returner. 🏈#PatsCamp | #NHLBruins pic.twitter.com/yT0ca50ZVQ

— Boston Bruins (@NHLBruins) August 12, 2019
…but if there's any football career to be clamoring about in Foxboro it's that of Cassidy's cross-town coach Bill Belichick — a coach that he hopes to learn from even more ahead of his team's Stanley Cup runner-up follow-up season. As Cassidy mentioned back in May to our friends at NESN before his black n' gold squad suited up for the Cup Finals, he reached out to Belichick for advice on how to handle not only the long layoff between the ECF and SCF, but also the pressure of playing for it all in Boston:
"[The Patriots] share whatever they can — very supportive. It's been great for me. I've gotta tell you — [Belichick's a] terrific guy. Very insightful, and it was great. I really appreciate it." — Bruins Head Coach Bruce Cassidy, May 2019
Well, as we all know by now (and perhaps are still trying to forget), the B's came up short while playing for it all this Spring & early Summer. One game short. One shift short. Perhaps even one play short if you like to factor in momentum in do-or-die postseason games — all scenarios Coach Belichick has been through, learned from and overcame while leading the Super Bowl Champion Patriots to two dynastic runs over the last 19 New England years. And as we learned from NESN again, Cassidy couldn't resist checking back in with Belichick on Monday — this time about how to bounce back when your team comes oh so close to winning it all:
"A little bit about his team, a little bit about situational stuff that happens. For example, coming off a loss at the end of the season, [the Pats] did it two years ago to Philly, rebounded to win a championship last year. So, what kind of preparation goes into that, or do you just put it all behind you and move on? So, try to steal a few things here and there in that area [from Belichick]." — Bruins Head Coach Bruce Cassidy, August 2019
Sage advice from a man who's become a legend in our sports-crazed community. Can we also get Tom Brady & Patrice Bergeron together to talk championship fodder & folderol? Kidding aside, Cassidy's comments definitely create good karma & buzz ahead of a B's season bound to be under the microscope from September to hopefully May and June again. And if his team can rebound a la the Patriots after a championship loss, then I think this Cassidy/Belichick bond blossoming before our eyes could become the new Coach's Corner!
 Check out the Black N' Gold Hockey Podcast episode 140 that we recorded on 8-11-19 below! You can find our show on many worldwide platforms such as Apple Podcasts, Google Podcasts, iHeart Radio, Spotify, SoundCloud, and Sticher.
AND…
Please subscribe to our new Black N' Gold Hockey YouTube channel!  We'd really appreciate the continued support. Click HERE For Link To Our YouTube Channel!
 [youtube https://www.youtube.com/watch?v=8O9qz_o9x_E]