(Photo Credit: Calendars.com)
By: Evan Michael | Follow me on Twitter @00EvanMichael
Happy New Year, Bruins fans!  Well, not yet. But it COULD be a "Happy New Year" in 2020 if the B's take advantage of their lightest load of games on the season in a month's time — 11 in total, six on the road and five at home (sorry, April, your two contests in week one don't count as a "month").
And there's considerably less fanfare for the B's to start the "hindsight year" (2020 aka 20/20… get it?) compared to playing in the historic Winter Classic at Notre Dame against their Original Six rivals the Chicago Blackhawks in 2019. Now, that was a memorable game:
 [youtube https://www.youtube.com/watch?v=-tX-tA5TSIA]
Speaking of hindsight, a laid-back January may be EXACTLY what next season's Bruins need in order to set themselves up for a Spring playoff push. As you may recall from Parts I, II & III of this spirited Black N' Gold series, the B's begin 2019 with three months of heavy hockey that will almost feel like an entire season in and of itself — multiple home stretches followed by road trips, back-to-backs against Stanley Cup contenders (perhaps even favorites for '19-'20) and few "rest weeks." In fact, three days off is the LONGEST amount of downtime the team will have until this early Winter stretch. They'll also, "ain't no lie," have their Bye Bye Bye! week and All-Star break vacation to add to this less busy bundle of games.
So, let's take a look at the key match-ups in January that deserve a mark on your Bruins calendar. To make it easy for you, it's three spread out home-and-home contests versus tough teams the B's could very well see come April, May and hopefully even June:
January 2nd & 14th: Columbus Connections
Unless the B's want to end up cannon fodder, it would behoove them to silence Columbus first at TD Garden on the 2nd and then take the sting out of the Blue Jackets on the road on the 14th, just like their riveting Game 6 Eastern Conference Semi-Finals series which featured a Tuukka Rask shutout (oh, the memories) and timely goals from the non top-liners (perhaps we should've seen this coming).  Either way, the BOS & CBJ head-to-head battle has truly been abuzz for the past year+ so it will undoubtedly make for some entertaining early '20 hockey!
(Photo Credit: Sports Illustrated)
January 9th & 31st: Winnipegged
If only this Manitoban team played like the New York JETS, then you could already chalk up two easy wins for the B's (actually… maybe not as Bruce Cassidy could've found out from Bill Belichick recently)! All similar sporting names aside, the 99-point Western Conference pucksters from the 'PEG have been used to WINNIng lately — and in '18-'19 they beat the Bruins both times they faced off, fittingly once at home and once on the road. So, the 9th (TD Garden) & 31st (Bell MTS Place) would be the perfect time for the B's to take off with a few victories against a talented team that will once again contend in the opposing conference.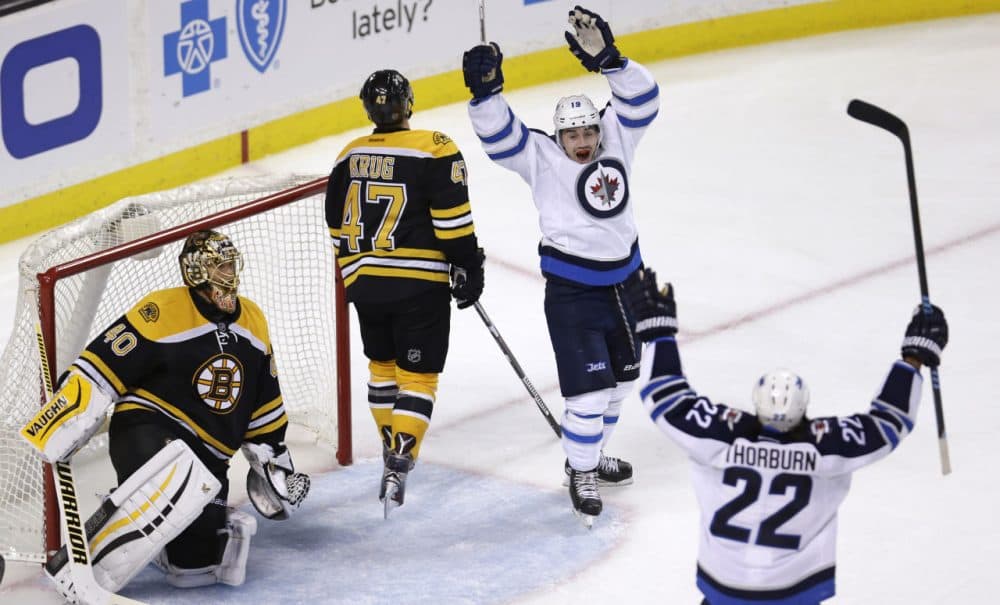 (Photo Credit: WBUR)
January 16th & 19th: Mr. Popper's Penguins
Hey, at least these two games against Pittsburgh will be more entertaining than that truly flightless movie (still love ya Jim Carrey — not to be confused with your once Bruin' netminding namesake…yes, I know he spelled it differently)! However, if the B's don't want to end up face-planting on the ice against a team that can skate & score circles around most opponents, then they best lace up their HAPPY FEET and come ready to play next level hockey versus Pittsburgh. Going all the way back to the "Super Mario" years where the B's got bested by the Pens almost every regular season and playoff series (2011 exceptions to be celebrated), this true-to-form home-and-home series will be a back-to-back must-watch and perhaps even a playoff preview if both teams are lucky…and healthy…and consistent(ly lucky and healthy)!
(Photo Credit: NBC Sports)