(Photo Credit: NESN)
By: Evan Michael | Follow me on Twitter @00EvanMichael
"What's in a name," mused William Shakespeare while soliloquizing a certain Juliet in his very famous star-crossed story from yesteryear. Well, this year for the Boston Bruins, a new name is joining the broadcast team in the role of rinkside reporter.
Can't wait! https://t.co/XzFPCFvAGp

— Sophia Jurksztowicz (@sjurksztowicz) September 19, 2019
And for Sophia Jurksztowicz, it's one that the players have been talking about (and trying to pronounce) since her preseason debut in September:
Our new Bruins reporter, @sjurksztowicz, will make her game day rinkside debut tonight during the B's preseason game…

So the @nhlbruins TRIED to pronounce her last name…
And it was interesting… pic.twitter.com/LnAWH6JIIH
— NESN (@NESN) September 23, 2019
It's only fitting that nearly every Bruins player from Europe in the video above expertly nailed the pronunciation of Jurksztowicz's Polish surname down to the syllable (Zdeno Chara, Jaroslav Halak, Tuukka Rask… even David Pastrnak who "grew up 20 minutes from Poland"). Their American & Canadian counterparts & linemates, however, fared embarrassingly not as well. Specifically, Brad Marchand who campaigned for his 8th-try-at-pronouncing-her-name-correctly to be the official version: "I like the way I said it better."
Here's how Sophia, who's had previous experience simplifying things for former Bruins coach (and one-time player) Don Cherry on Coach's Corner, phonetically broke it down for the B's, with the soft "j", the hidden "v", and the -ch-sounding "z":
Yurk-shto-vitch!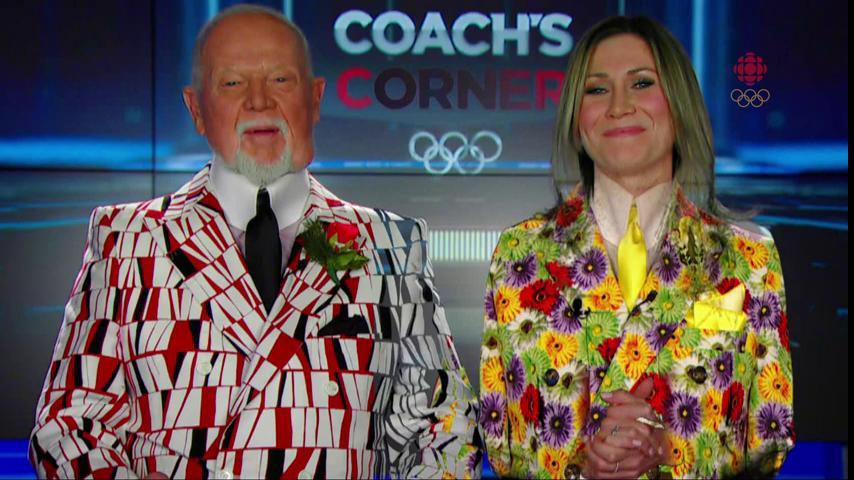 (Photo Credit: Hockey Night in Canada)
As the official press release from NESN stated earlier this Summer:
Since 2007, Sophia has worked with various sports broadcasting companies, including theScore, Rogers Sportsnet, CBC News Network and Hockey Night in Canada. She has served as a sports reporter and performed live updates in-studio and in-the-field reporting covering NHL, NBA and MLB stories.
Sophia was recently a host for the NHLPA's special features with NHL players in collaboration with other NHLPA partner brands. As a broadcaster, journalist and producer at Rogers Sportsnet, Sophia was a social media expert for Hockey Night in Canada. Last month, she served as a reporter for CBC's national coverage in Canada for the FINA World Aquatics Championships in South Korea.

"We're very excited to have Sophia join NESN," said NESN vice president Rick Jaffe. "She brings a wealth of hockey knowledge and understanding of the game to our broadcasts."
That's someone who's already made a name for herself, both on and off the ice. Now, that's she's joined the Black N' Gold, she plans on keeping it up — and making sure all the "Romeos" on the team know exactly who they're dealing with!
It was so fun to watch players struggle with a name for once haha. "Nobody said it was easy, no one ever said it would be this hard…" https://t.co/epUyevmlDT

— Sophia Jurksztowicz (@sjurksztowicz) September 23, 2019
Check out the Black N' Gold Hockey Podcast episode 147 that we recorded on 9-30-19 below! You can find our show on many worldwide platforms such as Apple Podcasts, Google Podcasts, iHeart Radio, Spotify, SoundCloud, and Stitcher.
Please subscribe to our new Black N' Gold Hockey YouTube channel! We'd really appreciate the continued support. Click HERE for exciting Black N' Gold online content!