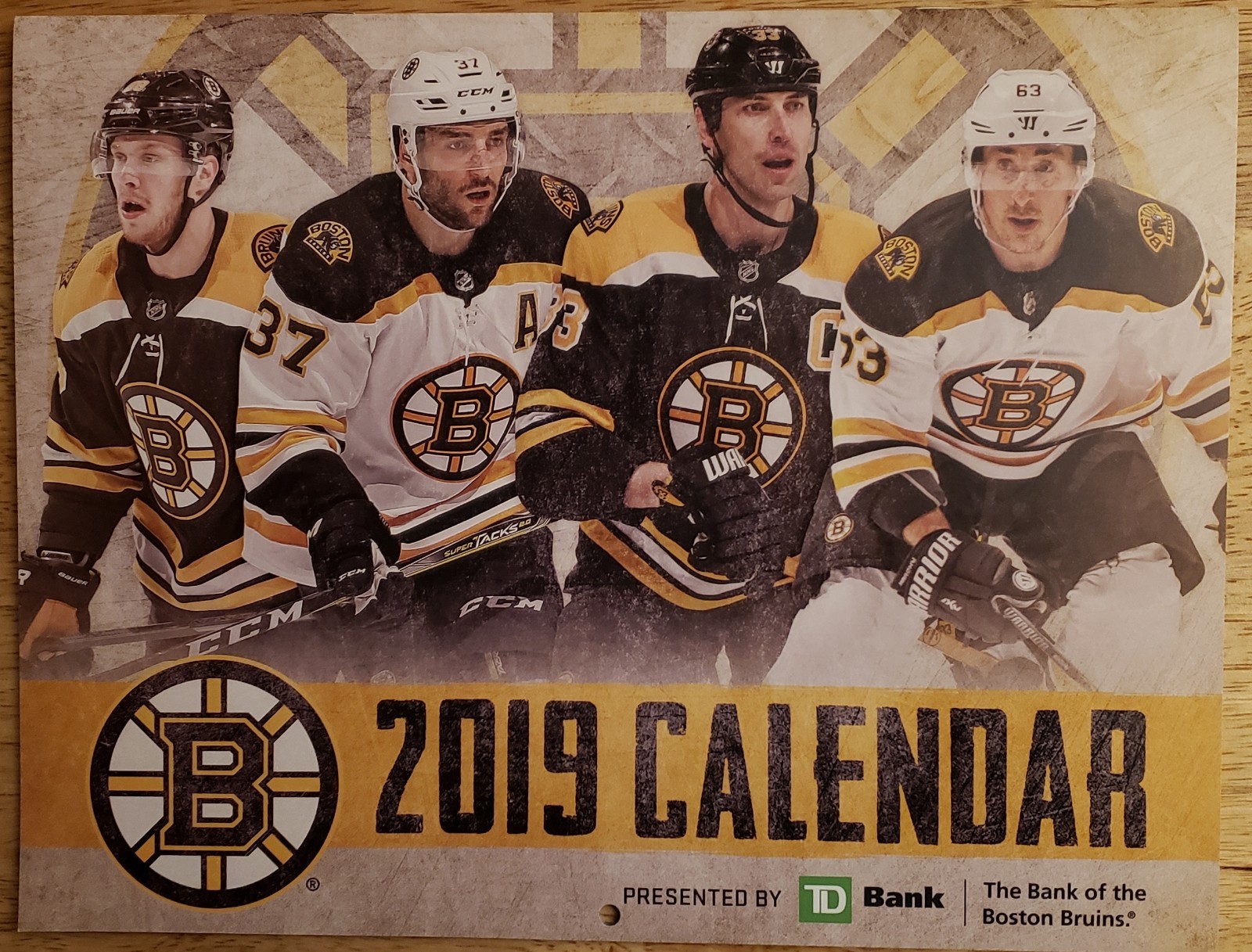 (Photo Credit: Bruins Pinterest)
By: Evan Michael | Follow me on Twitter @00EvanMichael
Since we just celebrated Friday the 13th on the calendar here in the States, it's only fitting to remind everyone what "Part V" of that seminal series was called: A New Beginning. Well, that's exactly what the month of February could be for the Boston Bruins depending on how the team handles a January against some quality dual opponents (as I outlined in the previous installment of our Black N' Gold Mark Your '19-'20 Bruins Calendar series).
Also, like the hockey-masked killer character in the aforementioned film franchise, the B's hockey franchise won't be able to mask any of their faults in February–especially on every weekend–because of the 14-game workload lined up for them, including a historic five Saturday games. They even get to play on LEAP YEAR day! How's that for superstitious scheduling since Friday the 13th references will be a recurring theme throughout this piece. So, let's drop the puck (and perhaps the machete) on what specific games are worthy of highlighting on your B's calendar this fabulously frightening & frozen February!
Since we just celebrated #FridayThe13th this weekend, I thought it only fitting to write my next @BlackNGoldPod "Mark Your Bruins Calendar" Blog about how the B's, like Jason, can hack thru the competition this upcoming February!#NHLBruins #BruinsFam #JasonVoorhees #HockeyMask pic.twitter.com/dnOFOkSmud

— Evan Michael (@00EvanMichael) September 16, 2019
Weekend One: Crystal Lake, Minnesota
Okay, okay. We all know that Camp Crystal Lake is not in Minnesota, but rather in New Jersey (as far as fake movie location names go). But, if the B's can open the month of February with a "road W" over former friend Ryan Donato at the Xcel Energy Center on the 1st, then they can celebrate its first Sunday by visiting a famous underwater Jason Voorhees statue just up the road. In fact, the Wild will be a fitting first opponent to begin a busy hockey stretch at an important time of the year for the Bruins. Since 2015, the B's have won four of their last five road games in Minny, including the last two, so keeping that streak alive would be advantageous considering the former city of North Stars always plays spirited hockey against Boston.
Weekend Two: Jason Takes Boston
The B's will be lucky it's only Jason Demers coming to town with the Coyotes on February 8th and not that other titular Jason from the woods. Then again, if the team doesn't want to end up out in the woods, the players should take care of business against an Arizona squad that will most likely be out of the playoff race by then. Also, they'll need to get on a plane to fly off to Detroit for a Motor City matinee on the 9th immediately following their howling hockey versus the Coyotes. I would call this back-to-back home/road split versus two beatable teams a must-win weekend for the B's if they want to build momentum during a month where all eyes will be on playoff positioning.
Weekend Three: Origin(al Six) Stories
More matinee marquee match-ups are in store for February 15th & 16th against Original Six rivals the Red Wings again, followed by the New York Rangers (and all of this coming hot on the heels/skates of the B's having recently played the Blackhawks & Canadiens a few games earlier). And like any good horror movie's origin story, the B's will need to look to their successful history against these teams in order to "make them history" at a time when both the division & conference races will be tightening up. All of these contests offer national audience eyes as well, so you can best "B"-lieve the hockey world will be talking them up since many broadcasters, like fans from these cities, champion themselves as Original Six supporters & supposed soothsayers (this is also similar for Friday film fanatics).
Speaking of making bold predictions, if the B's aren't careful — i.e. they let the Wings take them to a shootout then get gassed at Madison Square Garden less than 24 hours later — then they could end up looking just like this upon leaving New York… an expression well-known to a familiar-faced character who enjoyed romping around Manhattan back in his heyday. (Eastern Hockey League be damned!)
 [youtube https://www.youtube.com/watch?v=iUWFmlFU8qY]
Weekend Four: Canadien Cutthroats
When it comes to the Bruins traveling across country for their annual "West Coast Canadien Kick," the schedule always seems to fall in February for these three games — two of which will be back-to-backers on February 21st (Calgary) and 22nd (Vancouver), respectively. One needn't guess which other city the B's will be visiting just days prior unless you've been living under Plymouth Rock for the past decade and not paying attention to this always-highlighted stretch of hockey (it's Edmonton in case you have been and my apologies).
And if previous seasons are any indicator, then we all know just how important taking AT LEAST four out of six points will be for the B's against the Oilers, Flames & Canucks. This will be cutthroat hockey at its finest–with no machete needed–proving just how fun, competitive & memorable these games can be. The B's also like to use this road trip as a memory-making team bonding experience so let's hope they make the most of what the calendar has lined up for them yet again this upcoming season.
Weekend Five: The Final Chapter
This weekend, or to be more specific this Saturday matinee, only comes around once in a blue–strike that, Black N' Gold, moon; definitely once every four years, but rarely does that infamous day fall on a game day. That's right, I'm talking about February 29th — LEAP DAY! And the Bruins throughout their 23-Leap-Year history (sorry, the franchise Inaugural Year of 1924 doesn't count on the Leap-season statistics since it began in December long after February celebrated an additional day of aging) have had nine games on that calendar extension mark, if you will.
Plainly, to put a mark on it, the B's are a mediocre 4-4-1 on LEAP DAY dating back to the Roosevelt administration (that's FDR not TR for you Presidential historians out there). To get even more detailed, the team's 4-1-1 at home in Boston and 0-3 on the road in Toronto, Chicago and New York. If you'd like to see it in list form, look no further than below:
BOSTON BRUINS LEAP YEAR HISTORY:
1940 – W, 4-2 over Montreal
1944 – L, 7-3 @ Toronto
1948 – L, 5-1 @ Chicago
1956 – L, 4-2 @ New York
1964 – W, 2-1 over Detroit
1968 – W, 4-1 over Toronto
1976 – W, 5-3 over Vancouver
1992 – T, 5-5 with Washington
2000 – L, 5-1 to Ottawa
If the Bruins would like to win their first ever LEAP DAY tilt on the road and, dare I type, tilt the ice in their favor, they'll have the perfectly slanted opportunity to do so against the insalubrious Islanders at Nassau Coliseum in 2020. Now, that's a game I'd like to see — be it in person, on television or on the NHL-TV recap ap! It's obviously the final day of February (and for those celebrating an "Over The Hill" occasion, their 10th official Birthday), but I'm rooting for the B's franchise to be exactly like the Friday the 13th franchise on this day — not only will it NOT be the final chapter, but many successful sequels will follow!

(Photo Credit: Boston Bruins)
With the month of March looking scarily similar to February — both in terms of the number of games and number of tough teams to play against for Boston — the B's could find themselves successfully skating towards the playoffs or falling through the ice and flailing for help just like that poor young boy whom the camp counselors ignored much to his maligned mother's chagrin & sharp knives. Thankfully, there's no Friday the 13th in February of 2020… and now you don't have to mark your calendar to know it!
Check out the Black N' Gold Hockey Podcast episode 145 that we recorded on 9-15-19 below! You can find our show on many worldwide platforms such as Apple Podcasts, Google Podcasts, iHeart Radio, Spotify, SoundCloud, and Stitcher.
Please subscribe to our new Black N' Gold Hockey YouTube channel! We'd really appreciate the continued support. Click HERE for exciting Black N' Gold online content!