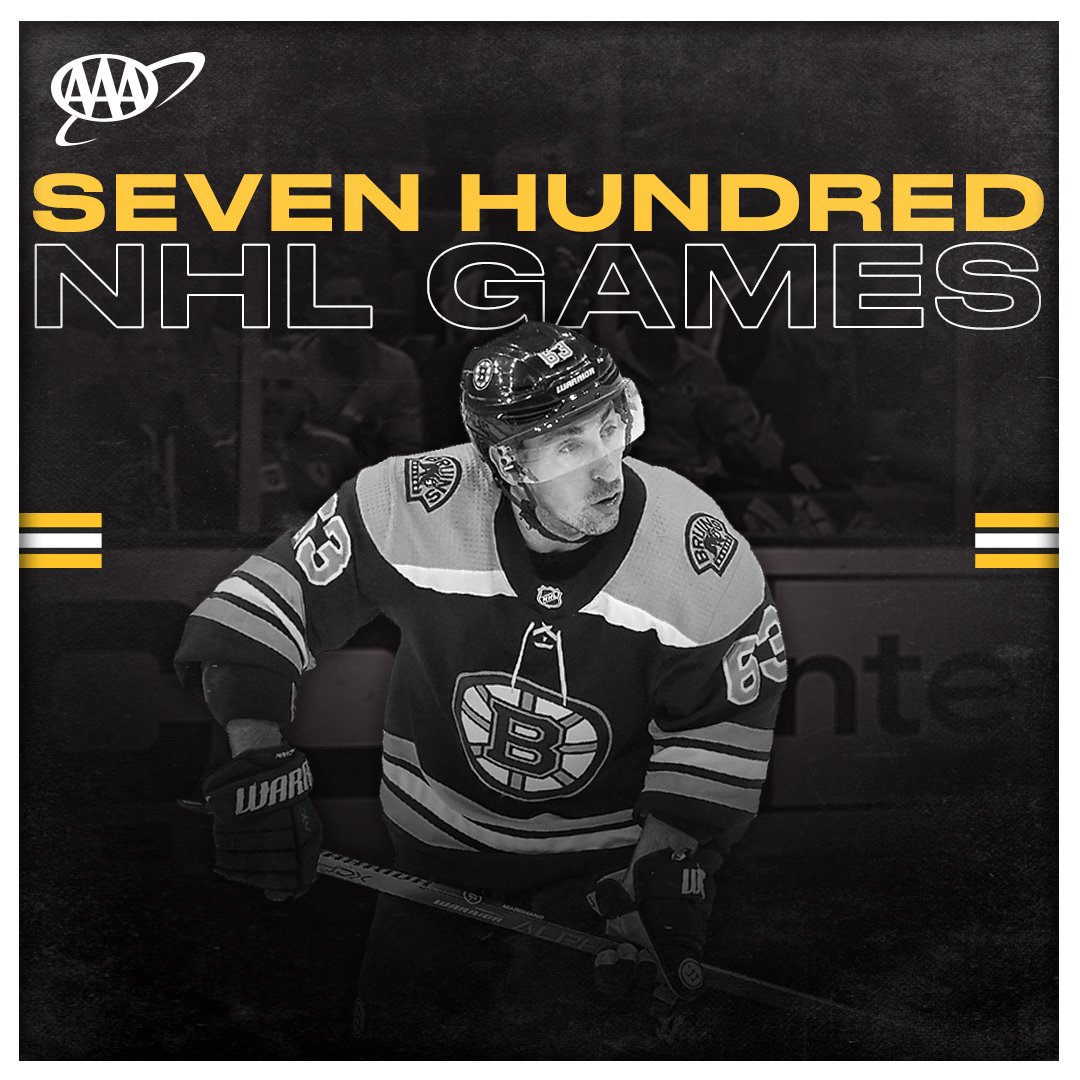 (Photo Credit: Boston Bruins)
By: Evan Michael | Follow me on Twitter @00EvanMichael
Seven hundred NHL games under his Black N' Gold belt, the Bruins' Brad Marchand was asked on Hockey Hall of Fame Night in Toronto a pretty on the nose postgame question after helping his team snap a four-game losing streak with a 4-2 win over the Maple Leafs: You ever think you might be in the HHOF?
The man once known as the Nose Face Killah had a telling response: "No, No I don't… To be honest, I don't really think about it."
Well, there's many people thinking about it now. Because 700 wasn't the only numerical accolade highlighted on Marchand's milestone night north of the border (and earlier this week). To wit:
.@SASSoftware Stat of the Week: Brad Marchand has a ten-game home point streak in progress with 6-13=19 totals in that stretch. That is the longest home point streak by a Bruin to open a season since Bobby Orr set the club mark with a 25-game run in 1974-75. pic.twitter.com/mxhzbavO8w

— Boston Bruins (@NHLBruins) November 15, 2019
Brad Marchand is the only player in NHL history to score in the opening 15 seconds of a period on seven occasions. #NHLStats pic.twitter.com/xz0TCQBSrv

— NHL Public Relations (@PR_NHL) November 16, 2019
Speaking of highlights, the right-off-the-faceoff third period tally that gave the B's an all-important 2-1 lead (and subsequently set "Marchy" up for the above historic record) just 11 seconds into the final frame was both indicative and illustrative of No. 63's top-notch talent and work ethic.
11 SECONDS INTO THE 3RD, BRAD MARCHAND'S 12TH OF THE YEAR IN HIS 700th CAREER GAME! #NHLBruins pic.twitter.com/2d3NU8SRd0

— Marina Molnar (@mkmolnar) November 16, 2019
Go strong to the net with speed and skill then truly put the stick to stick-to-itiveness — that's a Brad Marchand specialty order. Thankfully for the B's, he had one more order up his sleeve. And that proved pivotal (and point-ful) in that it became the game-winning goal later in the third. In fact, it was almost the same recipe for success: a strong shot on net, a dogged perseverance to get the rebound, then a deft finishing touch!
Sit back and enjoy the Brad Marchand (@Bmarch63) highlights. pic.twitter.com/mo8CVP0LMh

— NHL (@NHL) November 16, 2019
Like him or not, Marchand is quickly (if not so quietly) becoming one of the best players in the league this year. But, that's not surprising for an all-star who consistently puts up big points season after season. What else is not surprising? How no matter the stage, he always finds a way to stick his nose out after a powerful performance.
Brad Marchand wins Player of the Game honors, and shows off the trophy to the Toronto crowd before leaving the ice. pic.twitter.com/QiaZpnmJKn

— Conor Ryan (@ConorRyan_93) November 16, 2019
Seven hundred games into his salty and successful NHL career, there's one thing for sure about Brad Marchand. He's not changing how he plays or who he is. And that's definitely deserving of a few honors, be it in Boston or Toronto, right now… and perhaps even (hall of) famously later.
Check out the new Black N' Gold Hockey Podcast episode 153 that we recorded below! You can find our show on many worldwide platforms such as Apple Podcasts, Google Podcasts, iHeart Radio, Spotify, SoundCloud, and Stitcher.
Please subscribe to our new Black N' Gold Hockey YouTube channel! We'd really appreciate the continued support. Click HERE for exciting Black N' Gold online content!!