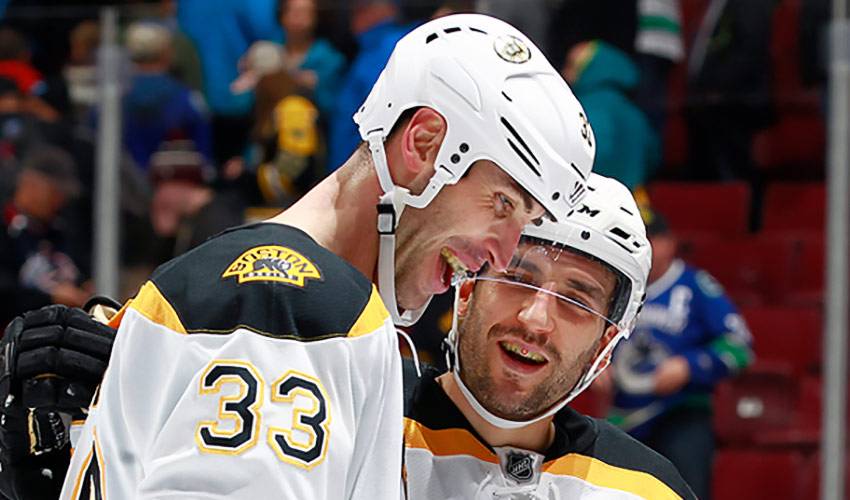 (Photo Credit: NHLPA)
By: Evan Michael | Follow me on Twitter @00EvanMichael
On this Merry Christmas day, the Boston Bruins–and their festive fans–have been gifted yet another awesome accolade thanks to their two star players: Zdeno Chara and Patrice Bergeron.
The Pro Hockey Talk crew made their picks for the 10 BEST players of the decade.

Full list here: https://t.co/h4GfXSnsdi pic.twitter.com/ZmCYqWkykT
— NHL on NBC (@NHLonNBCSports) December 24, 2019
That's right, "Big Z" and "Bergy" have BOTH cracked the 10 BEST Players of the Decade ranking according to the NHL on NBC's Pro Hockey Talk crew. Bergeron comes in at No. 4 on the list with Chara rounding out the "top ten" in the tenth spot.
But, numerically speaking, if you ask No. 37 about his Captain's true ranking, especially when it comes to this Original Six franchise, then all you'll hear about is Number One.
"[He's] A Blessing," Bergeron told the NHLPA in a retrospective article on the B's signing Chara during his formative years in Boston.
"I think he's a great leader because of the way he plays with so much passion and energy, and also in the way he prepares himself off the ice for each game," praised Bergeron.
"You just feed off that and follow that lead. As a teammate, he's a great one to have. You see the intense side of him on the ice, but off the ice, he's a genuine person, someone who wants to help out and wants to be there for the guys and teach the younger guys."
That's a top player at the top of his game, indeed! Speaking of "the tops" (as the late great Mel Torme would've sang about these two Boston legends)… Chara and Bergeron also helped raise more than $2,300 for the Boston Bruins Foundation Festival of Trees auction this Christmas week.
It's an annual event — with proceeds benefiting area charities and non-profts — that a very generous David Backes helped spearhead this season alongside his venerable veteran leaders (FWIW: Backes' tree went for $750, Chara's $900 and Bergeron's a whopping $1,400)!
Less than 24 hrs remain to place your bids on some amazing festive🎄holiday trees & 🎁 (including tickets to 12/29 Bruins home game & more!!) all proceeds benefit @NHLBruins foundation! Click here to support the 3rd annual Festival of Trees! https://t.co/D74Y1ppRby pic.twitter.com/BVCxsx6bjL

— David Backes (@dbackes42) December 19, 2019
In fact, the holiday auction has become so popular that other area organizations are using its "model" to benefit causes near and dear to them. My personal favorite of the season: this picture-perfect puck tree from the McAnanama Family of Agawam:
McAnanama Family entry in the Agawam Library Festival of Trees @NHLBruins #bruins pic.twitter.com/oI6INqimCI

— Brenna McAnanama (@brennamack_) December 22, 2019
And while we're on the subject of personal favorites (to come full circle like Santa's train underneath the tree), it's an excitedly obvious choice that Chara and Bergeron are also at the top of that list for Bruins fans, writers, bloggers, employees, teammates, management… you name it.
Santa Claus is HERE and he's a Bruins fan pic.twitter.com/HDMPtctzSh

— Evan Marinofsky (@emarinofsky) December 20, 2019
You know who else is a fan? Santa Claus himself! So, cheers to Patrice Bergeron and Zdeno Chara this Christmas season — and throughout the rest of the NHL season.
Because they're truly the gift that keeps on giving to the Boston Bruins!

Check out the new Black N' Gold Hockey Podcast episode 159 that we recorded below! You can find our show on many worldwide platforms such as Apple Podcasts, Google Podcasts, iHeart Radio, Spotify, SoundCloud, and Stitcher.
[soundcloud url="https://api.soundcloud.com/tracks/732532888″ params="color=#ff5500&auto_play=false&hide_related=false&show_comments=true&show_user=true&show_reposts=false&show_teaser=true&visual=true" width="100%" height="450″ iframe="true" /]
Please subscribe to our new Black N' Gold Hockey YouTube channel! We'd really appreciate the continued support. Click HERE for exciting Black N' Gold online content!!