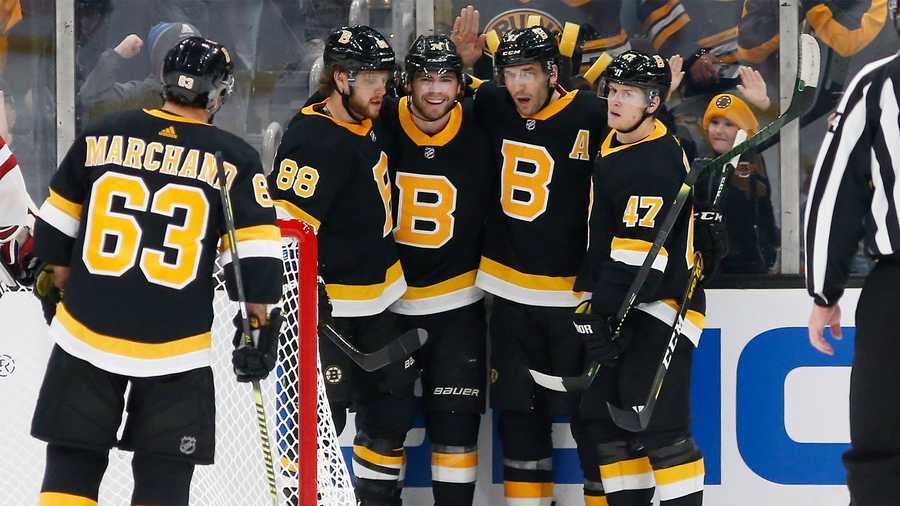 (Photo Credit: WCVB Boston)
By: Evan Michael | Follow me on Twitter @00EvanMichael
The Boston Bruins need a big finish to the schedule this season. Or, in the case of Tuukka Rask, a big Finnish. 
And I mean all around, in every aspect of the game: from taking care of lackluster low-pointers like the Red Wings & Rangers to tight tie-breakers like the Penguins & Lightning to just properly putting points up by building up and protecting leads and shutting down opponents.
Because unlike the ALMOST-Cup-clinching season of yesteryear, the B's road to playoff success in 2020 will undoubtedly go through more qualified, consistent and competitive match-ups than Toronto, Columbus and Carolina.
Yes, if the B's truly want to win the Atlantic Division, hold off Tampa Bay, win a few rounds against the likes of the Capitals and Penguins and then return to the Stanley Cup Finals, they're going to need everything in the tank — and then some!
The Lightning are just ONE point behind the #NHLBruins for the Atlantic Division lead.

If the Bolts continue gaining ground, are we in for Bruins-Leafs round three?https://t.co/yZcHWnmHZu pic.twitter.com/w8S8Znk9Xy

— NBC Sports Boston (@NBCSBoston) February 12, 2020
What exactly does that entail? Well, for starters, no "off" days or "bad" games. The Bruins need to treat each and every contest between now and April 4th like the playoffs have already started. The team's recent 9-out-of-10-games win streak is a great way to get this mindset going.
But with the Bolts truly bolting their way to the top of the division and league (and perhaps even past the Bruins by Leap Day), that could mean a loss of home ice or being seeded against an unfavorable team come this Spring. That's not the kind of "finish" the B's are looking for.
Based on the past week, I would like the Bruins to trade for more guys named Charlie

— Pete Blackburn (@PeteBlackburn) February 16, 2020
Speaking of which, Dealin' Donny Sweeney must learn to finish off one of his myriad trade proposals before the pickens are slimmer than Slim himself! As pointed out by numerous Black N' Gold bloggers and podcasters recently, the B's are thus far standing pat as all their competitors pick up potential targets that could bolster an already strong Bruins' lineup.
It "bears" no repeating how badly Boston needs a top 6 RW for the second line to play alongside David Krecji and consistently put the puck in the net and/or set-up his linemates. Perhaps this is the reason the B's didn't "finish" off the Blues in the Cup finals last year — no depth or secondary scoring!
The Bruins need scoring depth. I am sorry but plugging in young kids is not going to make that need go away. They put 40 shots on net in their loss to Detroit and only came up with one goal. That has been the story of this team for a while. Can't win with one line.

— Justin Ventola (@justin_ventola) February 10, 2020
But ruminations and repudiations aside, here's what we ALL want to see down the scheduling stretch and into the second season for the B's: a fighting finish. Literally and figuratively. Throw the gloves down when necessary. Put teams away whenever you can. Make Tampa and Pittsburgh and Washington work as hard as humanly possible to catch you in the standings. Seamlessly integrate new players via trade or call-ups.
In short, play Bruins hockey. The kind of hockey we all know, love and remember from 2011. Now wouldn't that be a way to FINISH!
Check out the new Black N' Gold Hockey Podcast episode 166 that we recorded below! You can find our show on many worldwide platforms such as Apple Podcasts, Google Podcasts, iHeart Radio, Spotify, SoundCloud, and Stitcher.
[soundcloud url="https://api.soundcloud.com/tracks/761866402″ params="color=#ff5500&auto_play=false&hide_related=false&show_comments=true&show_user=true&show_reposts=false&show_teaser=true&visual=true" width="100%" height="300″ iframe="true" /]
Please subscribe to our new Black N' Gold Hockey YouTube channel! We'd really appreciate the continued support. Click HERE for exciting Black N' Gold online content!!