(Photo Credit: @jmurphx11)
By: Evan Michael | Follow me on Twitter @00EvanMichael
"I'm going to think of you yelling at me on TV when I turn the puck over."
That's what Bruins superstar Brad Marchand said to his superfan Jillian "Jill" Murphy after visiting her at Boston Children's Hospital last March. And as the rest of the season — and now a full year — unfolded, so too did their relationship, both in person and on Twitter, as documented by B's writer Eric Russo in a heartwarming and entertaining feature story he shared with the Black N' Gold fanbase.
Now, Murphy needs more than just Marchy to help her earn an even more prestigious recognition: Upper Deck's #UltimateMVP award!
Jillian Murphy

Last season, Jillian had surgery and missed the @NHLBruins each time. However, she met Marchand at the hospital and complained about their turnovers. He said, "I'm going to think of you yelling at me on TV whenever I turn the puck over." #UltimateMVP #MyMVP pic.twitter.com/36LIKtyAE6

— Upper Deck Hockey (@UpperDeckHockey) March 5, 2020
That's right, she needs YOU — the fans of the Boston Bruins, and hockey in general — to show her some love just like he did AND like she does on a daily basis for the B's:
I need at least 1,000 more votes between now & March 15th to have a shot at winning lol 😂 Like the tweet by Upper Deck Hockey below to vote for me as Ultimate MVP. I'm representing the @NHLBruins. A vote for me is a vote for the Bruins! #NHLBruins #Bruins #boston #BruinsNation https://t.co/EHnJt244Du

— Jill Murphy (@jmurphx11) March 10, 2020
Speaking of likes… that's what it will take to make her UD's top fan! People need to click on the tweet she shared from @UpperDeckHockey, LIKE IT by clicking on the "heart" button and then telling others via shares and comments to do the same!
As Russo pointed out in his feature piece on Murphy, she suffers from a genetic connective tissue disorder called Ehlers Danlos Syndrome, which limits her mobility and requires the use of a wheelchair. And it was Marchand who sent her plenty of hearts when he invited the Murphy's to not only experience the B's up close and personal on TD Garden Ice, but also in the locker room post game one year ago this week:
Thanks for all the positive criticism regarding my play this evening! great spending time with you 🙂 https://t.co/fLWbvQ0peT

— Brad Marchand (@Bmarch63) March 6, 2019
Now, with the calendar flipped to 2020, Murphy has her sights set on another goal (and perhaps Marchand, too, if he can stop "the turnovers" she so comically chirped him about online): becoming OUR Boston Bruins MVP online! And as you can see from her very inspiring and supportive Twitter account, she's definitely more than qualified for the job.
My Team Brad wall in my room is my favorite corner. #TeamBrad #NHLBruins #bruins #bleedblackandgold #hesmyfavorite #BM63 pic.twitter.com/gx90vb7L17

— Jill Murphy (@jmurphx11) March 9, 2020
My #NHLBruins shrine. Highlights: signed @zeechara33 hat, 2 signed Bergy photos, signed pucks by Orr, Bergy, @pastrnak96, @JDebrusk, & of course @Bmarch63 (hopefully soon @CMcAvoy44). Signed card by Brad & Miller. Bergy & Pasta bobbleheads. Every rally towel from playoffs games. pic.twitter.com/hc6cQWtYbF

— Jill Murphy (@jmurphx11) March 9, 2020
So, what say you Black N' Gold brethren? Can we help Murph MARCH to the top of the #MyMVP competition at Upper Deck Hockey? I most certainly think we can. After all, the puck stops here!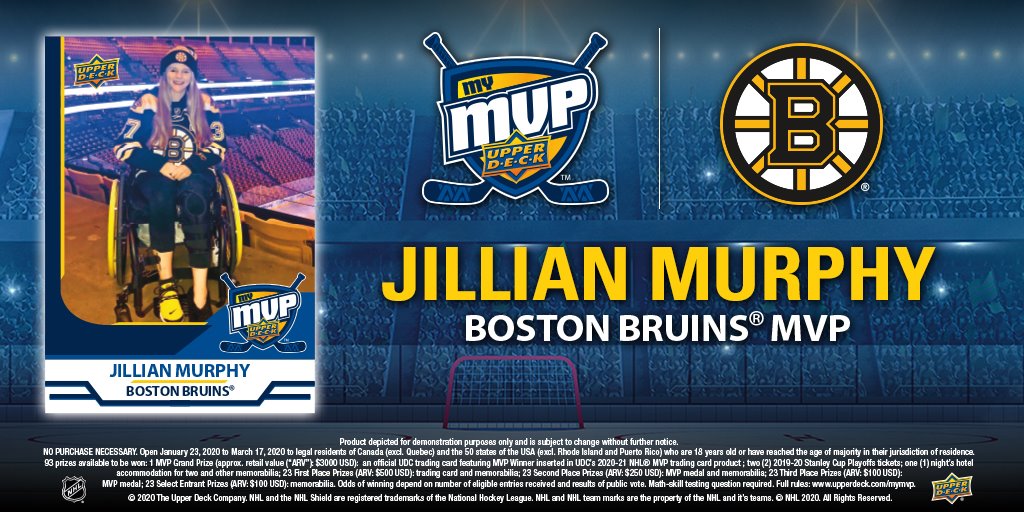 (Photo Credit: Upper Deck Hockey)
And follow us on YouTube for all the latest Bruins related content both in Boston and Providence!
 [youtube https://www.youtube.com/watch?v=e3jz6oUvkIw]