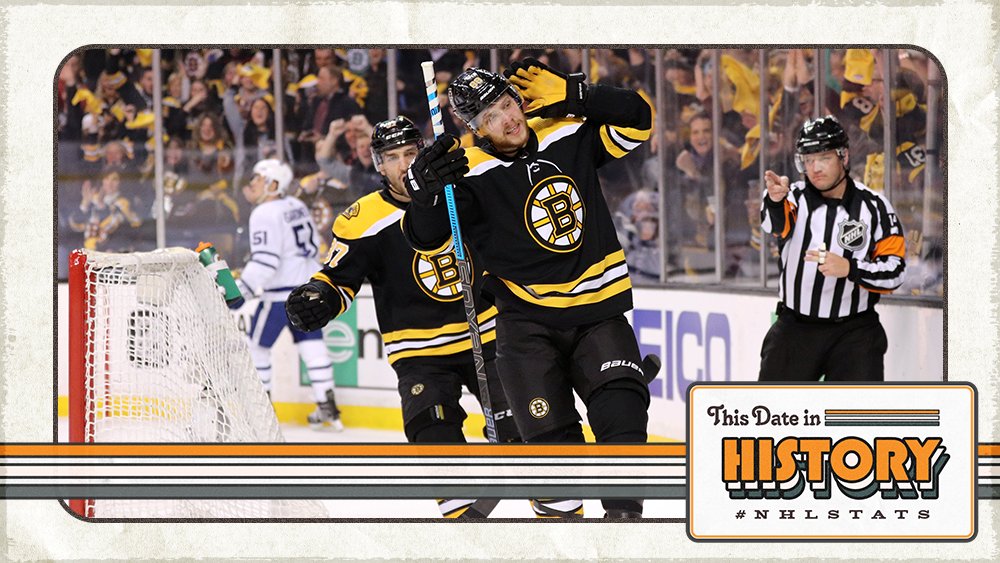 (Photo Credit: NHL.com)
By: Evan Michael | Follow me on Twitter @00EvanMichael
Who's hungry for a historical helping of PASTA this April 14th for OTDIBH?
Well, that's exactly what the fine folks in the NHL's Public Relations social media suite are doing for dinner today, per their appetizingly awesome tweet that Bruins fans should need no reminder of:
THIS DATE (April 14th) IN 2018: (21 years, 324 days) of the became the youngest in NHL history to record 6 points in a playoff game in a 7-3 W vs. TOR. He bested the previous mark held by Wayne Gretzky (22 years, 81 days). #NHLStats
Wow, did David Pastrnak ever serve up a record-setting performance two years go in game two! Anytime you can best The Great One in any hockey capacity, especially in the playoffs, then you're a special (perhaps even generational) player. And with it being against the Leafs — Boston's seemingly perennial first-round playoff opponent — it was all the more deliciously satisfying.
 [youtube https://www.youtube.com/watch?v=K0toUzQMxUc]
Add a side of "Hat Trick" to the order just before closing time and you've got a complete playoff meal courtesy of perhaps the most electric player in the game (especially in Black N' Gold) over the past few seasons — one worthy of the franchise record company kept with the likes of Espo & Nifty as outlined below.
Let's just hope the 2019-2020 second season picks up sometime this Summer because what Pasta and his Bruins teammates have done thus far is nothing short of fulfilling, indeed!  
Two years ago today, David Pastrnak ties a @NHLBruins franchise record (shared with Phil Esposito and Rick Middleton) for the most points in a Stanley Cup Playoff game (6). He does it with 3 goals & 3 assists as part of a 7-3 win over the Leafs in Gm2 of their 2018 Round 1 series pic.twitter.com/bnmwejngFS

— StatsCentre (@StatsCentre) April 14, 2020
Here's hoping they'll all be having a nightcap right out of the STANLEY CUP soon to wash down (and celebrate) all that Pasta!
Check out the new Black N' Gold Hockey Podcast episode 174 that we recorded below on 4-12-20! You can find our show on many worldwide platforms such as Apple Podcasts, Google Podcasts, iHeart Radio, Spotify, SoundCloud, and Stitcher.
[soundcloud url="https://api.soundcloud.com/tracks/796979662″ params="color=#ff5500&auto_play=false&hide_related=false&show_comments=true&show_user=true&show_reposts=false&show_teaser=true&visual=true" width="100%" height="450″ iframe="true" /]
Please subscribe to our new Black N' Gold Hockey YouTube channel! We'd really appreciate the continued support. Click HERE for exciting Black N' Gold online content!!