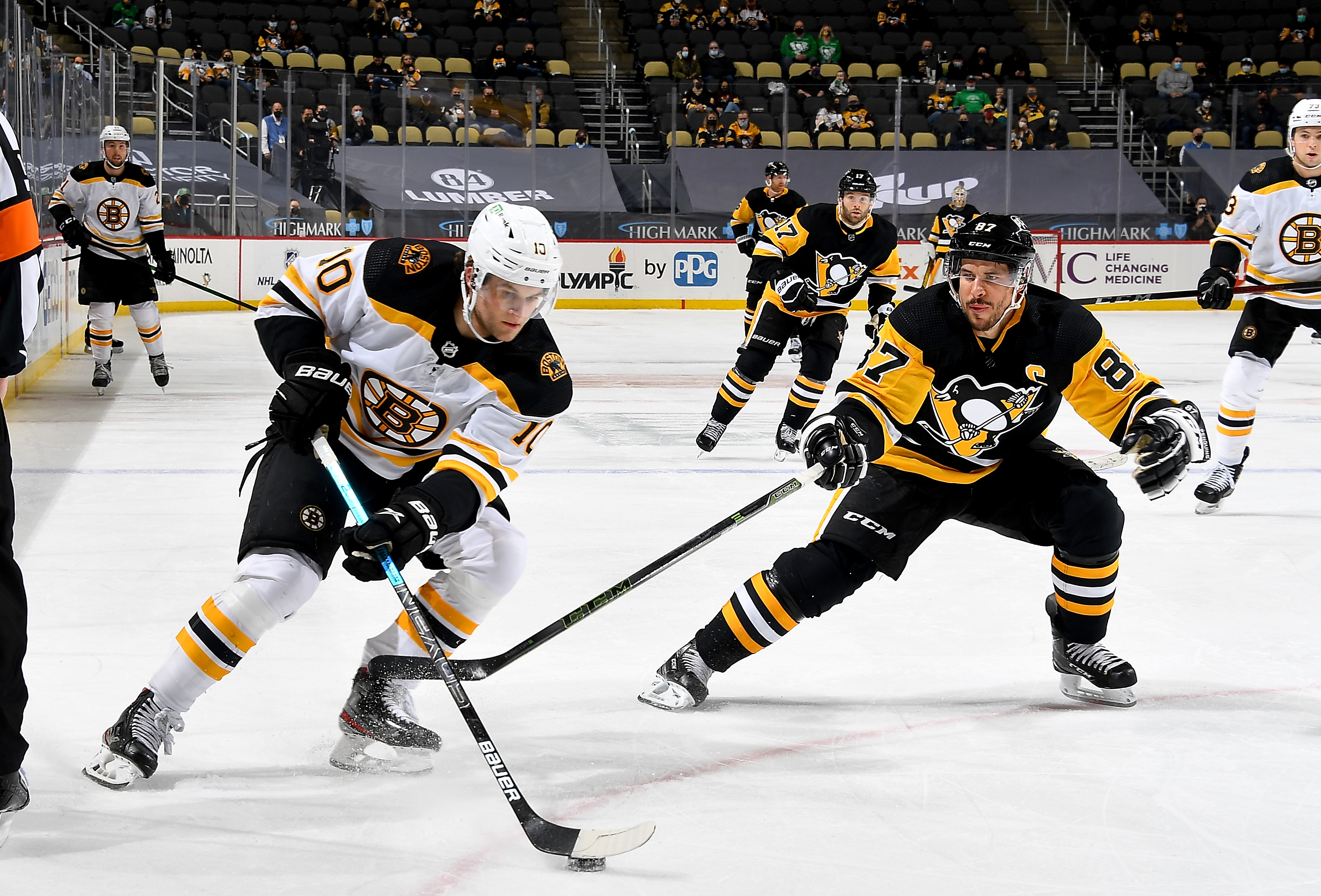 By Nathan Anderson | Follow me on Twitter @ndrsn27
As mentioned by Zack Carlone in the pregame notes (you can check him out on Twitter @zcarlone21, by the way), the problem for the Bruins lately has been consistency. Following a 4-0 win over the Rangers last Thursday, they fell flat Saturday afternoon and lost to those same Rangers by that same score, just flipped. Heading into tonight's matchup with the Penguins, who are right above the Bruins in the Mass Mutual East Division, the Bruins and fans were hoping not only for a strong performance but also for a performance that would set the foundation for a run of consistent good results.
Lineup:
There were a couple of notable changes to tonight's lineup. Coming back from his false positive COVID test was Jake DeBrusk on the second line, looking to build off one of his strongest games of the year last Thursday. Other nonregulars in the lineup tonight included Karson Kuhlman and Steven Kampfer. Dan Vladar also made an appearance on the bench and is being considered for a start tomorrow night.
Game Breakdown:
First Period
Looking for a strong start, the Bruins came out firing early. They did a great job getting pucks on the net and not passing up open shots. Their hard work was rewarded with a powerplay when Brad Marchand had his stick chopped out of his hands upon entering the offensive zone following a great shift by the fourth line. Recently heading to the powerplay hasn't been good news for the Bruins, but this time it was different. Matt Grzelcyk found a seam, and a great screen in front by Nick Ritchie helped give the Bruins an early 1-0 lead on Grzelcyk first of the 2021 season.
The Bruins seemed to kick it up a notch from there, controlling the play for the most part. It was nice to see after such a lackluster performance just two days ago. Since Tuukka Rask went down with an injury, Jaroslav Halak has been excellent for the Bruins. Unfortunately, in the first period, Halak dropped the ball and let in a couple of weak goals to let the Penguins back into the game. The first goal seemed like a fluke. Boston University product Evan Rodrigues attacked down the left-hand side of the Bruins zone and flung a seemingly innocent wrist shot towards the net, possibly looking for a whistle and a line change. What actually happened, though, was a misplay by Halak, and after bobbling the puck with his glove, it slipped between his legs to tie the game at one.
At first, the Rodrigues goal seemed to be just a fluke in an otherwise impressive stretch of games for Halak. Less than three minutes later, however, Sidney Crosby fired a one-timer past Halak on the short side to put the Penguins up 2-1. While you could maybe give Halak the benefit of the doubt here and say he shouldn't be expected to save a one-timer from one of the best players on the planet, it is probably another shot he would've liked to have back.
Unfortunately for the Bruins, the two soft goals undid their best period in the last two games. While 4-0 may have been a let-off based on chances the other night, being down 2-1 going into the first intermission may have left the players wondering what else they could have done. They got the strong start they needed but found themselves behind once again.
End of First Period: Bruins 1 – Penguins 2
Shots: Bruins 20 – Penguins 10
Second Period
While the Bruins didn't necessarily play poorly in the second period, the Penguins definitely controlled the play more. This was assisted by an early penalty on David Pastrnak for interference that left many of the players on both sides of the puck confused. This period was defined by several scrums, none of which amounted to anything serious, but all of which surely set the tone for the rematch tomorrow night.
About halfway through the period, the Penguins finally broke through on the powerplay after Connor Clifton got his stick tied up in Rodrigues's skates. Evgeni Malkin took a cross-seam pass from Crosby and fired it home short side for his 1,100th point in his NHL career. Halak looked confused on this goal, moving his right leg as if Malkin was shooting low blocker while the puck zipped by his glove hand.
End of Second Period: Bruins 1 – Penguins 3
Shots: Bruins 13 – Penguins 8 (Total Shots: BOS 33 – PIT 18)
Third Period
Things really fell apart for the B's in the third. The story of the night was their inability to score on Tristan Jarry despite throwing everything they had at him. It looked like the Bruins were just out of sync all period. They were missing passes, whiffing on shots, and unlike the first period in which they threw shots on the net from all angles, they began to try threading passes across the zone through multiple Penguins players.
Jarry was sharp for the Pens all night, but especially in the third. After a juicy rebound, Grzelcyk stepped into a one-timer from the left point that Jarry scooped up in his glove with a bit of flair. The Bruins did get an opportunity to get back into the game late when a hooking call to Teddy Blueger gave the B's a powerplay. Pastrnak got a golden opportunity to cut the lead to one when he received a pass at the backdoor and whiffed on a one-time attempt. After killing off that penalty, the Penguins got an insurance marker from Jake Guentzel to make it 4-1.
End of Third Period: Bruins 1 – Penguins 4
Shots: Bruins 10 – Penguins 8 (Total Shots: BOS 43 – PIT 26)
Overall Summary
It's tough to beat good teams in hockey at any level, let alone the NHL, when a one-goal deficit feels like a mountain. That's how it feels right now in Boston, and unless the team can find some secondary scoring, GM Don Sweeney is going to have some work to do at the deadline if this team wants to contend for a Stanley Cup (stay tuned to BNG for more on that in the near future). The only offense comes when Bergeron, Marchand, and Pastrnak are on the ice, and even players who started hot like Nick Ritchie and Craig Smith have dried up.
Tonight may have been different had Halak been a bit stronger in net, but he's been so good for the Bruins; lately, it's hard to entirely blame him for this loss. We can't expect our goalies to allow one goal every game just to have a chance at winning. It seemed like the two soft goals energized the Penguins and discouraged a Bruins team who honestly looked alright in the first, in my opinion. The Bruins and Penguins will play again tomorrow night at 7 pm Eastern Time back at PPG Paints Arena.
Please subscribe to our new Puck Lines Podcast YouTube channel for Bruins recap videos brought to you in partnership with Black N' Gold Hockey!!