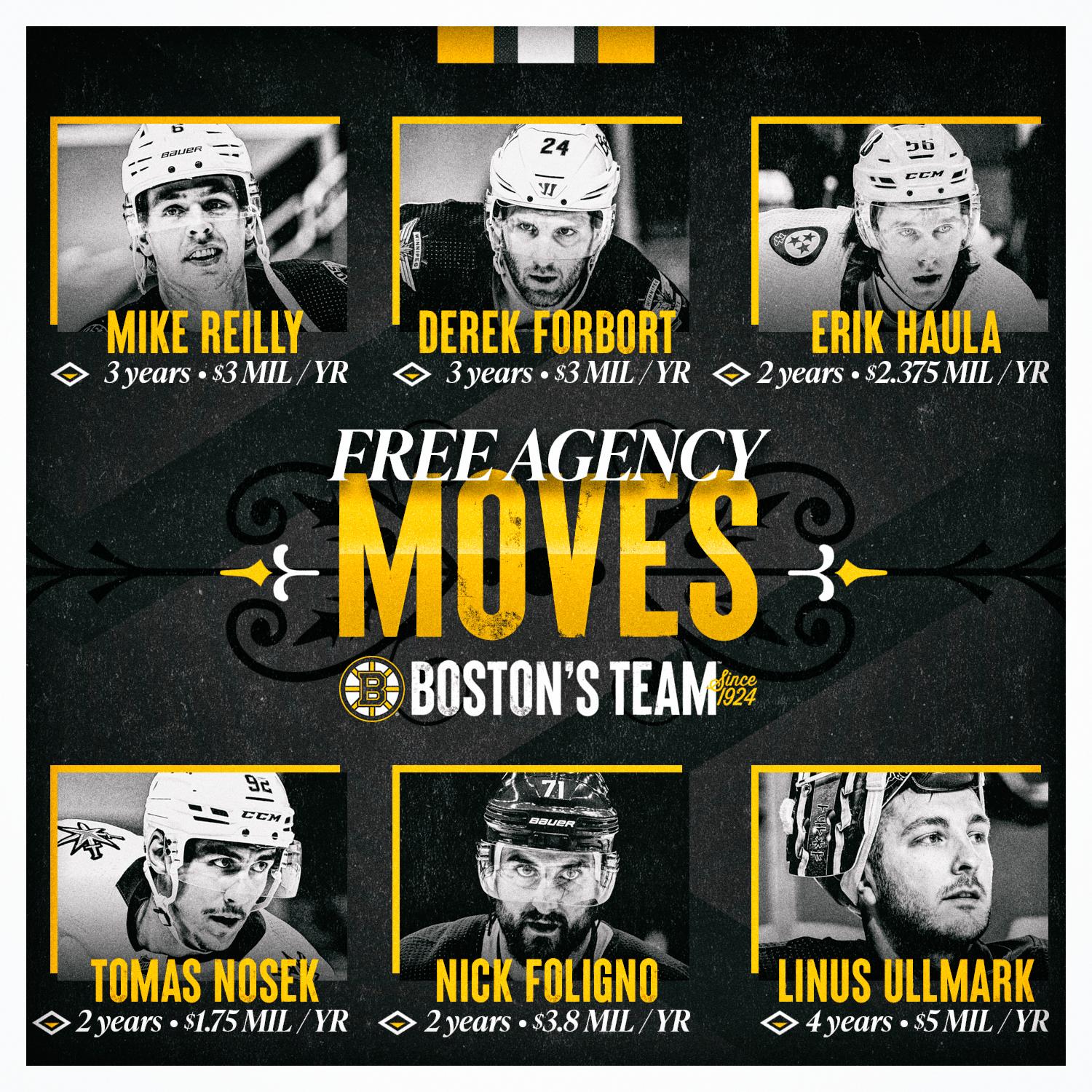 By: Evan Michael | Follow me on Twitter @00EvanMichael
During the NHL's 2021 "opening day" of Free Agency, Bruins' General Manager Don Sweeney opened the owner's wallet… quite freely, might I add.
In what is shaping up to be his busiest off season in team history as GM, Sweeney added quite a plethora of players to the Boston roster — with more moves expected because of some seriously crunched cap numbers (as brilliantly broken down below).
While the jury's still out, with both positive and negative vibes being felt by the online world even up to this moment, on how well all the pieces will fit into Sweeney's puzzle (i.e. term, value, position, need, etc. etc. etc.), he's at least showing us an overall picture of what a 2021-2022 Bruins team could look like (and cost).
So, without further ado, and without worrying about names like David Krejci, Jake DeBrusk or Tuukka Rask for the moment, let's meet some of the new names set to join one of the now deepest B's rosters that I can remember in years.
After jettisoning one defenseman away in the Seattle Kraken expansion draft (bon voyage Jeremy Lauzon!), the Bruins got their own replacement Jet… and fast!
Derek Forbort, the 29-year-old big-bodied D-man (6'4″ / 219lbs) originally from Duluth, joins the Bruins after abbreviated pandemic stints in Calgary and Winnipeg.
The former First-Round-Pick (15th overall in 2010) of the Los Angeles Kings, who spent his first 4.5 seasons in La La Land, hopes to land a steady shot-blocking presence on the B's back end for next season and beyond.
Tomas Nosek, hailing from the Czech Republic (like Krejci, hint hint), has spent the past four seasons helping the Vegas Golden Knights be perennial playoff powerhouses.
With his skilled playmaking and passing abilities in a bottom-six (mostly fourth line) role, dare I say, he's got a Nosek for this type of team-first hockey.
Bad puns aside (and perhaps even offside), that looks to be the same game plan for the 28-year-old winger once he's ready for game action in an even sharper golden jersey.
Erik Haula, a Fin with finish, will be joining Boston after bouncing around the league for a bit over the past few seasons (Carolina, Florida and most recently Nashville).
His most spirited and successful seasons, however, came before that as a member of the nearly-Cup-clinching Golden Knights, playing with Nosek in 2017-2018.
A winger who can also play up and down the center of the ice, Haula hopes to haul in some points skating alongside a much more experienced, veteran-laden B's third line this Fall.
You can take it from the words of the former Columbus Blue Jackets captain himself: "Can't wait Bruins fans!!! Let's go!!!"
That's three exclamation marks of excitement for the classy veteran who after starting his career in Ottawa (28th overall pick in the 2006 NHL Draft) and making a quick splash in Toronto hopes to finish it in Boston with a Stanley Cup next year (and how about even the year after since it's a two-year deal for the plucky and pucky 33-year-old).
Expected to bring grit, depth and, when needed, some scoring touch and physicality to the B's bottom six, Foligno is exactly the type of savvy and skilled player the B's can rely on in all situations. And he wants to be here, helping push a talented, and like himself, aging Bruins core, over the top to top off an impressive career.
What type of mark will Linus Ullmark line up to make for the Boston Bruins next season? How about for the three seasons after that?
Perhaps Mr. Sweeney knows more about the future of the B's goaltending situation than we give him credit for in signing the career Buffalo Sabre to a multi-year deal for some five million dollars annually (note: Daniel Vladar was sent off to Calgary for a third-rounder next draft and Tuukka Rask's surgery is expected to keep him out of action until early Spring of 2022).
What we do know is that Ullmark was the only annual reason to even watch Buffalo play, posting some impressive career numbers (2.78 GAA / .912 SV%) standing in front of one of the worst teams in all of hockey. Now imagine what the stalwart Swede could do in front of a stacked B's offense and defense, especially when he'll be expected to share some time while mentoring in young goaltending stud Jeremy Swayman.
The future is bright between the pipes for the Boston Bruins, both short term and long term now, thanks to Ullmark coming, Vladar going, Swayman rising, and Rask… perhaps… even staying!
DEPTH ADDITIONS – D, F & G
The below tweet from the official @NHLBruins Twitter account says it all:
The team has "also signed" a talented mix of depth players (a Don Sweeney hallmark move) to join the big splash of free agent moves — not to mention the recently returning Taylor Hall and the recently signed Mike Reilly, two names needing no introductions above.
And with free agency just getting started and some questions still needing to be answered by Sweeney and the B's brass (Krejci, the cap, more defense), you can best believe the Black N' Gold Blog will be introducing you to even more updates and names as the craziness continues!