(Photo Credits: Evan Michael)
By: Evan Michael | Follow me on Twitter @Evan007onTV
Forget Mr. Gabe Kotter, it's time to "Welcome Back" a few fan favorites (or forgetfuls) of the Bruins who took two turns thru town during their illustrious careers wearing the spoked-B. From players to coaches to player-coaches, even a couple of broadcasters and general managers, these Bruins enjoyed lengthy hockey careers with stints in Boston separated by a few seasons for some and decades for others. I'm sure there are additional names that could and/or should be on this list, but because I've got 'em on the spot, here are the ones I choose to tease a lot for "Best Bruins Reunions!"
The Captain Cooney Years (1928-'32, 1935-'39, 1940-'41)
Unlike Ralphie from A Christmas Story who nearly shoots his eye out, Ralph Weiland could shoot the puck past any goalie back in his heyday. Pictured in my post from the Fourth (Line) of July, "Cooney" as he was called, was a Cup Champ for the B's three times — first as a rookie in 1929 then again in his farewell season of 1939 and then behind the bench as a coach in 1941. In "B"tween his Beantown years, he briefly played for the (original) Ottawa Senators and Detroit Red Wings. But it was his triumphant return to the franchise in 1935 after having left just a few years previous that the city of Boston will forever be grateful for. And not just because of the Stanley successes he led the Bruins to Captain Cooney also had a lasting impact at Harvard University where he coached the Crimson for two-plus decades post his memorable career wearing the Black N' Gold (if you brush up on your French, you'll understand why thanks to Hockey Canada below). Welcome Back, Cooney!
[youtube https://www.youtube.com/watch?v=9ha9rhBdLOk]
The Flaman Forties & Fifties (1944-'51, 1955-'61)
Move over John Jacob Jingleheimer Schmidt… there's a new best long name in town: Ferdinand Charles Carl Flaman! And believe me, Bruins fans, whenever he did go out on the ice, the people always did shout his name. But they used "Fernie" since it was easier to say and more alliterative. When did they say it? For a nice chunk of time first in the forties then again in the late fifties. Sandwiched in the middle of those two Bruins stints was some Toronto time for Fernie, but any former Hub teammate or current North Shore grandparent will tell you that it was in Boston where the tough-as-nails D-man played his best hockey, racking up accolades & respect just as quickly as penalty minutes (he led the league in PIMs in '54-'55).
(Photo Credit: Hockey Ink)
Also a team captain like the aforementioned "Cooney," Fernie (man, those are some great B's nicknames, don't you think!?) made the most of his return to the city and region, not only serving as a player-coach-GM for the AHL's Providence Reds** but later as the head hockey coach of Northeastern. Welcome Back, Fernie!
**Read more about the history of hockey in Providence thanks to fellow blogger @hockeygirl2976 by clicking the link!
The Cherry On Top (1954-'55, 1974-'79)
So his NHL playing career only lasted one Bruins playoff game in 1955, but I'll be damned if Don Cherry didn't make my list! Flamboyant, eccentric, maddening, colorful (and I haven't even got to his suits yet), Cherry was — and still is — one of the most singular and original personalities in and of the game.
(Photo Credits: Coach's Corner & Hockey Night in Canada)
And all of those qualities were on full daily display when he returned as head coach of the B's in the seventies. After that lone '55 cameo call-up to Boston, Cherry spent the remainder of his playing career in the minors, even quitting the game during the dawn of Disco to work as a car salesman (perhaps the suit trend started here — "the only thing louder than this Caddie's engine is my purple blazer!"). When that career didn't sell, he was lured back to the ice, and ultimately back to the B's, in 1974. During his time as bench boss of the Bruins, Cherry won everything but The Stanley Cup–from division titles to conference crowns to the Jack Adams Award as NHL Coach of the Year. But it was the moment seen in the clip below which made Cherry truly unforgettable in Bruins lore (and not in the best way, once could argue):
[youtube https://www.youtube.com/watch?v=3o5YkiRuTC4]
There's losing. Then there's Don Cherry losing. But because we're still talking about it (and did I mention those impeccable suits?) all these years later, I guess he's somewhat winning. Ah, who am I kidding, any guy who when asked a question about the Bruins responds with "I love them so much I still wear their shorts" (thank you Windsor Star for this quotable gem) is as perfect as a summertime hot fudge sundae with whipped cream. And a Cherry on top. Welcome Back, Coach!
The OveraCheever (1967-'72, 1975-'80)
Let's just clear the air, and the ice, right out of the gate and say that perhaps if this soon-to-be-mentioned gallant goalie was in net during the above "Too Many Men" incident, Bruins history would be a lot different (sorry Gilles Gilbert, I've always had an affinity for the other G-man between the pipes). And that's Gerry Cheevers, whom I histrionically mentioned in my first ever post here at Black N' Gold Hockey.
(Photo Credit: Vintage Sports)
Cheevers, who practically pioneered the art form of "the flop" and always acted as the "third defenseman" of the game, became the B's number one goalie in 1967 and kept that post-to-post post up until 1972, where after winning his second Stanley Cup in three years, he bolted from the B's to the fledgling World Hockey Association (WHA). He tended net for the Cleveland Crusaders for four seasons before bouncing back to Boston to finish out his impressive playing career (the only thing more impressive than his Bruins stats during both of these stretches was his inimitable mask as seen below–it'll literally and figuratively leave you in stitches).
Happy Birthday #Bruins G Gerry Cheevers! #HHOF pic.twitter.com/5s36hvZgeL

— Boston Bruins Alumni (@NHLBruinsAlumni) December 7, 2017
Cheevers then went on to coach for the B's throughout the early years of the Reagan administration before joining the Bruins broadcast booth on NESN and WSBK-TV in the late 90's early 2000's. However, when it comes to broadcasting, how's this for the perfect Coach's Corner combo–cherubic Cherry cheering Cheevers cheerfully:
[youtube https://www.youtube.com/watch?v=kpVn_jsTJbk?start=87]
The Bill For My Beers Years (1985-'89 & 1995-2000)
There's just something about guys on the Bruins whose names start with "B" that I like. It feels like they were meant to play in Boston. And twice for this blog's point! Let's keep the good goalie vibes going by first featuring Billy Ranford, who impressed the B's brass so much as a rookie in 1985 that he became what looked like Boston's "goalie of the future" for 1986 and beyond.
(Photo Credits: Trading Card Database)
That is until a coaching change led to a change of scenery for Ranford in 1988–him being shipped to the Edmonton Oilers along with the plucky (and pucky) Geoff Courtnall for none other than the great Andy Moog. This trade is one I still to this day hem-and-haw about because I love Andy Moog (and tweet at him often because of my vintage NHL75 jersey) and know how amazing he was with Reggie Lemelin as a 'tender tandem!
Hey @andy_moog35! Wore my fav #NHLBRUINS jersey to watch G7 at thee Boston bar in SoCal, @SonnyMcLeans! Mad respect from everyone there. Cheers to the #Mooger! @NHLonNBCSports @HackswithHaggs @_TyAnderson @VaughnHockey #bruins #StanleyCupPlayoffs #NHL #AndyMoog #75thanniversary pic.twitter.com/jEh5w6xSYc

— Evan Michael (@EVAN007onTV) April 26, 2018
But I also know that Moog's Bruins lost to Ranford's Oilers twice in the Cup finals in '88 and '90, respectively. So who knows if a Ranford-in-Boston dynasty could have started if that trade never happened? Fittingly, another trade did happen, and good ole Billy boy found himself back in Boston for the mid-90's but only for a few seasons. He then became a part of the infamous package to the Capitals that sent out Adam Oates & Rick Tocchet and brought in Jason Allison, Anson Carter and "The Net Detective" himself Jim Carey. While I do miss old-fashioned hockey trades like the ones described, one of BNG's newest writers, @pastagrl88, has some more historical happenings to look at here if you're into reminiscing and ruminating about what might have been for the B's!
Speaking of "B's," let's get to that second name–one that I'll raise a glass to Bob Beers! While his playing career was split between the NHL and AHL both times he was with the Bruins organization (first from '89-'93, then '96-'00), the return investment on his return to Boston was when he joined WBZ as the B's color commentator for radio broadcasts. While the aforementioned Cherry & Cheevers made a name for themselves on TV after their careers, Beers became for many fans thee Bruins voice across the AM & FM airwaves for commentary. Just like he was considered a "Star Rookie" as seen in the card above, here's Beers talking with soon-to-be star rookie for Boston, Ryan Donato:
New #Bruins winger Ryan Donato chats with @985TheSportsHub Bob Beers before his first #NHL game tonight. #WBZ #Harvard pic.twitter.com/xCAtm837iZ

— Scott Sullivan (@SullyBunz) March 19, 2018
I've always enjoyed Beers' insight into the game, knowledge of the game and passion for the game — all intangibles he brings to the booth as a former player who doubly appreciated his time in both Boston & Providence. Cheers to Beers and, of course, Welcome Back, Bob & Billy!
The Magic of Murray (1991-'95, 2001-'08)
While my all-time favorite Murray might be Bill (The Actor), when it comes to Bruins alumni, this guy definitely takes the cake. That's right, I'm referring to Mr. Glen Murray himself, who like his acting namesake, found himself in a Groundhog's Day of sorts in Boston first in the 90's then again in the "oughts."
(Photo Credits: Trading Card Database)
A first-round pick by the B's in 1991 (18th overall), Murray's promise as a skillful scorer didn't come to fruition until his perfectly timed return to Boston a decade (and century) later in a trade that sent former B's captain Jason Allison to the Los Angeles Kings. Along with Murray, the Bruins received Jozef Stumpel for the second time as well, as the two played together during their first stints in Beantown. Murray's all-star level contributions to the point sheet during his sequel years in Boston remain an impressive feat, as he's the last B's player to score more than 40-goals in a season–he put up 44 in 2002-'03 (I call dibs on Marchy, Bergy or Pasta breaking the drought this year). His career with the B's ended in lackluster fashion with an ankle injury, surgery, rehab and waiver buyout. But for me, he'll always be remembered for this:
[youtube https://www.youtube.com/watch?v=IuwFAmqVNSQ]
I truly think Murray could have led the Bruins to a Cup during the early 2000's if not for then-GM Mike O'Connell and team owner Jeremy Jacobs making some bonehead moves with free agency, the lockout, and trades. Nevertheless, it was still a fun time to watch and root for the B's thanks to gleeful Glen. Welcome Back, Mr. Murray!
Other Notable Names (the Nineties to Now)
Who remembers the highest scoring Polish player in NHL history? Well, our friends at Stanley Cup of Chowder do — Mariusz Czerkawski!  He played for the B's from 1993-'96 then again for a hot second during the 2006 season.
How about Mass. native Shawn McEachern who toured the Boston ice in '95-'96 and returned for a blink-and-you-missed-it cameo in '05-'06.
And who can forget Dobby! That's right, Anton Khudobin first crammed the crease between 2011-'13 before holding the frozen fort as a back-up these past 3 seasons.
Well, if you've been a Bruins fan all your life like myself, then the names have all changed since you hung around. But those Cup-clinching dreams have remained, and they've turned around. And just in time for the season to soon start. So let's all be on the lookout for other potential Bruins reunions that could happen in the near future. I mean, who'd have thought it would lead ya, back here where we need ya Milan Lucic, Tyler Seguin, or Jumbo Joe? That probably isn't true and won't happen. But it may workout if the right player wants a warm "Welcome Back" to Boston.
Or, they could always just play for this team…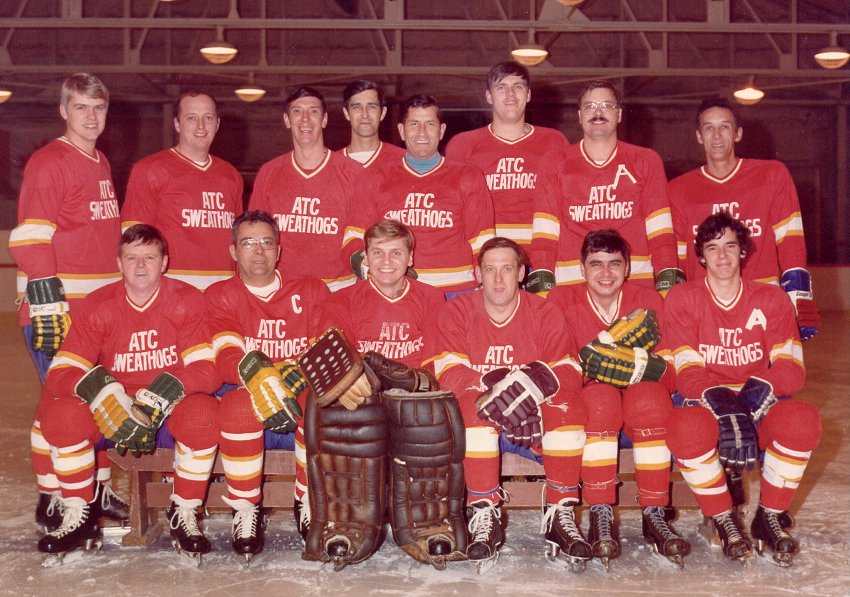 (Photo Credit: C&E Museum)