(PHOTO CREDITS: Bay Area News Group-Josie Lepe )
By Liz Rizzo | Follow me on Twitter @pastagrl88
As one of the oldest franchises in the NHL, the Boston Bruins have produced the leagues most legendary players from Orr to Esposito. In their long, storied history, there have been some stellar trades (Ray Bourque, anyone?) along with a few head-scratching moves made by the powers that be.  These very moves left quite a scar for the Black and Gold and continue to make fans imagine a different outcome if we had kept certain players:  *cough, Seguin, cough*. 
In no particular order, we take a look at some of the worst trades in Boston history.
1. Say It Ain't So, Joe
Boston Acquires: Marco Sturm, Brad Stuart, and Wayne Primeau
San Jose Acquires: Joe Thornton
In 2005, the Bruins stunned the superstar center when then-general manager Mike O'Connell called him up on his cell phone to let him know he'd been traded. Thornton had just signed a three year, $20 million contract extension with Boston. At that time, the Bruins were one of the last place teams in the conference. In an effort to shake things up, Boston was willing to trade Thornton, who was supposed to be their franchise player. The brass felt that they couldn't build a team around the young center: Boston's loss was San Jose's gain.
Both Stuart and Primeau were traded to Calgary soon after for Andrew Ference and Chuck Kobasew (a good move for Boston). Sturm had a good run with Boston,  posting 193 points in 302 games in the five season he played. Thornton's career exploded in San Jose. "Jumbo" Joe has potted 937 points in 914 games which is on par with two other stars in the NHL: Sidney Crosby and Alex Ovechkin.
And yes, critics are quick to point out that Thornton has yet to win the Stanley Cup. However, you can't deny that Boston missed the boat and let a superstar slip through their hands.
2. Doing It For Ray
Boston Acquires: Brian Rolston, Sami Pahlsson, Martin Grenier, and 1st Round Pick
Colorado Acquires: Ray Bourque, Dave Andreychuk
This was a tough one for Boston; Bourque had cemented his career in Boston, having played 21 seasons in the hub. But in all that time, the Stanley Cup had alluded the top defenseman. The 39-year-old was looking for his first championship, and Colorado offered just that. With a contract set to expire, Bourque was shipped to the Avalanche and in 2001 finally won the Cup. As for the Bruins, letting go of one of the NHL's best defenseman in history proved to be a bit disastrous.
Brian Rolston played solid for four seasons in Boston (236 points in 338 games). Pahlsson, Grenier and first-round pick Martin Samuelsson played a combined 31 games and netted three goals. Yup, you read that right; three goals combined! At least Bourque finally got his cup though.
(PHOTO CREDITS: NHL.COM)
3. The One That Stings
(PHOTO CREDITS: Jerome Mirron-USA Today)
Boston Acquires: Loui Eriksson, Reilly Smith, Joe Morrow and Matt Fraser
Dallas Acquires: Tyler Seguin, Rich Peverley, and Ryan Button
It's been five years since the Bruins traded a young 21-year-old future superstar albeit rumors of hard partying. His playing was also affected: during the 2013 Stanley Cup playoffs, Seguin played abysmally, netting one goal in eight games. Despite his soft play on the ice, this trade was still hard to swallow. On one hand, you have a young person who is acting like most 21-year-olds (honestly who hasn't crushed beers when you turn 21). On the other hand, there's a high level of professionalism that is expected while playing in the NHL. The Bruins were exasperated with Seguin's lifestyle and had to make an unpopular move; trade a potential superstar who was on his way to squandering his talents. Or so they thought.
Seguin proved his worth in Dallas, became a media darling and turned out to be the superstar Boston was looking for. Being traded served as a wake-up call for Seguin and simply put: he grew up. Sadly, Boston's loss was a huge win for the Stars.  He has made four All-Star appearances with stats that continue to climb: 162 goals with 357 points in over 365 games.
Eriksson, for his part, had a productive three years in Boston before being signed by Vancouver: 147 points in 224 games. Morrow played 65 games, while Fraser played 38 games, scoring five goals. Smith played 91 games before being traded for Jimmy Hayes. Fraser last played in Sweden and never did much in Boston. As the dust settled, Boston was left with nothing after the Sequin trade. Zero. Yikes.
4. Canadien Crush
(PHOTO CREDITS: Getty Images)
Boston Acquires: Paul Reid and Guy Allen
Montreal Acquires: Ken Dryden and Alex Campbell
In a trade that proved to be a lopsided deal, the Bruins let go of a future Hall of Famer goalie in Dryden. The worst part of this move: both Reid and Allen played a total of ZERO games in the NHL. Dryden, on the other hand, dominated in net for Montreal in every Stanley Cup final starting in 1971.
Playing against arguably the best Bruins team that was led by Bobby Orr, it was 23-year-old rookie Dryden that would lead Montreal to a cup. During the 1977 and 1978 Stanley Cup final versus the Bruins, Dryden was an unstoppable force. In just seven seasons, Dryden won the Vezina Trophy five times and the Stanley Cup six times.
He would face Boston in a few Stanley Cup finals and won each time. The Bruins would once again be on the sidelines, watching a former player enjoy wild success with another team.
5. Sealing The Deal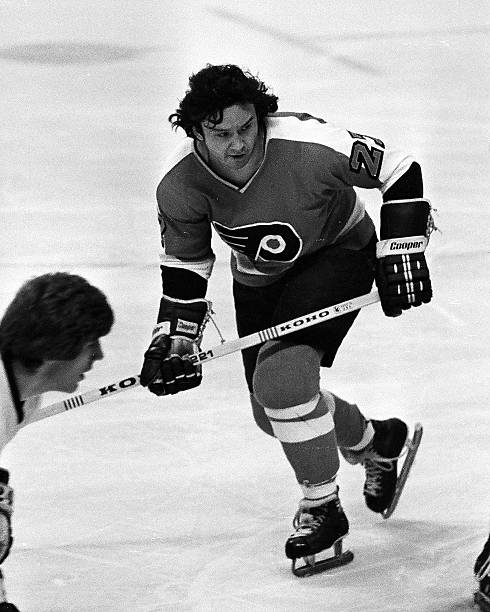 (PHOTO CREDITS: Getty Images)
Boston Acquires: Carol Vadnais and Don O'Donoghue
Golden Seals (California) Acquires: Reggie Leach, Rick Smith, and Bob Stewart
While it may be true that Vadnais would become a solid defenseman for the Bruins after playing three seasons, (he would end playing five seasons for Boston) what puts this trade on the list is a player named Reggie Leach. Even though he was traded to the California Seals, his shining moment would be his career playing in Philadelphia.  With 372 goals and 640 points, Leach would play for the both the Flyers and the Detroit Red Wings. Philly would face Boston in 1976 for the Stanley Cup, defeating them four games to one. Leach would score nine goals in five games. That same year, he won the Conn Smythe trophy.
As for O'Donoghue: he didn't dress for a single NHL game. Both Smith and Stewart continued to play solid for their teams respectfully (Smith would return to Boston in 1976 and played there until 1980).
Moral Of The Story
Any time you have a team who has been around for as long as the Bruins, you're bound to have some great trades and a few dumpster fires. As for the Sweeney Era, some honorable mentions would be the Matt Belesky contract debacle and the Jimmy Hayes/Reilly Smith swap. Both came at the time when Sweeney took over the GM position, so we'll chalk it up to a learning experience. Still, one would not blame fans for being nervous anytime Boston has an unsigned stud, a la Pastrnak in 2017. After a bizarre standoff that included a KHL threat, Sweeney got a steal in signing the Czech superstar: six years for $40 million.
After the 2018-2019 season, there will be a few young players that will become restricted free agents. Many have already proven to be legit superstars after the end of this season. Will the front office secure DeBrusk, McAvoy, and Carlo? We'll just have to nervously wait and see.