(Photo Credit: NESN)
By: Evan Michael | Follow me on Twitter @Evan007onTV
The 2018-2019 Boston Bruins schedule should be entertaining, eye-catching, exciting, and definitely exhausting (this brings whole new meaning to the phrase "E" for effort). But if the B's are buzzing, especially during the Fall/Winter stints that I recently wrote about, as well as the early/late Spring games-to-watch, then you can safely bet on "S" for success next season.
Speaking of the upcoming season, and with the recent release of all the nationally televised games, here are some additional NBC/NBC Sports games you should highlight for the B's as you "Mark Your Bruins Calendar: Part III!"
Wednesday Night Hockey Debut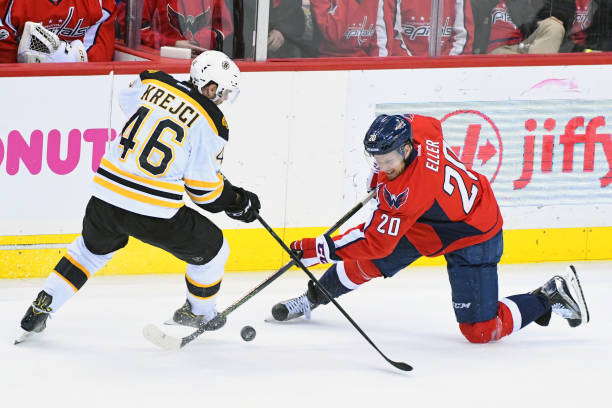 (Photo Credit: Getty Images)
What used to be called "Wednesday Night Rivalry" on NBC Sports is now re-branded as Wednesday Night Hockey. And there's no better way to draw fans and viewers in than to debut this new format/style of a national hockey broadcast with the defending Stanley Cup Champs hosting your Boston Bruins. It will be a tough test right out of the gate for the B's and with plenty of eyes/critics/doubters/prognosticators watching. Can Rask outduel Holtby, which historically hardly happens (especially when the B's are in DC)? Can the young guns generate plenty of offense and energy in Game 1 like they did a year ago against another Cup-tested Nashville team? This will undoubtedly be a "must see" game for not just Boston and Washington fans, but all hockey fans in general. So mark your Bruins calendar for Wednesday, October 3rd, 2018!
The Winter Classic
(Photo Credit: NHL.com)
An Original 6 duel on outdoor ice in one of the most historic stadiums in the country… that's an unmissable match-up if there ever was one in the sport! Not to mention it's a 2013 Stanley Cup rematch and a geographic "home game" for the Blackhawks. Add to it that the Bruins didn't have any lady luck or puck luck on their side in their most recent Winter Classic contest against the Habs and what you "hab" is a game well-worth watching and cheering on. If this year's Celtic-esque logo is any type of foreshadowing for the B's, then New Year's Day should be a fun one (and win) indeed! So mark your Bruins calendar for Tuesday, January 1st, 2019!
Canadiens Come Calling
(Photo Credit: SportBet)
Sure, the rivalry hasn't been as heated in the past few seasons as Montreal works to "rebuild" itself. But there's nothing like a national TV game, and at home (the Bruins first of the season), to get the Black N' Gold juices flowing against the Bleu, Blanc et Rouge. Hopefully, it'll be as entertaining as this barn-burner from yesteryear featuring Milan Lucic and Co.
[youtube https://www.youtube.com/watch?v=Q5CU8L0kwwg]
No matter the outcome, it's always a surefire guarantee that the Garden will be packed, rocking, and full of "hated Habs" spirit. Oh yeah, all of Canada will be watching this one, too! So mark your Bruins calendar for Monday, January 14th, 2019!
Taking On Tampa
(Photo Credit: TSM Plug)
Yes, I skipped over six intriguing nationally-televised Bruins' broadcasts to get to this game. But here's why: the B's will be 3/4 of the way done with their season by now — a season in which they'll be constantly battling with the Tampa Bay Lightning for playoff positioning, maybe even the Atlantic Division crown. So by the time late February rolls around, the stakes for this game could be as big as the D-pairings, with lots to gain or lose after the drop of the puck. Thankfully, that puck drop will be in Boston and the hometown crowd will be on their feet most of the game to motivate the B's. And believe me when I say the Bruins will need it, as this TB in New England is certainly not as well-received as the other. So mark your Bruins calendar for Thursday, February 28th, 2019!
Rangers & Red Wings Round It Out
(Photo Credits: CBS Sports & Boston Herald)
The final two NBCSN games for the Bruins are also Original 6 rivalries versus the Rangers (home) and Red Wings (away), respectively. And these games WILL matter, especially since they come in the final week plus of the regular season and always seem to go late into the 3rd period or OT before a "W" is on the board. As you can see from the above pics, Brad Marchand certainly enjoys playing New York & Detroit and has a consistent tendency to make their goalies face plant, as opposed to Jacques Plante (who'd never dream of getting caught like this back in his heyday). But rest assured, if the B's seize the day against their historic rivals and pick up four big broadcast points, perhaps the playoff schedule will also need a few highlights to it! So mark your Bruins calendar for Wednesday, March 27th & Sunday, March 31st!