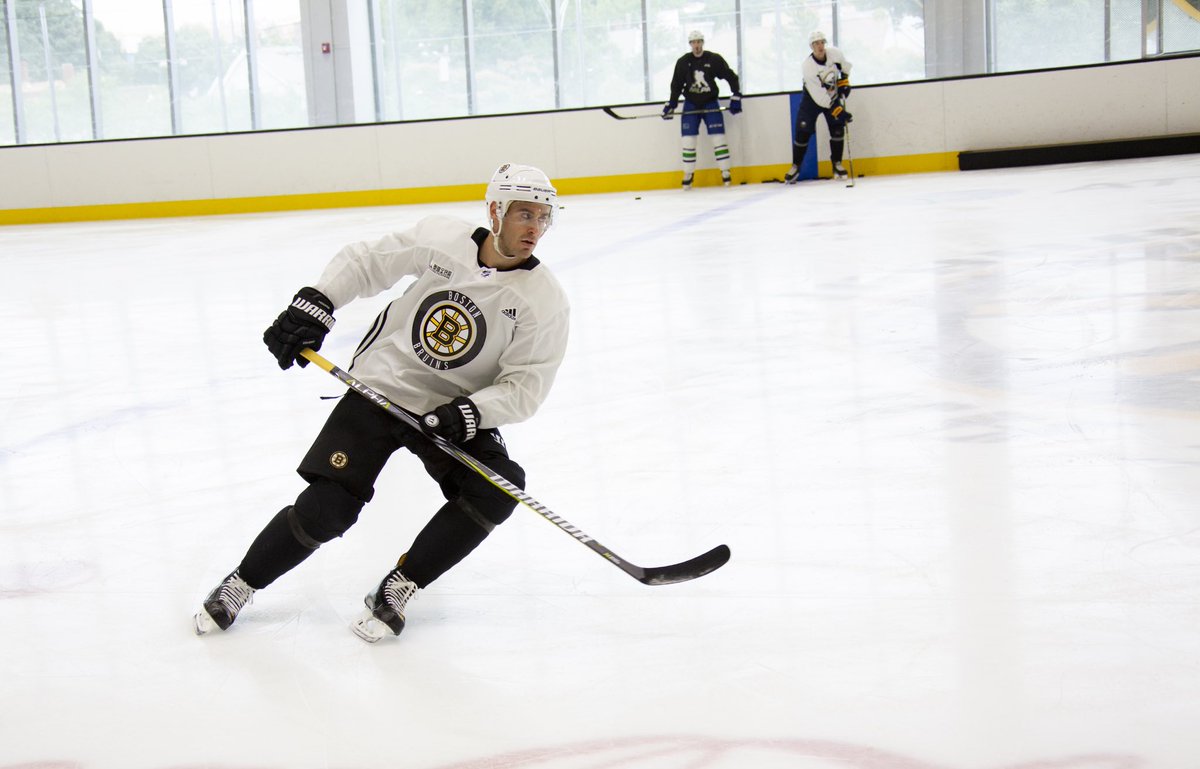 (Photo Credit: @NHLBruins on Twitter)
By Mike Cratty | Follow me on Twitter @Mike_Cratty
Joining a new team can provide the potential for many new opportunities, no matter who you are. Former New Jersey Devils defenseman John Moore will hop into the Bruins' defensive core with plenty on his plate.
As of now, the Bruins' defensive core has eight NHL-ready defensemen on their roster with the addition of Moore on top of their core from last year, minus Paul Postma who saw brief NHL time last year. Moore's contract is fairly similar to that of both Adam McQuaid and Kevan Miller's in terms of money and years, not how they were brought into the organization.
John Moore – Five Years / $13.75 million ($2.75 million AAV)
Adam McQuaid – Four Years / $11 million ($2.75 million AAV)
Kevan Miller – Four Years / $10 million ($2.5 million AAV)
In their respective tenures with the Bruins, McQuaid and Miller have seen some fluidity in their roles due to injuries and need for a change of pace every once in a while. In an interview with Matt Porter of the Boston Globe, Bruins head coach Bruce Cassidy had this to say, in part, about John Moore:
"We kind of know what the seven have for chemistry. [Moore's] a bit of a question mark there, as for who he's going to fit in best with. How does he adjust to the way we want to play? We play a little different than New Jersey, where he's been for 3 years. That's a learning curve as well."
The ambiguity of Moore's role at this time will allow time for him to find who he is most comfortable with on the ice. To find that comfort level, there is a chance he is playing in different situations, going hand-in-hand with different defensive partners. Moore possesses some good size at 6-foot-2 and 209 pounds and can skate pretty well for a bigger guy. He also moves the puck well, has a solid shot, and has shown that he can play on the right side on top of his natural position as a left-handed defender.
Moore has hovered around the 15-20 point mark per season over the course of his NHL career in seasons of 60 games or more. The 2016-217 season sticks out as he scored 12 goals and added 10 assists, good for 22 points in just 63 games. Last season featured a 7-11-18 stat line in 81 games, plus an assist in five playoff games.
The Bruins' top defensive pairing will likely feature Zdeno Chara and Charlie McAvoy or Brandon Carlo. After that, the rest of the defensive core is sort of up-for-grabs among the group of eight defensemen. Torey Krug and Brandon Carlo, as well as Matt Grzelcyk and Kevan Miller, have proven to be solid matches for each other on the back end in the past.
The chemistry within the system that is already present will make things a bit difficult in terms of decision-making from Bruins management, as well as on Moore himself. The Bruins are coming off of a great season defensively, which is also worth noting. Adding Moore to that bunch provides depth and reassurance on the back end.
Having eight defensemen certainly isn't a bad thing. Remember how bad the Bruins were hit by injuries last season? These injuries were especially present toward the beginning to middle portions of the regular season. Depth doesn't hurt. Wherever John Moore fits in the lineup, the Bruins have plenty of options if things go haywire and/or a change of pace is needed.
(Via NJ Devils on YouTube)