(Photo Credit: Instagram NHL Bruins)
By Liz Rizzo | Follow me on Twitter @pastagrl88
This year the NHL held its Player Media Tour in Chicago, a first for the windy city. Roughly 20 media outlets were on hand as players gave a slew of interviews and shot promotional videos. Among those participating were the Bruins' own Patrice Bergeron and Charlie McAvoy.
One of the many talking points during the two-day program was the upcoming exhibition tour in China that will be played between the Boston Bruins and Calgary Flames. The B's have been involved in growing the sport in China, which has been an untapped market for the NHL. The country has been putting money into its winter games before the 2022 Winter Olympics in Beijing. NHL Deputy Commissioner Bill Daly talked about the league's continued push into the global market and the possibility of a permanent overseas league office.
I think we're three years into a Chinese business strategy and certainly I think having people on the ground who work for the NHL there, sooner rather than later, is likey…but I still want to take it one step at a time. Let's see how we do in these two games, let's see what the experience is like, what the response and reaction is and then the logical assessment points are after we do something significant, like the two games that are coming up this month.
Bergeron also spoke about his health and how he's at about 85 to 90% healed and will not be traveling with the team to China. While he's disappointed he won't be going, being ready for the season opener on October 3 is more important.
"Skating with the guys and being on the ice with them, I would want to push myself more and make sure I'm keeping up with the pace and doing probably too much too early and too soon. I think that's another reason why. It's hard."
Outdoor Fun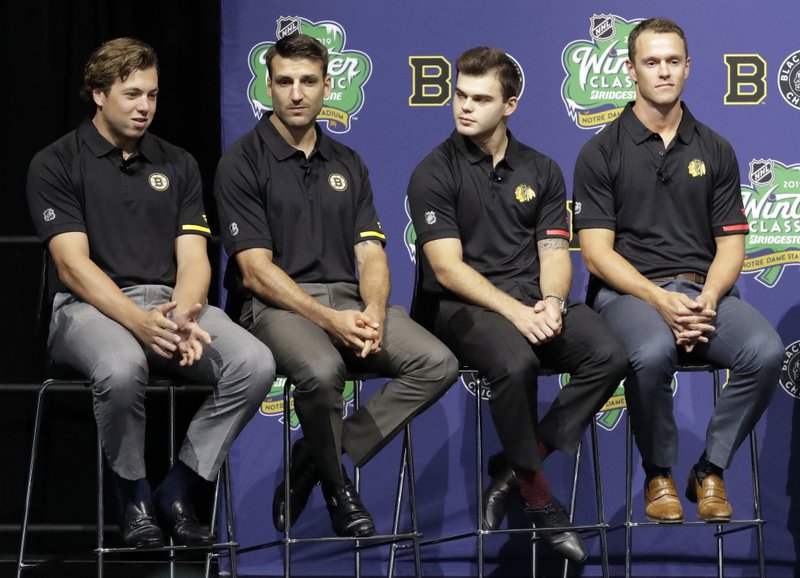 (Photo Credit: AP Photo/Nam Y. Huh)
The upcoming 2019 Winter Classic between the Bruins and the Chicago Blackhawks was also discussed during the Media Tour. The NHL is looking to have more outdoor games, and while both Boston and Chicago have had their day outside, many teams have yet to play in the Winter Classic since its commencement in 2008. While both Chicago and Boston are big markets for hockey,  the NHL is looking toward opening up to more smaller markets. Not a bad idea especially if you want to grow a sport. For Bergeron, playing outside is never a bad thing, nor does it get old. And if you want to feel really ancient, McAvoy "grew up" with the Winter Classic and now gets to play in it.
"I had two people come up to me right away and say, 'To hear you say you grew up watching the Winter Classic really f—– me up,'" McAvoy says. "The thing is that I did. The first one was in 2008, Buffalo. I was 10 years old. So that's, what, fifth grade? I f—— grew up watching the Winter Classic. It was to the point where I don't remember the first one at all"
For more highlights, check out the video below: