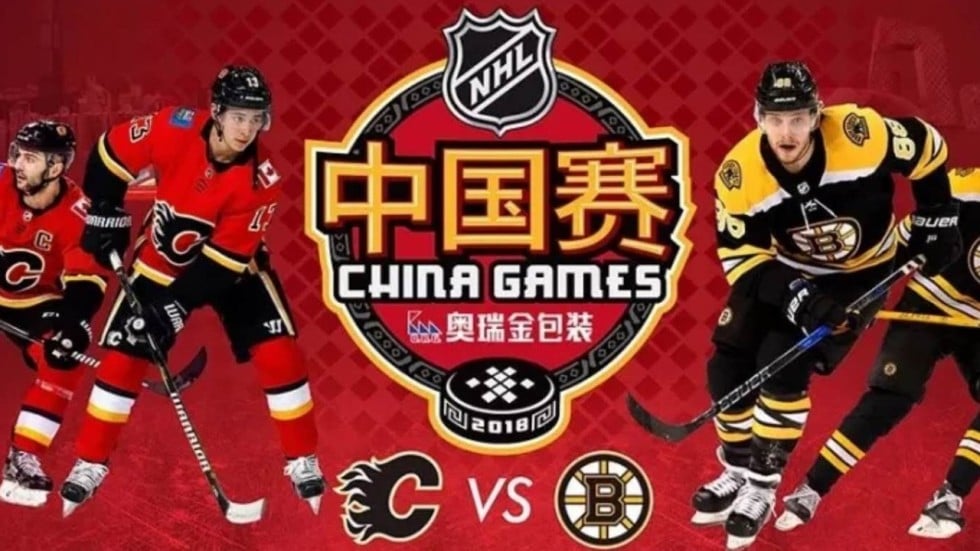 (Photo Credit: South China Morning Post)
By: Evan Michael | Follow me on Twitter @Evan007onTV
One team. Three countries. An entire sport.
That's the focus all of Boston had on the Bruins recently completed (and successful) trip against Calgary to the Far East for the NHL China Games in Shenzen and Beijing! And for supposedly "meaningless" preseason games, these two timely tilts held plenty of meaning for everyone involved, especially the Chinese fans of the game who want nothing more than to see NHL players be a part of the 2022 Winter Olympics in the People's Republic. Thankfully, the young, up-and-coming talent of the B's was on full display and in full force, perhaps setting the stage for many a prospect's skillful return to China in only four years.
[youtube https://www.youtube.com/watch?v=6xpMo88Rc0A]
But winning two highly publicized exhibition games, affectionately labeled by NBC Sports as "NHL's Asian Championship," isn't the true accomplishment for the Bruins, for the NHL or [big picture] for the sport of hockey in general.
Bruins lay claim to NHL's Asian championship by a completing a sweep of the Flames in China. https://t.co/oMClSLiGOu pic.twitter.com/pmHBIX7EJf

— NBC Sports Boston (@NBCSBoston) September 19, 2018
It's winning the minds, hearts and attention of a region that desperately wants to be a part of the future of our favorite game. And at least IMHHO (a familiar acronym from my previous writings & musings) — with no disrespect to the Flames or Calgary, Alberta for that matter — the National Hockey League couldn't have picked a better team than the Boston Bruins to help spotlight the sport.
For the @NHLBruins and @NHLFlames, the #NHLChinaGames were more than just a couple of exhibition games. https://t.co/HU1kB3g6gF

— NHL (@NHL) September 20, 2018
Sure, there are many writers & reporters out there who documented the trials and tribulations of the team's traveling travails…
Here's @FlutoShinzawa on how much the Bruins liked their China trip https://t.co/aLhxXZkJuN pic.twitter.com/iEZIAEJxPI

— Mike Halford (@HalfordTSN) September 20, 2018
…from equipment being lost to everyday essentials unavailable to stomach bugs and to this:
Jake DeBrusk scored two goals — and had "the runs," according to Bruce Cassidy: https://t.co/IMTAYThLXw

— 98.5 The Sports Hub (@985TheSportsHub) September 19, 2018
But that's not what I'm running with for this article. And since many a fellow Black N' Gold blogger & colleague has recapped these aforementioned games, their subsequent highlights and highlighted players & plays, I shall focus only on the B-spoked symbolism of the Bruins China trip, as evidenced in the playful picture below.
(Photo Credit: BTA by way of the Associated Press)
Far East fandom at its finest is what you see. You also see a sea of B's sweaters, jerseys, posters & towels — kids connecting with a team whose likability factor  and history is as appreciated as The Great Wall, which Brad Marchand and company couldn't help but stand atop in hopefully a sign of foreshadowing for the standings and this season's end game.
Check out Brad Marchand's blog on Bruins' trip to Great Wall of China. https://t.co/DdG3cSbOa8

— Bill Price (@BillPriceNHL) September 16, 2018
And when the games had ended in China for the Bruins, the team had built something equally impressive, if not as visually stunning just yet: a genuine connection to a people and a culture craving to be a part of ice hockey history. As longtime Bruins correspondent Amalie Benjamin wrote in a brilliant profile piece for NHL.com, "this is hockey in China… [a teenager yelling for Brad Marchand] wore a Bruins jersey with a No. 15, Milt Schmidt's retired number." She goes on to describe the crowd as people who already know and love the game surrounded by those who want it to stay and become a part of their lives. It's as revealing and eye-opening a picture of the importance and impact of these games as Pierre McGuire's new take on what "DD" could soon mean to New Englanders (move over Dunkin' Donuts)!
Thanks to Pierre McGuire's constant mentioning of the "D&D" talent on the B's during their #NHLChina trip, I'm thinking a new logo may be in order @BlackNGoldPod?!?! 🥅🏒☕️ #Debrusk #Donato #DD Move over, @dunkindonuts! pic.twitter.com/APv6VtAmHq

— Evan Michael (@EVAN007onTV) September 21, 2018
Fonts, puns and wordplay aside, it's the play of the Bruins that has garnered the attention of a nation at time the NHL needs it most. Bringing the game back to the Olympics, especially in China, would be as a celebratory as an OT game winner for players and fans alike. And based on what we just saw from the B's, perhaps some of those festive, fireworks-filled celebrations will soon be in order — for one team, three countries AND an entire sport!