(Photo Credit: Steve Mitchell)
By: Chris Nosek | Follow Me On Twitter: @cnosek6342
Back in 2015, the Bruins promoted Don Sweeney to be their new General Manager and start a rebuilding process for the organization. Now that we are entering his third season in the role, it is time we start to evaluate where in the rebuilding process the organization lies. Is this rebuild going in the right direction and if not, what changes should be made to potentially "right the ship?" As fans, all we want is a team that is in the playoffs each year with a chance to compete for the Stanley Cup. With the early success in the process this past season, many would say we should be competing for a cup this season or next. So how accurate is this?
First, let's remember exactly what the team looked like when Don Sweeney took over the reins from Peter Chiarelli back in 2015. Despite being only two seasons removed from its second trip to the Cup finals over a 3-year span, the situation was a lot more tumultuous than it appeared. Peter Chiarelli had just traded Tyler Seguin and Johnny Boychuk, both of whom were expected to be big pieces in keeping the success of the organization moving forward.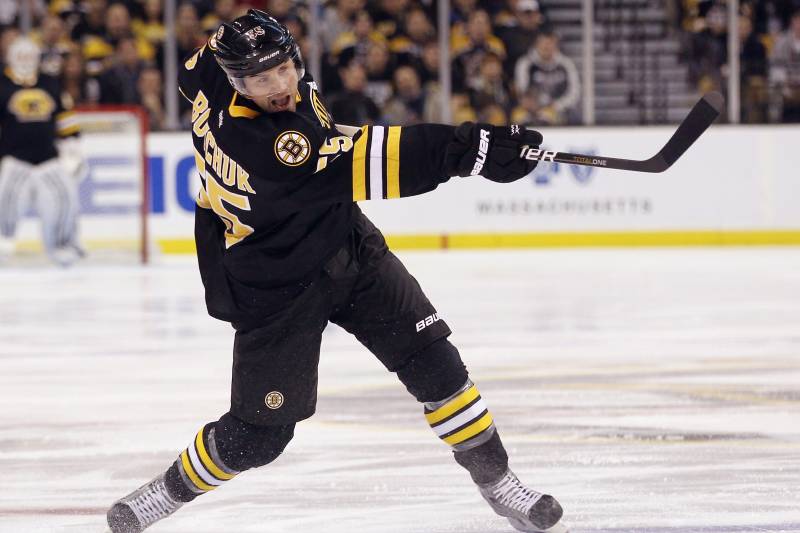 (Photo credit: Bruce Bennett)
Seguin was a young, top-line center who proved he was versatile enough to also play on the wing as he did so next to Bergeron and Marchand with great success. Boychuk was a solid second-pairing defender who played well in his own end and brought some great physicality and a hard slap shot in the offensive zone. If these were the only two setbacks that Sweeney had to overcome the rebuild would not have been such a big deal and would be expected to be much shorter in time. Instead, he also inherited a disgruntled Dougie Hamilton, who made it known he wanted out of Boston and a completely alienated Alexander Khokhlachev. Khoko was so disgusted with the organization that he decided to go play in Russia rather stay in Boston.
With other veteran guys starting to dwindle in their play, it seemed like a daunting task for Sweeney to retool this franchise and keep it competitive. Sweeney and Neely soon made it clear that the plan was to stockpile draft picks and as much young talent as possible. Between the trades of Hamilton, Lucic, and Carl Soderberg; Sweeney was able to bring in a total of seven draft selections, and all but one of them would be in the first two rounds of the draft. He also brought in young players like Colin Miller, Jimmy Hayes, Sean Kuraly, and Martin Jones in these deals — all of whom were 25 years of age or younger. Jones, Kuraly, and Miller have all proved to be solid players, and overall these moves paid off for Boston — or would have if they didn't lose Miller in the expansion draft to Vegas or flipped Jones to San Jose. 
(Photo credit: Dave Sandford)
After all his wheeling and dealing was done, Sweeney ended up with the 13th, 14th, and 15th overall draft picks in 2015 along with three picks in the 2nd round. This one draft resulted in the Bruins taking home 10 players in; Jakub Zboril, Jake Debrusk, Zach Senyshyn, Brandon Carlo, Jakob Forsbacka-Karlsson, Jeremy Lauzen, Dan Vladar, Jesse Gabrielle, Cameron Hughes, and Jack Becker. So far with Carlo and Debrusk proving to be solid NHL players and Zboril, Senyshyn, Lauzen, Gabrielle, and Fosbacka-Karlsson all developing nicely, this season will be the most important for this Bruins rebuild. Right now there aren't enough spaces for all those players to make the NHL club this season, but over the next 2-3 seasons a lot more spots will open up for them to step in.
Although he wasn't named to the general manager position until 2015, Don Sweeney was the assistant GM and mostly oversaw the development of the young players. Taking a huge role in the 2014 draft, Sweeney was a big reason why this team ended up drafting; David Pastrnak, Ryan Donato, Danton Heinen, Anders Bjork, and Emil Johansson. Heinen and Pastrnak play two of the biggest roles on the team right now, and Donato and Bjork have shown flashes of brilliance but needed a little more time to develop their bodies. Those four are projected to be on the roster for the 2018-19 season, and this type of drafting success is exactly what ANY team could hope for.
Although this current rebuild is not yet complete, it is looking like Don Sweeney could turn what could have been a 5-year rebuild process and done it in only three seasons. This preseason we will give us answers on the growth and development for the remaining draft class from 2014 and 2015. Next season will show us how the remaining players from the 2016 and 2017 class will project; with successes coming from those draft classes more players could make the jump quicker than expected. Charlie McAvoy is already a top-tier defender in the NHL and Jack Studnicka, Urho Vaakanainen, and Trent Frederic all look like they could be ready for the NHL in the next year or two.
The experience this team gained from losing in the Eastern Conference Final last season will prove tremendously valuable moving forward, and while we can only truly call the rebuild complete when we see them back in the Cup final again, it looks like they may fall short for another season or two, but once they get back we will see them there for many seasons to come. Casual fans of this team need to really start paying attention to what this team does on draft day because before they know it, Don Sweeney will be considered one of the top general managers across the NHL.