(Photo Credit: Claus Andersen/AP)
By: Liz Rizzo | Follow me on Twitter @pastagrl88
Being center in the NHL is an important job, and with the recent speculation as to who would fill that open spot on the third-line center for Boston, we wanted to highlight the few players that made their mark for the Bruins. Usually lists are open for debate, however, we think you will agree with these players. Most picks are obvious, while some may be new to younger fans. In no particular order, we present the greatest centers in Bruins history:
1. Patrice Bergeron
What more can be said about number 37? He is the player that every other player in the league strives to be and he does it with little fanfare. Humble, hardworking and one of the league's premier two-way player, there's little question that he would land on this list. And Bergeron is as tough as they come. After the loss in Game 6 against the Chicago Blackhawks during the 2013 Stanley Cup Finals, it was established that Patrice played with a punctured lung, separated shoulder, a fractured rib, and a fractured nose. It's no wonder he is highly respected on and off the ice, so much so that Bergeron has been voted for numerous awards, most notably the Frank J. Selke Trophy. That particular one is given annually to an NHL forward with best defensive skills.
"He's the barometer of our hockey club. I played with a lot of good players here, and I've seen a lot of good players come through. He is one of the best players I've ever seen play this game." – General Manager Don Sweeney
For the Selke Trophy, the Québec-native is tied with Bob Gainey for most wins in NHL history and last season saw Bergeron being named a finalist for the seventh-consecutive season. So far, he has won the award four times. In 2011 after winning the Stanley Cup, Bergeron became the 26th member of the Triple Gold Club which includes players that have won Olympic Gold medal, a World Championship gold medal, and the Stanley Cup. And if you want to win a face-off, Bergeron is the player you want on the ice. According to Puck Base, last season he won 57.3% of his face-off draws. In his illustrious 15 year career with the Bruins, he has so far played 965 games and garnered 289 goals and 445 assists.
[youtube https://www.youtube.com/watch?v=B8BpQesdzC4&w=560&h=315]
2. Peter McNab
The 6-foot-3 center played more than 950 NHL games and reached the 20 goal-mark 10 times during his career. The Vancouver native played for nine years with the Boston Bruins and netted 40 goals twice while playing for the black and gold. He was instrumental during the 70s and played alongside Terry O'Reilly and Rick Middleton. With his quick skills, McNab helped the Bruins reach the Stanley Cup finals in 1977 and 1978 and played on the 1977 NHL All-Star team. He played with the Bruins from 1976-1984. In the 595 games he played for Boston, he potted 263 goals with 324 assists. And one could not talk about McNab without mentioning that infamous shoe brawl. During a game versus the New York Rangers at Madison Square Garden in 1979, McNab and several other Bruins climbed into the stands after a fan hit a Bruins player with a rolled up program (and taking his stick). Following Terry O'Reilly, McNab headed up to the stands (according to Don Cherry, this was out of character for him) and was soon joined by Milbury, who removed that fan's shoe and proceeded to strike him.
McNab is among the team's top 10 leaders in goals, points and playoff scoring.
[youtube https://www.youtube.com/watch?v=VMcbdBYuGTE&w=560&h=315]
[youtube https://www.youtube.com/watch?v=G_KVUw3hVEM&w=560&h=315]
3. Milt Schmidt
As one of the 100 Greatest NHL Players in history, Schmidt is a hockey legend. As a player, coach and general manager, Schmidt was the embodiment of a Bruin, and those who saw him on the ice noted his hard stick-nosed play and smooth skills. As part of the famous "Kraut Line" that included childhood friends and fellow Hall of Famers Woody Dumart and Bobby Bauer, Schmidt would lead the league in scoring and help propel the Bruins to win two Stanley Cups in 3 years. During the 1939-40 season, Schmidt had 52 points while Dumart and Bauer had 43 points each. With the break-out of World War II, Schmidt (along with Dumart and Bauer) enlisted and missed three seasons playing in the NHL.
(Photo Credits: NHL.com)
Upon returning from the war, Schmidt never stopped being productive on the ice. During the 1946-1947 season, the center posted 27 goals with 35 assists. When he retired during the 1955-56 season, Schmidt's had amassed 229 goals with 575 points, (then a Bruins record) in 776 games. He was also given the coaching reins of the Bruins until 1963 when Phil Watson took over, however, took over again shortly thereafter. The Bruins were floundering, and Watson was unable to rejuvenate the team.
He stayed on as GM until 1973 and enjoyed two Stanley Cups with Boston. And to talk about Schmidt one would need to acknowledge the greatest accomplishment: the deal that resulted in the signings of Phil Esposito, Ken Hodge, and Fred Stanfield. It is still regarded as of the most lopsided deals in the NHL history.
In all, he played 86 Stanley Cup playoff games where he netted a total of 24 goals with 49 points. Schmidt won the Art Ross Trophy in 1940, and in 1951 he won the Hart Trophy. In 1961, Schmidt was inducted into the Hall of Fame.
4. Bill Cowley
Hart Trophy winner, NHL lead scorer, Stanley Cup Winner and Hall of Famer. Bill Cowley accomplished all that while playing for the Bruins. He was also chosen to the first All-Star Team in 1938, 1941, 1943 and 1944. In 1945, he was named to the Second All-Star Team. Cowley was known for his superb stick handling and speed. Thanks to the advice of defenseman Babe Siebert (who took the coach aside urging him to "Put him (Cowley) at center…the kid can fly"), Cowley was moved from left wing to center.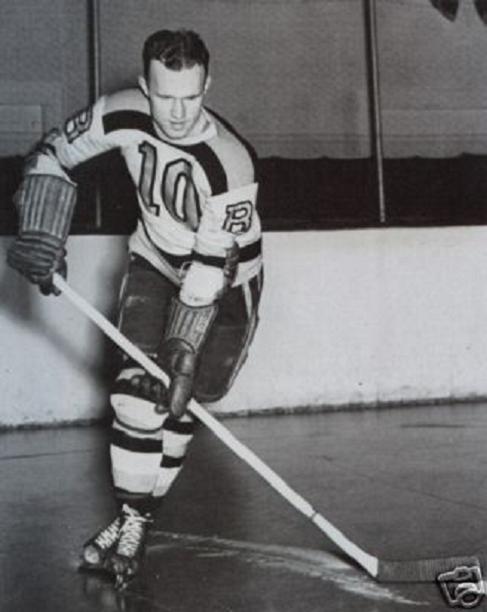 (Photo Credit: IceHockey Wikia)
Cowley was a star in Boston and had been part of the 1939 and 1941 Stanley Cup winning team. The Bristol Quebec-native played for the Bruins for 11 seasons before retiring after the 1946-47 season. He suffered from a laundry list of injuries: fractured left hand, jaw, torn ligaments, and a shoulder separation. Cowley finished his NHL career netting 195 goals with 353 assists for 548 points in 549 games. In 1968, he was elected into the Hall of Fame.
5. Phil Esposito
They say Esposito enjoyed his glory years playing for the Boston Bruins. Considered to be one of the greatest centers and forwards of all-time, he made quite the impact for the Black and Gold. Esposito was also regarded as a colorful character and simply put, did things his way. Whether it was superstitious rituals prior to a game or being accused as a "glory seeker," Esposito could score. In 1971 he had 550 shots on goal, a record that has yet to be broken (Alexander Ovechkin would come within 100 shots of that record).
Esposito, to me, was one of the most colorful person ever in the NHL. I have to laugh when people would say he scored 'garbage goals.' Phil would laugh too and say, 'Who cares what they call them. They all look like slap shots in next morning's papers. Who cares how they go in, as long as they count?' -Former coach Don Cherry
(Photo Credit: Alchetron.com)
Espo played alongside Ken Hodge and Ron Murphy, that trio decimated opponents and had a scoring record of 263 points. Espo also centered one of the most renowned forward lines with Ken Hodge and Wayne Cashman. During the 1970-71 season, Esposito finished the season with 76 goals, a record that would be shattered in 1982 by Wayne Gretzky. He was on the First Team All-Star in 1969, 1971-1975. Espo was voted for the Hart Trophy as the NHL MVP in 1969 and 1974. He also led the league in scoring in 1969, 1972-1974. As part of the Big, Bad Bruins, the team won the Stanley Cup in 1970 and 1972.
In 1984, he was elected into the Hall of Fame and had his No. 7 retired by the Boston Bruins. During the emotional ceremony, Ray Bourque revealed his new number as he "surrendered" his jersey for Esposito.
Who you think should make this list? Comment below!
[youtube https://www.youtube.com/watch?v=lTMiJku9EuY&w=560&h=315]
[youtube https://www.youtube.com/watch?v=83FzYJd_vYI&w=560&h=315]