(Photo Credits: Greg M. Cooper/USA Today Sport)
By Liz Rizzo | Follow me on Twitter @pastagrl88
With the news that Patrice Bergeron will be out and reevaluated in four weeks, the Boston Bruins have announced the recalling of Providence forward Colby Cave to help round up some more scoring depth.   The 23-year-old currently leads Providence in scoring, netting six goals with 12 assists for 18 points.
In the past three seasons with the P-Bruins, Cave has served as Alternate Captain. During the 2017-2018 season, the 6-foot-1, 200-pound center played in 72 games, garnering 11 goals with 22 assists for a total of 33 points.  The Battleford, Saskatchewan native also made his NHL debut last season with the Black and Gold, playing alongside former Broncos Junior teammate Jake DeBrusk in a game against the Winnipeg Jets on December 21, 2017. The Bruins won in a 2-1 shootout at the TD Garden; Cave returned back down to Providence after the game.
(Photo Credits: Alan Sullivan)
Cave started his junior career playing locally for the Battleford Stars in the Saskatchewan Midget AAA Hockey League from 2009-2011. He was drafted by the Kootenay Ice Junior Hockey team in the WHL Bantam Draft in 2009 and was later traded the Swift Current Broncos in 2011. He made his debut at the end of the 2010-2011 season playing one game. He was named team captain in his third year with the Broncos.  Listed 157th overall by ISS Hockey, Cave would be eligible for the 2014 NHL Entry Draft but was passed over.
In his final junior season with the team, Cave was signed to a three-year entry-level contract by the Boston Bruins in 2015.  He ended his WHL career with 95 goals and 107 assists in 287 games.  Cave would play the remainder of the 2014-2015 season in the AHL with Providence.  In his first full season in the AHL,  he played in 75 games where he recorded 13 goals and 16 assist for 29 points. During the 2016-2017 season with Providence, he netted 13 goals with 22 assists for 35 points.  During the AHL Playoffs, Cave had one goal with five assists in 17 games.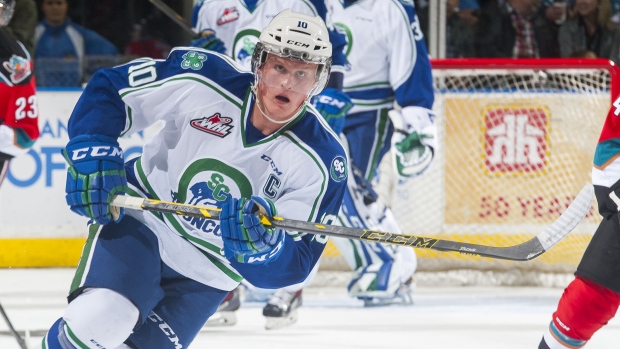 (Photo Credits:  Marissa Baecker/Getty Images)
This past October, Cave was called up on emergency basis for the Boston Bruins along with Jeremy Lauzon.  He joins a fractured Bruins team that has had to dig deep into their Providence roster. Along with Cave, the Black and Gold have called up Jeremy Lauzon, Jakob Forsbacka Karlsson, Jakub Zboril and Connor Clifton. In recent games, Bruins Coach Bruce Cassidy has had to shuffle lines and with Bergeron out for a few weeks, the team will once again look to the "young guns" and remaining veterans.
Cave, for his part, has been having an impressive early start in Providence, which will hopefully bode well for an injured Bruins team. While it was mentioned earlier  that he leads the P-Bruins in scoring, one thing that's been noted about Cave is his hockey sense. While not flashy,  he has been able to turn plays into scoring opportunities and like fellow teammate Jordan Szwarz, has continued to be slotted up front in the center/wing position.  For Cave, the call up to the big leagues will once again be a huge opportunity for the young 23-year-old. As for the Bruins, they'll need every abled-bodied player to step up in a HUGE way.
Check out the available tickets from our advertising partners SeatGiant for upcoming Boston Bruins games. Click the link below and use discount code BNGP to save a little money.
–>Boston Bruins 2018-2019 Regular Season Schedule and Official SeatGiant Ticket Info<–