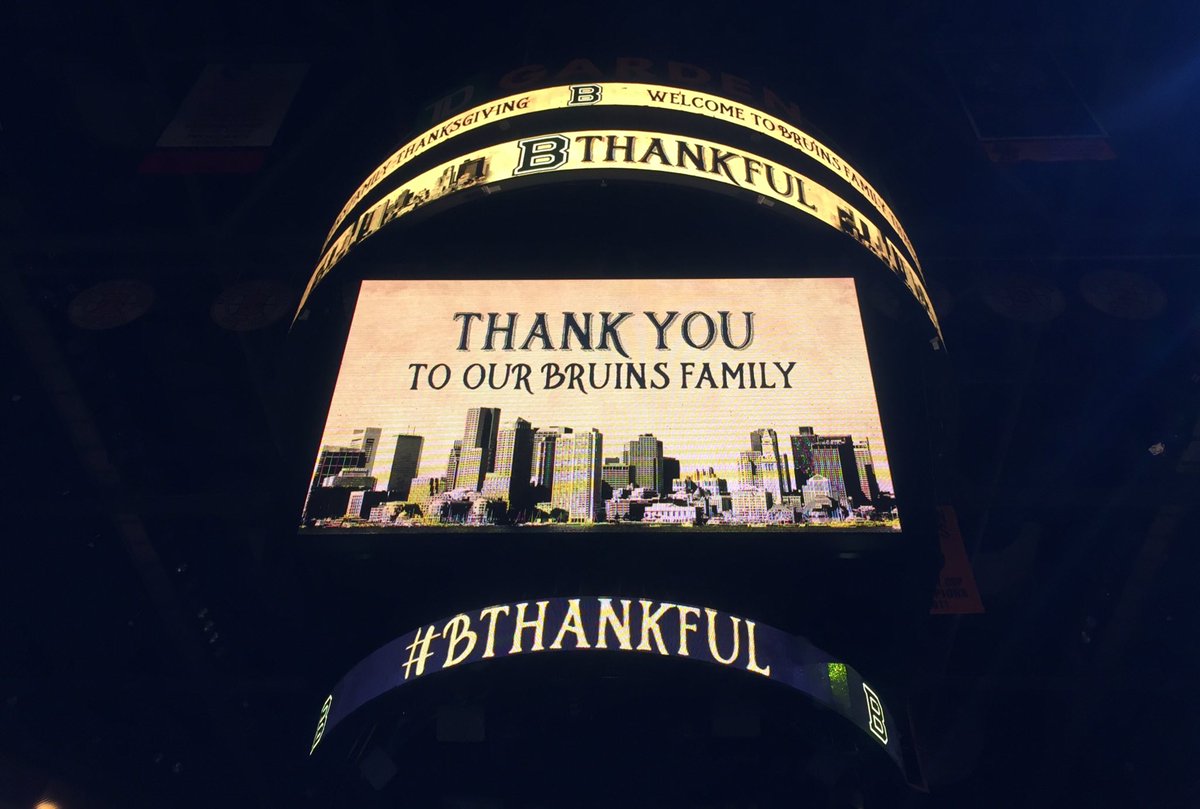 (Photo Credit: Boston Bruins)
By: Evan Michael | Follow me on Twitter @Evan007onTV
The Boston Bruins have not been on the gravy train lately, despite this week being as gravy-filled as it gets. Yet, even with all the injuries, all the setbacks, all the ups-and-downs & inconsistent consistency, they're still fun to watch, competitive as hell and right in the thick (gravy) of both the Atlantic and Wild Card races — not bad when you consider the Thanksgiving Day demarcation line for playoff prognostication.
Everyone writing off the bruins season enjoy being wrong this team has heart and soul and sometimes that wins games over talent #NHlBruins

— Rob Tomlin (@Rob40bruins) November 20, 2018
Great piece on how certain #NHLBruins stepped up this weekend with injuries mounting by @Mike_Cratty https://t.co/zojJHt0uvI

— Jamie Gatlin (@JamieGatlin1217) November 19, 2018
In short, the B's have a lot to B Thankful for (as their annual Turkey Day festivities pictured above like to remind us), both on AND off the ice this season. And yes, that's even WITH the recent Bergeron bad luck, Chara news and entire D-core sidelined for the better part of a month (with practically the entire P-Bruins roster playing in their stead). Here's why:
On The Ice
As fellow Black N' Gold blogger @phoneymahoney pointed out in a recent puck-poignant post, the team has truly "held things together" like none other recently. They've picked up points in a few games they had no business to, even getting some rookies on the score sheet with their first ever NHL goals (and saves).
First NHL goal for Jeremy Lauzon! 2-0 #NHLBruins pic.twitter.com/NnOhiawxAO

— Marina Molnar (@mkmolnar) November 12, 2018
Jeremy Lauzon with the final save of the night. What an ending. pic.twitter.com/SV2xX2xsul

— Conor Ryan (@ConorRyan_93) November 18, 2018
No. 1 for JFK.#NHLBruins pic.twitter.com/XR04FdzdWd

— Boston Bruins (@NHLBruins) November 18, 2018
The team has also kept pace in the yes-I-know-it's-way-too-early-to-be-calling-it-a-playoff-race competition between the Bolts, Leafs and… I can't believe I'm typing this… Sabres & Habs. What the Buffalo wings with Blu (Blanc et Rouge) cheese is going on!? Disgusting thoughts aside, the B's are finding ways to stay in games and will need to continue to do so each & every contest if they want to stay in the playoff picture, which I think they will.
🎥 #NHLBruins coach Bruce Cassidy reacts to the returns of Charlie McAvoy and Urho Vaakanainen to practice and the news of Patrice Bergeron's injury: pic.twitter.com/bXGwMLNZAJ

— Boston Bruins (@NHLBruins) November 20, 2018
The B's also have a coach who deserves plenty of "Thanks," especially for his always candid & accessible interviews about player health, recovery, line-up decisions & more. There's no greater test or challenge for a head hockey honcho than to constantly have a roster in flux, never truly knowing when it'll be back to 100%. Bruce Cassidy has done a remarkable job keeping his players honest, motivated & committed to the team's game-plan during this horrid injury stretch. And the fact they're competing and not throwing in the towel on a nightly basis also shows you that the mutual respect the players have for him and his staff is palpable & purposeful. Both sides of this equation will need to stay constant if the B's are going to stay afloat (in the gravy dish) throughout this holiday weekend and all thru the next one.
David Krejci and Bruce Cassidy discussed what kind of adjustments the Bruins will have to make with Patrice Bergeron out. https://t.co/lMQd1v3JaU pic.twitter.com/5lxWPyeatj

— NESN (@NESN) November 21, 2018
Off The Ice
#NHLBruins captain Zdeno Chara will celebrate this Thanksgiving by donating and delivering $2,000 worth of pies to local shelters: https://t.co/U1gPNk0tiI

Fans can also give back by donating $33 to benefit struggling families here: https://t.co/TpHn2S43Sz pic.twitter.com/e0HVJkZzmk

— Boston Bruins (@NHLBruins) November 19, 2018
When it comes to the team's community work this time of year, you won't find a more generous group of players, personnel & Bruins staff truly "giving back" in ways everyone can be thankful of and for. From Zdeno Chara donating pies to local shelters around the Greater Boston area to members of the entire organization hosting the 23rd Annual Table of Friends event, all associated with the Black N' Gold have been gobbling up good tidings to those in need this Turkey Day season.
Members of the #NHLBruins organization joined @tdgarden and the @CityofBoston for the 23rd Annual Table of Friends on Tuesday.

The event, hosted by Garden Neighborhood Charities, has helped feed more than 13,000 homeless men, women, and children over the last two decades. pic.twitter.com/JIcyRhpVIc

— Boston Bruins (@NHLBruins) November 20, 2018
And when you see this kind of commitment to community on a consistent basis, it makes the play on the ice more forgiving during the tough stretches. In short, the B's are a team you can root for indoors and outdoors, while playing the game and promoting it, during the thrill of an Original Six match-up or when matching up with a great group for a good cause.
I'll take a helping of that not just every Thanksgiving holiday week, but every week. With a side of gravy, no doubt!
Check out the available tickets from our advertising partner SeatGaint for your next Boston Bruins game. Click the link below, and when purchasing any event ticket, from the NHL, NBA, MLB, NFL to concerts and shows, please use discount code BNGP to save a little money. Thank You!