(Photo Credit: Maddie Meyer)
By: Chris Nosek  |  Follow me on Twitter @cnosek6342
The three most common players that I hear fans demand to get moved are David Backes, David Krejci, and Tuukka Rask. All the time it's "he's garbage," "trade him for a bag of pucks," "he's so overpaid, it's time to move on." I completely understand the frustration with these players and the sentiment behind these thoughts. Some fans, however, need to gain a better understanding as to why these moves haven't been made and are very unlikely to be made moving forward.  Let's take a look at each player and the pros and cons of moving on from each player.
David Backes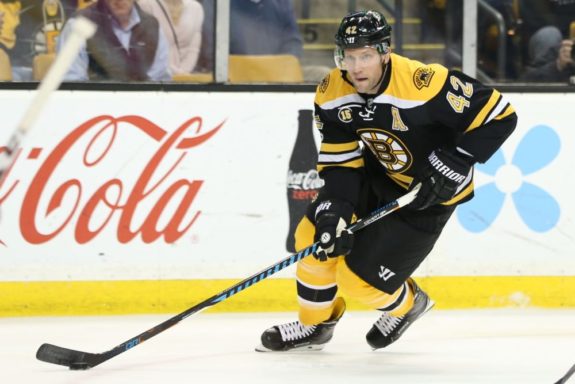 (Photo Credit: Greg M. Cooper)
David Backes has been criticized for his performance since the day he signed his 5-year $30-million contract in Boston. Looking back, the deal made a lot of sense. Backes was coming off his 10th season in St. Louis, which saw him post 45 points over 79 games. Only 31-years-old at the time, and having just had two 50+ point seasons in 2013 (57 points) and 2014 (58 points), there were no signs that the Bruins were going to get a player who would drastically decline in performance. As a veteran winger, with a scoring touch AND the ability to play the center position if required, Backes seemed to be the perfect fit for a team that was looking to build secondary scoring depth and adds to its core group of leaders.
Now, a couple of injury-plagued seasons later, Backes is pointless over his 12 games played. So far Backes has been given numerous opportunities to try filling the void left at the third line center position when Riley Nash departed for Columbus during the offseason. After not being able to keep that position, and having since been moved to the wing on the fourth line, what are the options Boston has to rid themselves of Backes and his $6-million cap hit?
Trade
Ideally, Don Sweeney would be able to pick up the phone, make a few calls, and find a team that would be willing to take Backes and his contract. Doing this would ultimately lose a lot in return and be a "50-cents on the dollar" type deal; however, it would also be addition by subtraction for Boston. Well, for a multitude of reasons this can't and won't be happening any time soon.
First and foremost, Backes has a full no-movement clause in his contract through the end of this season. This means that in order for Sweeney to move the veteran, Backes will have to voluntarily waive this clause of his contract and approve the trade. Aside from Backes having no reason to approve any deal, this option is further complicated by the fact that there are select teams who could even afford the hit to their salary cap by bringing in the 34-year-old veteran. This list of teams gets even smaller when you eliminate all the teams who aren't looking to shake things up just yet because they still feel they are in their playoff races (as pointed out by Court Lalonde on last week's Black N' Gold Hockey Podcast episode 106, follow him @courtlalonde). Case and point, there are a minimal number of teams who Sweeney could even try to work a deal with and almost all of them would not be a situation Backes would waive the NMC to go to. At this point, to even get another team to not hang up the phone on a deal involving Backes, they will also look to get a top-level prospect in the deal as well.
The NMC clause in Backes' contract turns into a Modified No-Trade Clause at the start of next season, which will probably be a better time to look at a move. At the start of the season, Sweeney will get a list of 8 teams that the NTC is waived for at the start of the season which at least will give him an idea of where Backes true trade value is – no matter how much further it can plummet during the season.
Waivers
Since we've established that Sweeney can't just up and trade Backes. Some of said "well they didn't trade Matt Beleskey until after he was sent to Providence, so why not stash Backes down there then?" seems like a good solution right. Well, again I refer you to his No Movement Clause. Aside from being able to veto a trade, this clause also gives Backes veto authority on when it comes to being placed on waivers. It would take a lot from Sweeney to convince Backes to be ok with experiencing waivers for the first time in his career, and as bad as Backes has been it is unlikely that he clears without getting claimed. With a handful of teams being able to take on the cap hit, there is most likely at least one team who would try to take on a reclamation project on a player of his caliber if they don't have to deal anyone away to do so. Going this route, although seemingly the best option right now, would be fought hard by the players union and Sweeney better be ok with receiving nothing in return before committing to this.
Buyout
So, why not buy him out? You did that to other mistake contracts like Jimmy Hates and Dennis Seidenberg (both of whom you're still seeing hit your salary cap by the way). This is also the only move that the No-Movement Clause does not cover. So is this a viable solution for the Bruins to look into? It was discussed during this week's show by the crew, and as Court, Mark, and Rob discussed if Backes gets bought out right now then his cap hit will be $5.67 million, $3.67 million, $666,667, and $666,667 over the next four seasons.
This seems like a great option as it does save a few bucks from his current cap hit and a considerable about 3 and 4 seasons from now. With 22 players hitting one form or the other of free agency over these next two seasons Sweeney is going to need to save more than $333,333 and $2.33 million to really make it worth buying Backes out now. It may be worth revisiting next season if you can resign Heinen, Acciari, Carlo, and McAvoy during this offseason and then minimize his remaining cap hit from $6 million to the $3.67 million when you need to resign DeBrusk, Bjork, Norstrom, Wagner, Grzelyck, Miller, Lauzon, Halak, and Krug all in one offseason.
Recap:
At this point, Sweeney and the Bruins are all but stuck with David Backes, barring him deciding to walk away from the game. With the recent call-up of Jakub Forsbacca Karlsson, it is clear that his chances for the third line center is over and now he needs to fight for his job on the fourth line. Since I don't see this resulting in a major spark in scoring for the veteran forward, it would appear that he will be stuck in Boston through the end of his contract and will constantly be fighting for ice time.
David Krejci
 (Photo Credit: Chris Spagola)
I get it – he's the highest paid player on the team, but really can we chill out with the complaints about David Krejci? Admittedly he got off to a slow start this season, and with only 2 goals it seems like he is not producing enough for his $7.25 million cap hit. This is very deceptive as Krejci was kept on this team to be a facilitator and help set up his wingers to score. His career stats show that he has never been a major goal scorer; he has 407 career assists to only 176 goals throughout his career. He relies so heavily on the other guys he is on the ice with to finish that when they don't score he looks bad.
Now that his linemates are starting to find the back of the net more, Krejci has found himself with 15 points over his 17 games. With a full No-Movement Clause of his own through the end of this season, you are very much in the same position with him as you are with Backes if you wanted to move him. His NMC gets modified to a full No-Trade Clause for the last two years of his deal which would all for waivers and a buyout as options in the future. Being that he is still producing almost a point per game at times there is no way he clears waivers and the second you buy him out someone else will gladly take him on their team.
Krejci could get moved in a trade with a prospect to get a very solid return, but right now this team has issues filling its center position on the third line they do not need to add a second line center to its list of openings as well. Recently Cassidy has started to pair him back with Pastrnak once in a while, and this has shown that Krejci still has his game when paired with the right linemates. Be patient and let Cassidy find the right person to pair with him because when all is right, Boston still has one of the top one-two center combinations in the league.
Tuukka Rask
 (Photo Credit: Geoff Burke)
Now for the most polarizing of the three players. Now, this is NOT a debate over whether he is elite or not – for that debate you can visit Spencer Fascetta's piece Is All This Rask Hate Warranted From Bruins Fans. Whichever side of the debate you align with more the result is the same. You have a 31-year-old goaltender taking up $7 million of your salary cap, who is capable of being a Vezina winning caliber goaltender, and you have questions as to whether or not he can back you to a Stanley Cup victory.
First, let's look at the trade option. If you even wanted to trade a goaltender who was tied for 7th in the league with 34 wins just last season, fine – let's see how that would work out for Don Sweeney. First and foremost, there are a limited number of teams who blatantly need a new starting goaltender; so trading him has minimal options at best. With his contract boasting a modified No-Trade Clause for only 8 teams, good luck getting all eight teams most needing goaltending on that list. These minimal options make a trade a very bleak looking option, and with a few teams very much in need of a solid netminder, there is no way that Tuukka would clear through waivers and make it to Providence.
So with a trade essentially off the table and getting him to pass through waivers being impossible, the last option to rid yourself of Tuukka's contract would be to buy him out. Although his buyout is certainly better than that of Backes and Krejci, this is not a good decision. Although his cap hit would drop from $7 million for this year and next to a minimal $2.67 million this option is the worst of the group. First off, you would carry the $2.67 million cap hit through the end of the 2022-2023 season, AND you make him free to sign with any other team he would like. Neither benefit this organization for this season, or any season in the future.
Summary
So, to recap; none of these three guys have great options to remove their cap hits for this season. It does look like both Krejci and Rask are players you can still get some production and value out of for this season. Backes seems to be the weakest link on this team and Jeremy Jacobs better get used the idea of seeing $4 million (his actual pay) sitting on the 9th floor of the TD Garden. With more lineup shakeups coming during the remainder of the season, Backes should expect to continue seeing time on the 3rd and 4th lines. Should Backes not be able to find the back of the net then Jeremy Jacobs better get used the idea of seeing $4 million (his actual pay) sitting on the 9th floor of the TD Garden.
Check out the available tickets from our advertising partner SeatGaint for your next Boston Bruins game. Click the link below and when purchasing any event ticket, from the NHL, NBA, MLB, NFL to concerts and shows, please use discount code BNGP to save a little money. Thank You!
–>Boston Bruins 2018-19 Regular Season Schedule & Ticket Information From SeatGiant.com<–