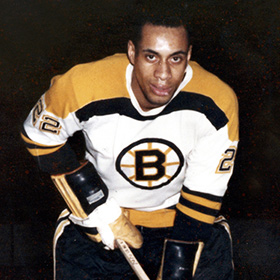 (Photo Credit: HHOF)
By: Evan Michael | Follow me on Twitter @Evan007onTV
When the NHL celebrated its "Centennial Memories" campaign with 100 of the greatest moments in hockey history last Spring, many of the clips featured highlight-reel goals & saves, Stanley Cup championships & champions, and unforgettable interviews with living legends of the game. But one very specific clip — a tribute if you will — resonated not only all throughout the city of Boston, but also most of Canada & Southern California as well. And that clip, that tribute, that truly inspiring story featured a player who literally & figuratively changed the face of the game, breaking the NHL's color barrier in the process — Bruins No. 22, Mr. Willie O'Ree:
[youtube https://www.youtube.com/watch?v=UhUiG7SaCIc]
To say O'Ree had a ground-breaking moment in the history of hockey, as well as the history of a racially-charged Boston, would be an understatement, especially when you consider the era of his playing debut and the overall culture of a sport as white as the ice it's played on. Look no further than the wonderfully insightful article written by friend of the Black N' Gold Blog Scott Burnside from The Athletic, who interviewed an emotional O'Ree shortly after the now 83-year-old got the life-changing call he was headed to the Hockey Hall of Fame:
"O'Ree's first NHL game was a Saturday night, Jan. 18, 1958, in Montreal. He and his Boston teammates then took a train to Boston for a return engagement against the powerful Canadiens the next day.

O'Ree overcame the barriers, both physical and societal, to become an NHL player at a time when there were but six NHL teams, and he did so having lost his sight in one eye courtesy of a deflected puck in the mid-1950s. He also had to face the kind of prejudice that has sadly driven many boys and girls from the sport over the years….

If this was how it was going to be in the NHL, the taunts, the violence, the hatred, maybe he wasn't cut out for it, he thought."
Many fans, players, coaches, managers & leaders throughout the game are certainly glad he thought wrong. So was O'Ree, despite his NHL playing career only lasting a mere 45-games (although he continued playing professionally until his early 40's in the Western & Pacific Hockey Leagues, respectively).
Did you know, recent @HockeyHallFame inductee Willie O'Ree had a very successful post #NHLBruins career in SoCal!? Learn more in my upcoming article for @BlackNGoldPod Blog! #WillieORee #HHOF @r_SanDiegoGulls pic.twitter.com/cKUYxm2odv

— Evan Michael (@EVAN007onTV) November 11, 2018
Yet, looking back, O'Ree's legacy wasn't about what he did on the ice — although overcoming both societal (being the game's first black player) & physical challenges (being legally blind in one eye) to actually have a successful hockey-playing career was about as impressive of an athletic accomplishment as anyone could endure during that time frame. It's about all that he did for the game off the ice. Going back to Burnside:
"The search was on for someone to help become the face of the NHL's diversity task force, someone who could be a conduit to communities where hockey was not a given…

O'Ree always wanted to get back in the game, and when [it was] proposed that O'Ree work with the league and USA Hockey visiting girls and boys at rinks, schools and even correctional facilities around the country, talking about his journey and the game, O'Ree thought that might be a good fit.

Little did he know that this wouldn't be just a job but also a labor of love."
A labor of love he's continuing to this day, and one that continues to be recognized by people in all facets of hockey, sport & society as a whole. Ten years ago, O'Ree sat down with CBS (where I anchored & reported for the better part of a decade) to talk about everything he had endured, accomplished and what he still wanted to do for hockey. It was intimate, revealing, and emotional but above all, it captured the essence of why the man is so revered all the way from Revere to San Diego to now Toronto, Ontario:
[youtube https://www.youtube.com/watch?v=yDy_IPNwIhc]
This aired just after O'Ree had celebrated the 50th anniversary of breaking hockey's color barrier. Now, with the 60th anniversary celebrations continuing throughout 2018, O'Ree's career & contributions to the game are being shared even more, especially with social media having such a lasting & profound reach.
(Photo Credit: NHL)
[youtube https://www.youtube.com/watch?v=gJOzvH3T50g]
Willie O'Ree is in the building! #HHOF2018 pic.twitter.com/nSh9tepVag

— Hockey Hall of Fame (@HockeyHallFame) November 9, 2018
Willie O'Ree receives his Hockey Hall of Fame ring and long-deserved honor https://t.co/WnjcUcCeqQ pic.twitter.com/HWwYIOi7mN

— TheColorOfHockey (@ColorOfHockey) November 10, 2018
Right where he belongs.

B's legend Willie O'Ree received his @HockeyHallFame ring and saw his plaque unveiled earlier today as HOF weekend got underway in Toronto.#HHOF2018 | #NHLBruins pic.twitter.com/dju4ttD2VF

— Boston Bruins (@NHLBruins) November 9, 2018
So, how will O'Ree's outreach impact the game, the NHL, Boston and countless young players all across the United States & Canada moving forward for the former forward? I think it's a safe bet to assume he won't be too far away from a rinkside view, especially in Allston where the B's Foundation, team and community went "all in" to dedicate a special rink to O'Ree this year!
🎥Willie O'Ree on Boston's newest street hockey rink: "I think anytime you can erect a facility where you can bring boys and girls and get them together, different races and creeds, and get them out to enjoy the game. What more can you ask?" pic.twitter.com/XWRaLI5kSq

— Boston Bruins (@NHLBruins) November 2, 2018
Over in Allston for the commemoration of the Willie O'Ree Community Rink. pic.twitter.com/HSLxcFu8iJ

— Conor Ryan (@ConorRyan_93) November 1, 2018
Willie O'Ree getting ready to unveil the newest street hockey rink in Boston. pic.twitter.com/hMuqIDp5tz

— Joe McDonald (@JoeyMacHockey) November 1, 2018
Just like Burnside discovered, O'Ree's presence, personality & penchant for always finding the time to talk hockey with anyone, anywhere, will be remembered even more than his spirited play, which goes to show how genuinely affable, relatable & altruistic he was and continues to be to everyone he encounters:
"Even during his playing days, O'Ree was always the last one on the team bus, always taking time for one more picture, one more autograph, one last bit of conversation with fans young and old.

O'Ree would like to see more coaches of color, more executives, scouts, the gamut. And beyond the rink…

…there's something more than a little comforting in knowing that O'Ree isn't going anywhere but to his next stop as he makes his way past those flags and back to a car that will take him to an airport and to another meeting with young people eager to hear his story."
And this is a story that will be told long after O'Ree has left us and left behind his legacy — one that rightfully will now always be remembered, and enshrined, in the Hockey Hall of Fame.
(Photo Credits: HHOF)
Don't forget to visit www.seatgiant.com and use promo-code BNGP to get your tickets to see the Bruins live at the TD Garden!