(Photo Credits: Last Word On Hockey)
By: Liz Rizzo | Follow me on Twitter @pastagrl88
The Boston Bruns continue with their road trip down south as they look to extend their winning streak to five games as they face the league's number one team. Boston is coming off a 7-3 win over the Florida Panthers, clinching their ticket into the Stanley Cup Playoffs.
In their third meeting of the season, Boston lost their first tilt 2-3 against the Lightning, however, the Bruins would avenge that loss and defeat Tampa Bay 4-1 on February 28th. With the recent win over the Panthers, the B's would reach the 100-point plateau for the 23rd time overall (most for any team in NHL history). As the team continues to deal with the loss of Sean Kuraly, Coach Bruce Cassidy had had to tweak up his fourth line. The new combination of Joakim Nordstrom, David Backes, and Noel Acciari have bode well for the team-they have goals in their recent road trip.
"Just three guys that have been looking for a spot to fit and guys are willing to work hard, be tough to play against and be simple and predictable to each other"-David Backes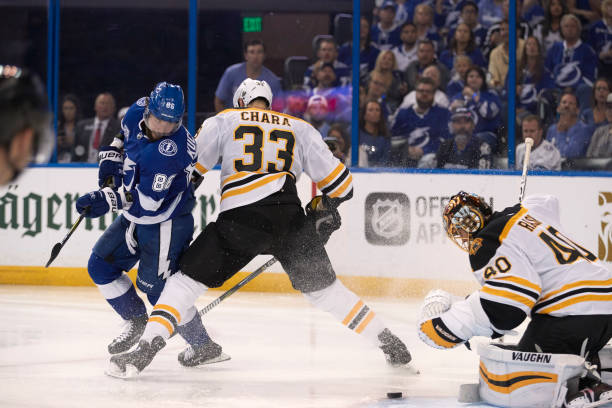 (Photo Credits: David E. Klutho /Sports Illustrated/Getty Images)
As the regular season winds down to a close, the Bruins team are looking to once again regain some healthy bodies back. Marcus Johansson, who had been nursing a contused lung, joins the team in Tampa Bay and will be a game-time decision for tonight. Johansson did participate during Sunday's skate at the Lightning's Arena alongside Jake DeBrusk and David Krejci. 
Injured defenseman Torey Krug also skated Sunday in a gold non-contact jersey. Chris Wagner had a maintenance day on Sunday but is expected to play tonight. Both Matt Grzelcyk and Kevan Miller joined the team and did practice some skating drills.
Right-winger David Pastrnak is returning back to form and still leads the team with 33 goals. His linemate Brad Marchand is right behind with 32 goals and leads the team in assists (60) for 92 points. The top line has had a successful reunion as evident in their recent 7-3 win with all three netting a goal. The Bruins are now 46-20-9, second in the Atlantic Division and third in the league.
THE BOLTS
The Lightning are having a ridiculous season and have reached an unprecedented 120 points with their 58 wins-tied for the fourth most in NHL history. Tampa Bay have three players that are nearing the 40-goal mark this season: Brayden Point, Steve Stamkos, and Nikita Kucherov. Incredibly Kucherov has the same amount of points as the team at 120 points.  He leads the team in both points and assists with 83. Point leads the team with 40 goals. Steven Stamkos was recently named NHL's Second Star of the week.
(Photo Credits: Mike Carlson/Getty Images North America)
Tampa Bay is looking to start a new winning streak as they fell to the St. Louis Blues 3-4. They begin a two-game homestead at the Amalie Arena.  The Lightning recently clinched the President's Trophy. The Bruins are 17-3-1 in their last 21 games. Stamkos has accumulated eight points in the last few games while Marchand has 21 points in his last 13 games. Expect Tuukka Rask in net tonight for Boston and for the Lightning expect Andrei Vasilevskiy.
Rask is now 26-10-5 with goals against average of 2.35 and a save percentage of .918. Vasilevskiy is 26-9-4 with goals against average of 2.33 and a save percentage of .928. Here are the projected lines for both Boston and Tampa Bay:
BOSTON:
Marchand-Bergeron-Pastrnak
DeBrusk-Krejci-Johannson
Heinen-Coyle-Wagner
Nordstrom-Acciari-Backes
Chara-McAvoy
Carlo-Clifton
Kampfer-Moore
Rask
Halak
TAMPA:
Palat-Stamkos- Miller
Johnson-Point-Kucherov
Killorn-Cirelli-Joseph
Erne-Paquette-Callahan
Hedman-Sergachev
McDonagh-Cernak
Coburn-Rutta
Vasilevskiy
Domingue
WHEN TO WATCH: Tonight with puck drop at 7:30 pm, Amalie Arena
WHERE TO WATCH: ESNP+, SUN, NESN
Check out the available tickets from our advertising partner SeatGiant for your next Boston Bruins game. Click the link below, and when purchasing any event ticket, from the NHL, NBA, MLB, NFL to concerts and shows, please use discount code BNGP to save a little money. Thank You!