(Photo Credits: NBC Sports)
By: Liz Rizzo  | Follow me on Twitter @pastagrl88
It's been a wild first round that saw the early exit of big heavy-hitting teams and the Bruins are one of those teams still standing. After a nerve wrecking victory over the Toronto Maple Leafs in Game 7  this past Tuesday, the Bruins are now gearing up to face a new foe in Round 2.  For the first time in either teams history, the wild card team Columbus Blue Jackets and the league's second-place Boston Bruins will face each other.
Boston has had little rest from Tuesday's bout with the Leafs while the Blue Jackets had 10 days off after a stunning sweep over the Tampa Bay Lightning. For the first time in their history Columbus has advanced to the second round. Surpassing all Vegas odds and, pretty much anyone that watches hockey, the Blue Jackets will be looking to strong arm Boston at the TD Garden. The last time these two teams met on April 2nd, Boston defeated the Blue Jackets 6-2. Columbus  has won 11 out of 12 games in the regular season and swept the Lighting in four games.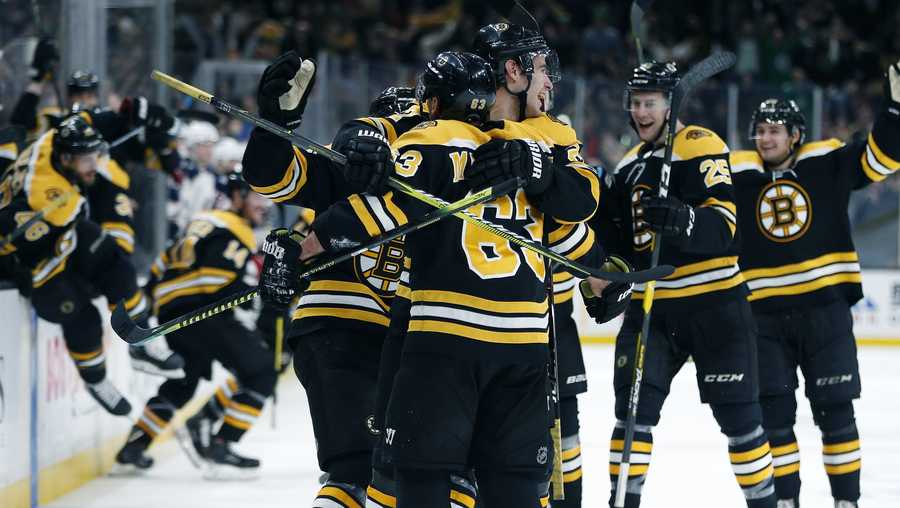 (Photo Credits: WCVB Boston)
For Boston, the continued emergence of the fourth line will hopefully once again show up tonight as they face a heavy, tough Columbus team. Sometimes rest isn't always the best thing and that can bode well for the B's. They'll be looking to carry over their momentum from their Game 7 win to tonight's game. If you look back to last postseason, the Bruins defeated Toronto and were able to defeat the Lightning in Game 1 of the second round, winning 6-2. But as history has it, the Bruins were unable to carry that energy over to the rest of the series.
"I hope we're ready. I can't guarantee how it is. Eight or nine days off, I think we can say all the right things as I'm trying to do right now, but it comes down to the players being mentally ready. To me, its not a physical ready, its a mental readiness as far as ready to elevate your compete to start a series."-Columbus Coach John Tortorella
Both Boston and Columbus had the best power play in the league postseason, with the Jackets in first and Boston in second. The Bruins power-play was instrumental in key victories over the Maple Leafs. For the Blue Jackets, their power-play was a huge factor in their winning sweep over Tampa Bay.  If you wanna talk stats, the Bruins were shorthanded 16 times in seven games, while Columbus was shorthanded six times in four games.
(Photo Credits: NESN.com)
The Bruins will need to be mindful of the heavy forechecking by Columbus's Josh Anderson, Nick Foglino and rookie Alexandre Texier.  Boston's secondary scoring issues was hot topic during the regular season, however come postseason, has been a different story. In the pivotal Game 7, it was Joakim Nordstrom, Sean Kuraly and Marcus Johansson that got the Bruins on board. Although the first line has been quiet (aside from Marchand who's been steadily producing), the team will  need all lines on deck for this series. Columbus's Matt Duchene leads the team in points, goals and assists, while Brad Marchand leads in points, goals and assists.
Boston's Chris Wagner and Connor Clifton will be back in the lineup tonight.
For Columbus, here are the projected lines for tonight:
Artemi Panarin – Pierre-Luc Dubois – Oliver Bjokstrand
Ryan Dzingel – Matt Duchene – Cam Atkinson
Alexandre Texier – Nick Foligno – Josh Anderson
Riley Nash – Booner Jenner – Brandon Dubinsky
Zach Werenski – Seth Jones
Markus Nutivaara – David Savard
Scott Harrington – Adam Clendening
Sergei Bobrovsky
Joonas Korpisalo
Expect Tuukka Rask and Sergei Bobrovsky in their respected nets.
WHEN TO WATCH: Tonight at TD Garden with puck drop at 7:00 PM
WHERE TO WATCH: NBCSN