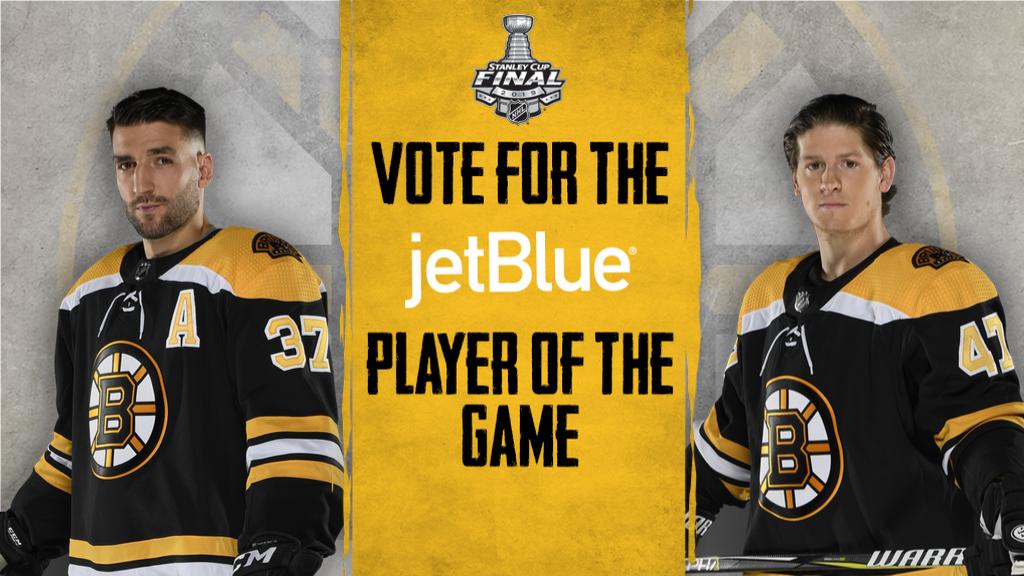 (Photo Credit: Boston Bruins)
By: Evan Michael | Follow me on Twitter @00EvanMichael
When you think of perfection, a word that shares both literal & figurative resonance with the B's top players & top line–led by none other than Patrice Bergeron himself, you think of a number. Well, two numbers now. 100 & 37.
Bergy's first-period goal was the 100th point of his postseason career, tying Johnny Bucyk and Rick Middleton for fourth in #NHLBruins history. Congrats, Patrice! pic.twitter.com/POmc5oKMJ8

— Boston Bruins (@NHLBruins) June 2, 2019
And since hockey, by and large, is a numbers game — especially when lining up a hit between the numbers — it was only fitting that Bergy bested some of Boston's best ever in a game three performance that completely tilted the ice (and perhaps the series) in the Black N' Gold's favor.
#NHLBruins all-time postseason scoring leaders:

1. Ray Bourque | 161
2. Patrice Bergeron, Phil Esposito | 102
3. David Krejci 101 pic.twitter.com/NLnMktN4eg
— Boston Bruins (@NHLBruins) June 2, 2019
But the defacto co-captain of the Bruins wasn't the only "B" buzzing around the rink and score sheet in St. Louis. Enter MSU alum and power play specialist Torey Krug to the conversation, whose big night from the blue line rivaled that of Bergy.
You voted @ToreyKrug as the @JetBlue Player of the Game for his four points in last night's Game 3 win. pic.twitter.com/uUuwaDEaIu

— Boston Bruins (@NHLBruins) June 3, 2019
In fact, Krug's quatro-point performance propelled him into unparalleled Boston Bruins hockey history. He became the first EVER B's defenseman (aka defenceman) to record four points in a Stanley Cup Finals game. That's right… Shore never did it. Orr never did it. Bourque never did it. Big Z never did it. But, No. 47 did!
44 points in 58 career playoff games for Torey Krug 🔥 he's rolling! pic.twitter.com/6L6geqZQZn

— TSN (@TSN_Sports) June 2, 2019
And if that wasn't impressive enough… Krug also entered into elite National Hockey League playoff history with his puck-perfect performance–one that definitely gave the hard-hitting and oft-whining opposing team the Blues (cue "Roll Over Beethoven" from Chuck Barry, not Laura Branigan's "Gloria" for this).
Torey Krug of the @NHLBruins became the fourth player in NHL history – and second defenseman – to record four power-play points in a game during the #StanleyCup Final.
The others:
Jean Beliveau (Game 5 in 1965)
Denis Potvin (Game 3 in 1980)
Joe Sakic (Game 2 in 1996)#NHLStats pic.twitter.com/MkmzxvoyRF

— NHL Public Relations (@PR_NHL) June 2, 2019
What a nice problem for the Bruins and B's fans to have after a decisive 7-2 victory, right? Two of their most important & pivotal players each reaching milestones in the SCF! And at the most timely of times to regain home ice and also give a struggling perfection line and top PP unit a big boost of confidence moving forward. Will the numbers continue to trend in this direction? Most likely not at such a historic pace, but even if the B's received half of what we saw in game three, then the odds are looking good for going back to Boston with a chance to win it all. And all thanks to the inspired scoring and point production of Patrice & Torey — oh, what a story!
(Photo Credit: Hockey News)
Now, wouldn't that be perfect?