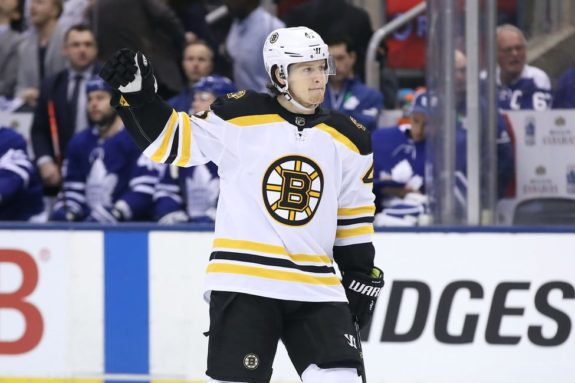 (Photo Credit: (Tom Szczerbowski-USA TODAY Sports))
By Mike Cratty | Follow me on Twitter @Mike_Cratty
It's no secret that Torey Krug's role on the Bruins is a pretty vital one. Being the power-play quarterback, top scorer from the back end, and a high-energy player, Krug is tasked with quite a bit.
One of the main storylines this offseason has been what to do with Torey Krug down the road, as he is set to hit unrestricted free agency next July. Whatever ends up happening, it needs to be executed a certain way, in my eyes. Things could end up panning out a few different ways.
The ideal solution: A long-term deal
Ideally, the necessary moves and negotiations are made to accommodate Krug. While ideal, it won't be easy. Krug's stock continues to trend upwards as time passes by due to his consistency. His stock as a free agent has never been higher after another great regular season and a stellar playoff run.
His 53 points in the regular season and 18 in the playoffs were best on the team amongst defensemen. While points aren't everything when it comes to evaluating defensemen, they certainly don't blemish a player's image.
For an undersized defenseman, Krug proved this year that his size won't affect his ability to be an effective defenseman in his own zone and in the physical aspect of the game. He also continued to show why he is one of the most effective power-play quarterbacks in the entire league, amongst a great first power-play unit that included David Pastrnak, Brad Marchand, and Patrice Bergeron.
Additionally, Krug further established excellent chemistry with Brandon Carlo. Their differing styles actually complement one another very well. Carlo often cleans things up defensively, as that's where his expertise lies, allowing Krug to effectively carry the puck and create offense. Having that comfortability and chemistry is huge for Carlo, and vice versa, as he is still developing into a shutdown defenseman at 22-years-old.
When it comes to comparables, CapFriendly has a great tool for drawing contract comparables on their website. Some of the contracts they list as comparables to Krug are Tyson Barrie ($5.5M AAV), Jared Spurgeon ($5,187,500 AAV), and Matt Dumba ($6M AAV).
While I think Krug will make north of $6 million per year in his next deal, whatever the exact amount may be, these are potential starting points for contract comparables that could come up in future contract negotiations to stay in Boston.
With things very much up in the air right now surrounding how much Charlie McAvoy and Brandon Carlo will make, proper accommodations need to be made to make Krug's next contract fit under the cap. Not only will however much Carlo and McAvoy make factor into the cap, Matt Grzelcyk, Jake DeBrusk Chris Wagner, Joakim Nordstrom, Charlie Coyle, Brett Ritchie, Zdeno Chara, and Kevan Miller will all be looking for new deals next summer.
Don Sweeney has his work cut out for him in that department.
If you can't keep him, trade him
Do everything you possibly can to keep Krug long-term, but if you can't, you have to trade him if you're Don Sweeney. If you don't trade him in this case and lose him for nothing as a UFA, it's bad mismanagement of assets.
A player of Krug's caliber could fetch a large haul on the trade market. Whether a trade revolves around a top-six right-winger to play with David Krejci, or picks and prospects, a large haul could be obtained.
With Krug's pending UFA status, it's anyone's guess as to what Sweeney could get in return for him. But as mentioned previously, in a perfect world, Sweeney doesn't even have to seriously consider having to move on from a player of Krug's caliber.