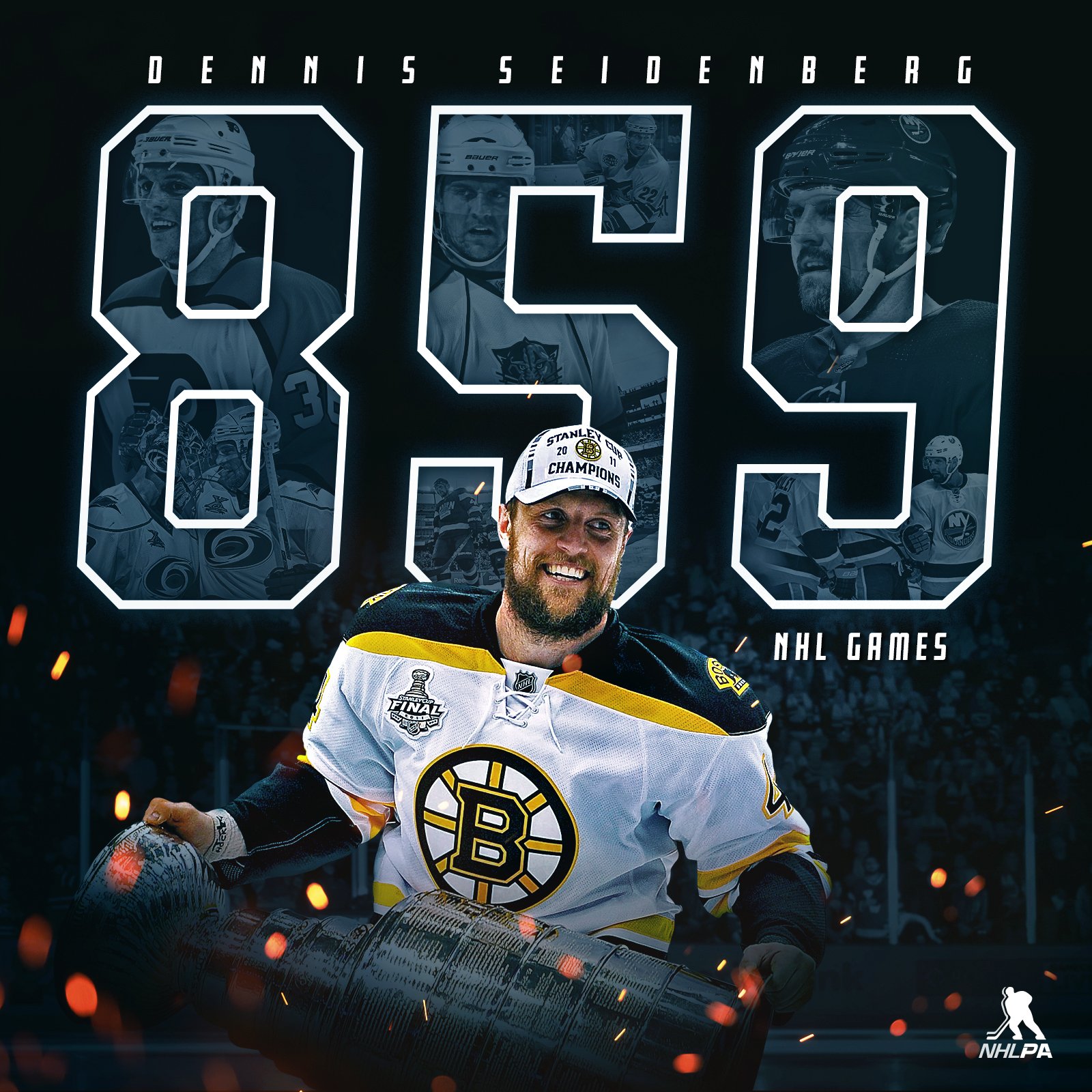 (Photo Credit: NHLPA)
By: Evan Michael | Follow me on Twitter @00EvanMichael
The Boston Bruins, in early 2010, made a "bits and pieces" trade with the Florida Panthers. Scratch that… Bitz and pieces, with the non-Dafoe Byron and somebody called Craig Weller going to the Sunshine State for a solid German blueliner (and others) known only to die-hard hockey fans.
About a year later, all hockey fans –especially those in Boston– knew his name. In fact, that trade became one of the best in recent team history when the B's beat Vancouver to capture their first Stanley Cup in four decades primarily because that tough-as-nails D-man paired up with Zdeno Chara to form the most formidable back-end tandem in the game.
And now, after 859 career NHL games (nearly half in a Black N' Gold sweater — 401 to be exact), Dennis Seidenberg is hanging up his skates.
Friendly reminder that Dennis Seidenberg had some of the BEST skates in the game. #NHLBruins pic.twitter.com/4WlNbHDiK9

— Erin Walsh (@ewalsh90) October 25, 2019
"Probably one of the more jacked guys I've ever seen. … He was a horse."

Spoke with a couple Bruins about Dennis Seidenberg, his impact on this current B's team and that absurd run he had in 2011: https://t.co/BlVuKE4dLN
— Conor Ryan (@ConorRyan_93) October 25, 2019
"Seids," as he was affectionately known to his teammates, coaching staff and the fanbase, was a beast for the B's, shutting down not only the game's best offensive players, but doing it when it counted the most — against Montreal, Philly, Tampa and the aforementioned Canucks during that magical Cup run of '11. And let us not forget his spirited and inspiring play during the near-Cup run of '13 and Presidents' Trophy campaign of '14 that further endeared him to the region and to many other players league-wide.
He was respected just as much off the ice, as well, often leading by example with his rigorous training and constant practicing (something young guys named Bergeron and Marchand took note of and learned from).
 [youtube https://www.youtube.com/watch?v=KRF3noXAXdk]
Speaking of his off-ice actions, did you know Seids was a culinary connoisseur, art appreciator, festive family man and social stud? It wasn't until the very entertaining Door To Door series came out from the Boston Herald five years ago that I realized just how "chill" of a guy he was (and still is). If you didn't like him enough already, this video put it over the top:
 [youtube https://www.youtube.com/watch?v=qMswovu0Hgk]
And since he truly is going out "on top," having reached the pinnacle of hockey's heroic mountain and doing it for an Original 6 franchise no less, Dennis Seidenberg can fondly and favorably reflect back on a successful career that millions in the area will forever be grateful for. Dare I say, he certainly didn't play a Bitz part in Boston (or did he?)!
Check out the new Black N' Gold Hockey Podcast episode 150 that we recorded on 10-20-19 below! You can find our show on many worldwide platforms such as Apple Podcasts, Google Podcasts, iHeart Radio, Spotify, SoundCloud, and Stitcher.
Please subscribe to our new Black N' Gold Hockey YouTube channel! We'd really appreciate the continued support. Click HERE for exciting Black N' Gold online content!!