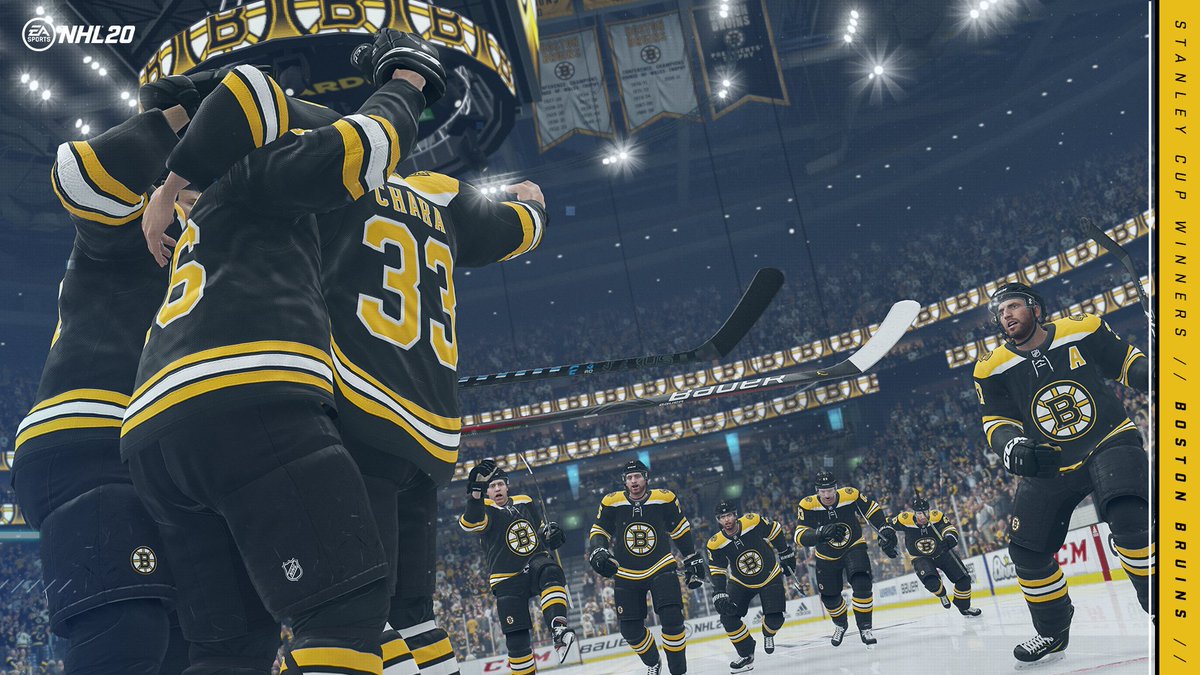 (Photo Credit: EA Sports – NHL20)
By: Evan Michael | Follow me on Twitter @00EvanMichael
It's "game" time for hockey fans everywhere. And I'm not just talking about the NHL's 2019-2020 season dropping the puck for Opening Night.
Rather, EA Sports' NHL20 video game, which has made a Bruins prediction as bold as some of our recent BN'G blog posts: that the B's will win it all this year. Huzzah!
The #NHL20 Simulation has spoken…

The @NHLBruins are your 2020 Stanley Cup Champions!
They defeat the @GoldenKnights in 6 games for their first Stanley Cup since 2011! Brad Marchand takes home the Conn Smythe Trophy with 32 points in 25 games. #NHL20Sim pic.twitter.com/1trq9FMC3b
— #NHL20 (@EASPORTSNHL) October 1, 2019
Pretty impressive right? The B's will beat the Leafs (no surprise there) in the opening round, then the Lightning in round two and then the Caps in the Eastern Conference Final before dethroning the Golden Knights in six games.
And, get this: everyone's favorite productive pest Brad Marchand will win the Conn Smythe, con artists be damned, with a nearly point-plus per game proficiency. That's a prediction that's not only bold and gold, but truth be told, I'm sold on!
However, I know what some of your are already saying / thinking / posting / tweeting: "what a jinx!" Or, perhaps, "where was this last season?" Or, better yet, "the odds of that actually happening are absurd."
Be it in real life or the gaming world, prognostications of simulations can lead to recreations of imaginations. Simply put: it ain't easy to predict a Stanley Cup winner — on the ice with talent, or on the screen with cheat codes.
Yet, not cheating ourselves, how fun is it to speculate on the official eve of Bruins puck drop? I mean, now that you know the team's Stanley Cup Runner-Up history, why not have a little fun playing a game about the B's potential game play this season? So far, the social media world seems to be enjoying it… especially the fact that Boston takes down Toronto in yet another first round Game 7 match up (this alone makes the NHL20 Sim worth it).
CRINGES pic.twitter.com/TQPaNLCHzF

— Alex Broad (@alexanderjbroad) October 1, 2019
Oh look Toronto lost to them in 7 games pic.twitter.com/UOiTNW4YWP

— e-joseph (@nyrangerfan1991) October 1, 2019
What else is worth a lot? Hope. At least the hope of another entertaining hockey season in Boston. Sure, losing the Cup really sucked (and still hurts), but we sure as hell went along for the ride up until mid-June! Now, if we're to put our fanatical faith, and perhaps even some frivolous finances, into another form of entertainment — NHL20 — it looks like we'll experience a SIMilar Summer run of perspective Cup fun.
I'll hit "PLAY" on that B's button all day long!
 [youtube https://www.youtube.com/watch?v=8shFzV4bc0A]
Check out the Black N' Gold Hockey Podcast episode 147 that we recorded on 9-30-19 below! You can find our show on many worldwide platforms such as Apple Podcasts, Google Podcasts, iHeart Radio, Spotify, SoundCloud, and Stitcher.
Please subscribe to our new Black N' Gold Hockey YouTube channel! We'd really appreciate the continued support. Click HERE for exciting Black N' Gold online content!