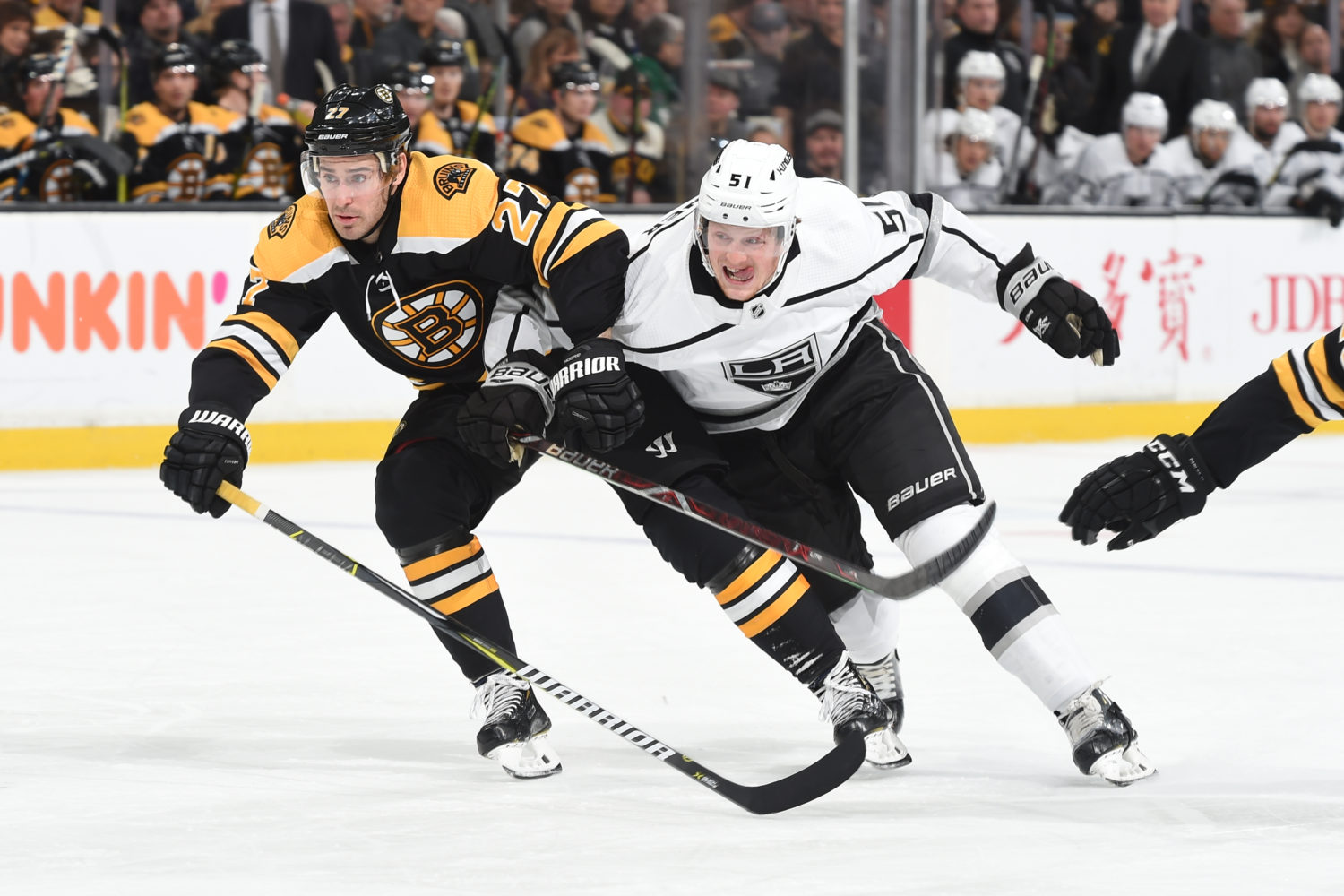 (Photo Credit: Steve Babineau/NHL via Getty Images)
By Mike Cratty | Follow me on Twitter @Mike_Cratty
Home: Boston Bruins
Away: Los Angeles Kings
Boston's Lineup
Forwards
Marchand – Bergeron – Pastrnak
DeBrusk – Krejci – Coyle
Bjork – Kuraly – Heinen
Nordstrom – Wagner – Backes
Defense
Chara – McAvoy
Krug – Carlo
Moore – Grzelcyk
Goalies
Rask
Halak
Los Angeles' Lineup
Forwards
Iafallo – Kopitar – Brown
Clifford – Carter – Lewis
Kempe – Lizotte – Wagner
Toffoli – Amadio – Prokhorkin
Defense
Ryan – Doughty
Hutton – Roy
MacDermid – Walker
Goalies
Quick
Campbell
The Bruins have hit a bit of turbulence as of late. Despite pulling out the win in Florida on Saturday night, the Bruins have lost five of their last six games and are 3-4-1 in the month of December. The Pacific Division's last-place team, the Los Angeles Kings came to TD Garden looking to continue to make life hard for the Bruins.
First Period
Things got off on an awkward note when the Bruins took a too-many-men penalty just a minute into the game. A failed breakout attempt lead to the puck ending up on Jeff Carter's stick and beating Tuukka Rask thanks to a deflection by Blake Lizotte out front. The Bruins were down early, just two minutes and 17 seconds into the game.
David Pastrnak showed us that it's not all finesse with him sometimes, I suppose. Both teams were trying to feel each other out in the early going.
The feeling-out process continued for quite some time until Kyle Clifford went off for interference with 1:46 remaining – giving the Bruins their first power play of the game. Danton Heinen made good on the power play, using his skate to redirect one past Quick. The ruling on the ice stood even after a quick review. Heinen's goal was his sixth of the season was assisted by Brad Marchand (33) and David Pastrnak (21).
It took a while to get things going for the Bruins, but they broke through. Shots in the period were 11-7 in their favor. Despite not generating a whole lot of consistent offense, they didn't really play poorly. They actually have a great track record in games in which they don't score first. It was anyone's game going forward.
Score: 1-1
Second Period
We saw another early penalty come in the second period, this time it was on Kings forward Trevor Lewis for hooking. Things didn't go as planned. Adrian Kempe found a loose puck after Jonathan Quick robbed Brad Marchand and buried it on a breakaway. It was 2-1 kings just 2:45 into the frame.
It took a bit of time, but Patrice Bergeron responded with a goal of his own on a shot with eyes through traffic – evening things up with 9:16 to go. Bergeron's 11th goal of the season was assisted by Torey Krug (19).
Dustin Brown went off for slashing with just a little bit less than four minutes remaining, but the Bruins failed to score. Things went on to wrap up in a fairly standard fashion after that to close things out in the second period. Shots in the period were even at ten, bringing the total to 21-17.
Score: 2-2
Third Period
The trend of big things happening early on in a period continued – this time with a goal instead of a penalty. Brandon Carlo threw a shot towards the net that hit off of Kings defenseman Matt Roy and in. Carlo's third goal of the season was assisted by Danton Heinen (9) and Jake DeBrusk (9) just a minute and 24 seconds in.
Los Angeles didn't roll over after the Carlo goal, but the Bruins were doing enough to keep things out of reach. Check out this impressive sequence that very well could have extended the Bruins lead to two. Just some crazy puck possession on display from Anders Bjork and then some.
Offensive zone stints like that definitely help when you're trying to preserve a lead. Outshooting your opponent by a lot helps too, and that's what the Bruins did, 14-5 at one point. It worked for a while until Roy hammered a one-timer past Rask to tie the game with 2:01 remaining. A frustrating way to go to overtime. The final shots in the period were 16-8, and 37-25 overall.
Score: 3-3
Overtime
The start of overtime was highlighted by Charlie McAvoy nearly scoring and then making a great sliding effort to thwart a chance to end it for the Kings. Anders Bjork then went on to find himself all alone not too long after, but was stopped by Quick. Patrice Bergeron sent a premium chance high over the net and then Anze Kopitar ended it one a 2-on-1 chance.
Shots in overtime were 3-2 Bruins, and 40-27 overall but Los Angeles came out on top. The Bruins have now lost six of their last seven games and are 21-7-7 on the season. Next up on the schedule are the New York Islanders at TD Garden on Thursday at 7 PM ET.
Final Score: 4-3 Los Angeles
Check out the new Black N' Gold Hockey Podcast episode 158 that we recorded below! You can find our show on many worldwide platforms such as Apple Podcasts, Google Podcasts, iHeart Radio, Spotify, SoundCloud, and Stitcher.
[soundcloud url="https://api.soundcloud.com/tracks/728384188″ params="color=#ff5500&auto_play=false&hide_related=false&show_comments=true&show_user=true&show_reposts=false&show_teaser=true&visual=true" width="100%" height="300″ iframe="true" /]
Please subscribe to our new Black N' Gold Hockey YouTube channel! We'd really appreciate the continued support. Click HERE for exciting Black N' Gold online content!!
[youtube https://www.youtube.com/watch?v=qEKHjEz2HnA&w=853&h=480]