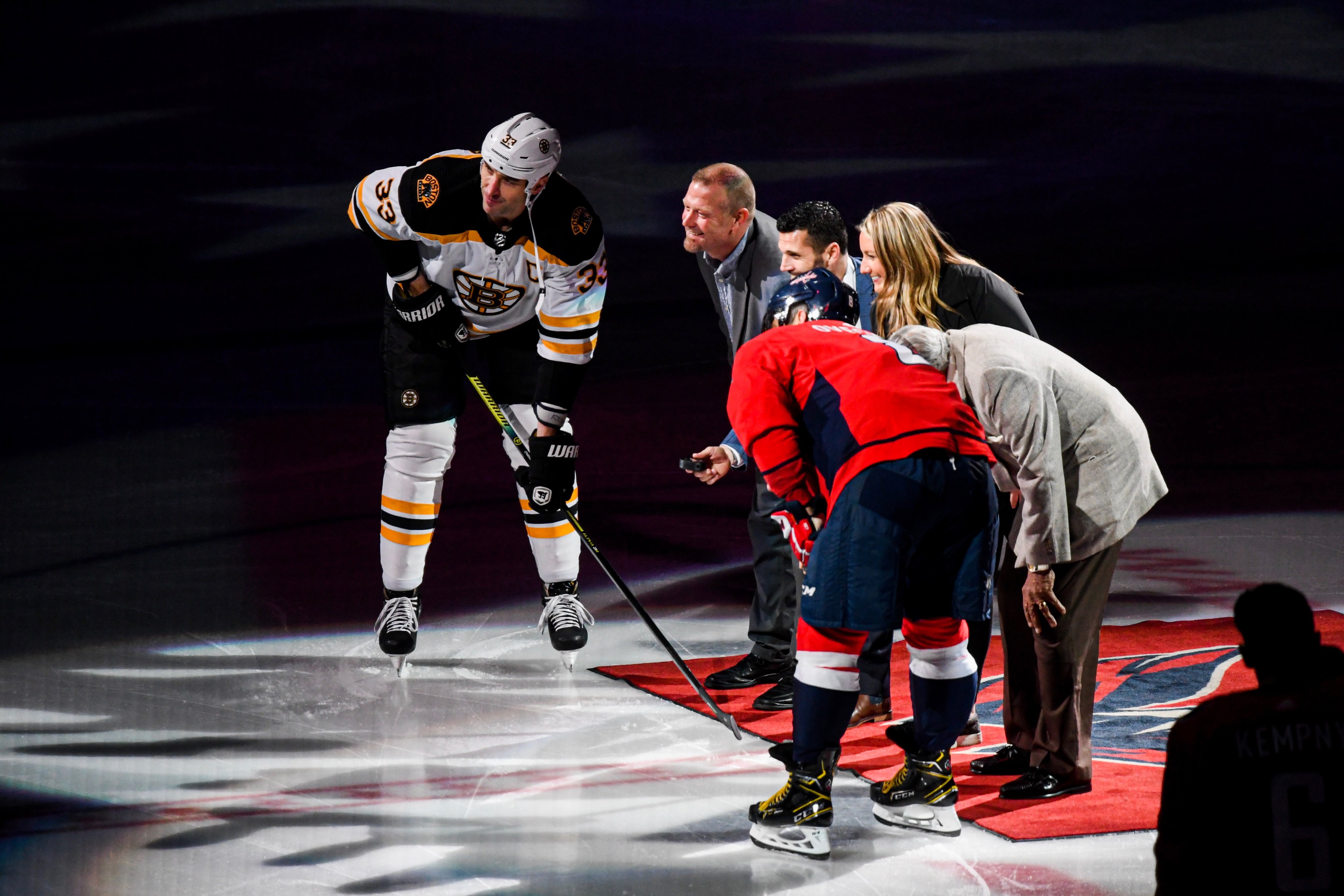 (Photo Credit: NHL.com)
By: Evan Michael | Follow me on Twitter @00EvanMichael
Tim Thomas, the Boston Bruins and the District of Columbia sure do have some history — ceremonial puck drops aside.
#NHLBruins legend Tim Thomas and his fellow 2019 U.S. Hockey Hall of Fame honorees – former B's forward Brian Gionta, Olympian Krissy Wendell, and Fort Dupont Ice Arena Founder Neal Henderson – dropped the ceremonial pucks before tonight's game in D.C. pic.twitter.com/zuUXk1HwZm

— Boston Bruins (@NHLBruins) December 12, 2019
Almost a decade after the former B's goaltender refused a visit to the nation's capital and did not attend the White House with his Cup-winning teammates, "TT" was front and center — on center ice fittingly — in the sanctimonious city that never sat well with him.
Well I definitely did not expect to see this tonight pic.twitter.com/zQkWWdeqJA

— Pete Blackburn (@PeteBlackburn) December 12, 2019
"Well, I definitely did not expect to see this tonight." No one did, Pete. And you know what? Good for Thomas. Standing between B's Captain Zdeno Chara and one-time Bruin Brian Gionta, Timmy two-pads looked sharp in his grey blazer and blue button down. At the game to be honored alongside his fellow 2019 U.S. Hockey Hall of Fame inductees, Thomas was, perhaps for the first time in his own hockey history, all smiles in D.C.
Ladies and gentlemen: Tim Thomas. pic.twitter.com/h7XMKOOxwx

— Evan Marinofsky (@emarinofsky) December 12, 2019
Smirks count too. And sure, he left many a B's fan and former player smirking a bit after the aforementioned unvitation, to use a Seinfeld reference. But, the official #NHLBruins Twitter account truly referenced it right (that's right as in "correct," not politically conservative for those keeping TT tabs): he's a Boston legend.
I don't think you'll find one Bruins fan on the planet — or hockey fan for that matter — who honestly believes the B's would have won the 2011 Stanley Cup without Thomas' in-net heroics. To wit (apologies to Mr. Gionta who on this night was a fan of Tim Thomas but in the first five saves of the video below, a mortal enemy):
 [youtube https://www.youtube.com/watch?v=9x6EIgoAtjs]
Yet, for all the player praise we heaped on the Vezina, Conn Smythe and Stanley Cup-winning Thomas after his historic 2011 playoff run, it was his mercurial off the ice political issues shortly thereafter, not to mention his Houdini-esque disappearing act from all of hockey…
Tim Thomas being alive is an amazing fact I forgot about until now https://t.co/wYa5AkRhLY

— Pat Coughlin (@PatCoughy) December 12, 2019
Good to see that Tim Thomas emerged from his bunker to let us know that he is alive and well. pic.twitter.com/M1cZeyOwnu

— Blocke (@_brendanlocke) December 12, 2019
…that really seemed to bother supporters of the Black N' Gold. You know who it didn't bother? Tim Thomas (as quoted below in the Boston Herald ahead of the Bruins versus Capitals NHLonNBC Sports "Wednesday Night Hockey" affair):
"I live in a totally different world than the hockey world that I lived in before… I live a long ways away from Boston, and it's not that fun for me to travel anymore. It isn't anything to do with the Boston Bruins or the Boston fans, especially. My goodness, they loved the crap out of me when I was there to the point where it was hard to handle."
It's too bad the B's always find the Caps too "hard to handle," especially at home in Washington, D.C. — a place Tim Thomas will never be at home in no matter the audience or accolade.
Check out the new Black N' Gold Hockey Podcast episode 157 that we recorded on 12-8-19 below! You can find our show on many worldwide platforms such as Apple Podcasts, Google Podcasts, iHeart Radio, Spotify, SoundCloud, and Stitcher.
Please subscribe to our new Black N' Gold Hockey YouTube channel! We'd really appreciate the continued support. Click HERE for exciting Black N' Gold online content