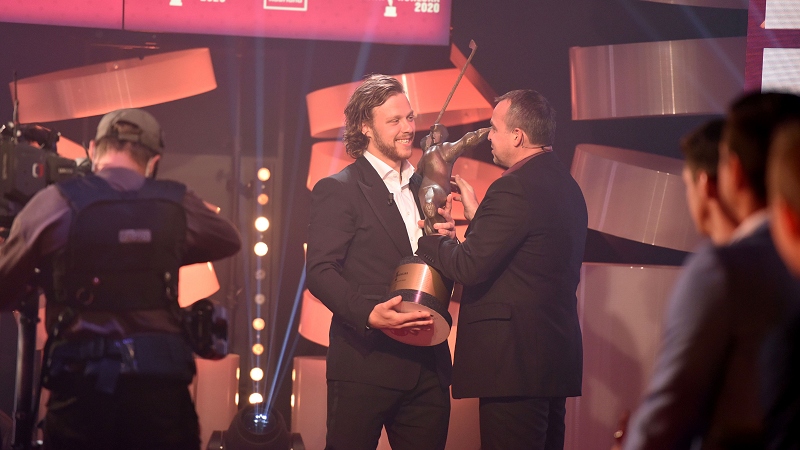 By: Liz Rizzo | Follow me on Twitter @ pastagrl88
For the fourth consecutive time, Bruins winger David Pastrňák has won the Golden Hockey stick (Zlatá hokejka) as the Czech Player of the Year, matching Jaromír Jágr record of consecutive wins. Pastrňák dominated the polls as he ended his best regular season high of 48 goals with 95 points in 70 games. He recently made history as the first Boston Bruin to win the Maurice 'Rocket" Richard Trophy for leading the league in goals. Pastrňák shares the trophy with Washington Capitals Captain Alex Ovechkin, who also ended the regular season with 48 goals.
The 24-year-old right winger ranked 51 out of 52 votes for first place. Fellow Czech player Vladimir Martinec also won the honors four times. Pastrňák came in at first with 519 points with Dominik Kubalik (Chicago Blackhawks) coming in second with 370 points. Philadelphia Flyers Jakub Voráček (who won in 2015) came in third with 312 points. Bruins own David Krejčí (winner of the award in 2013) came in at 7th with 177 points. Out of the top ten, eight are playing in the NHL.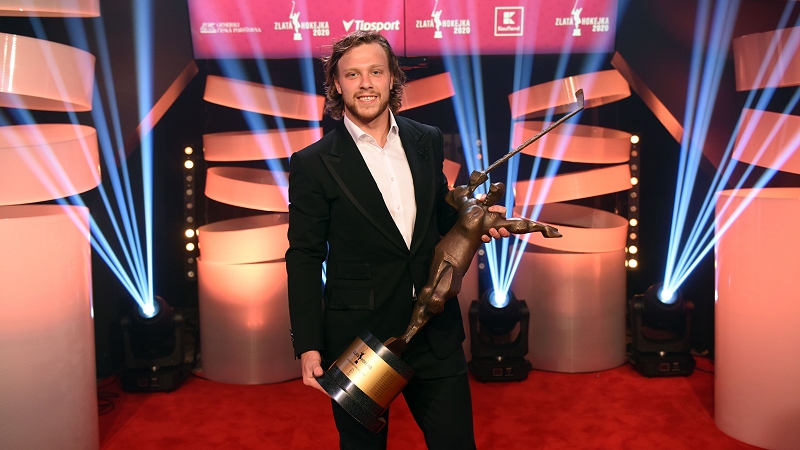 Czech Hockey and BPA Sport Marketing were this year's organizers of the 52nd annual survey. Those that voted for the top players include representatives of the association, national team and youth coaches, and ice hockey journalists. Jaromír Jágr has won a record 12 times while legendary goaltender Dominik Hašek won the award five times.
The ceremony was held in the Czech Hockey Hall of Fame and broadcasted on CT Sport. Results were based off of the first round of voting, which closed on March 10th. Further voting was suspended due to the pandemic that led to end of the NHL season. Other Czech Players that are currently playing in the NHL also made the top 20.
Those included are Tomáš Hertl (San Jose Sharks), Ondřej Palát (Tampa Bay Lightning),  Filip Chytil (New York Rangers), Michal Kempný (Washington Capitals), Petr Mrázek (Carolina Hurricanes), and Radim Šimek (San Jose Sharks). At age 48, Jaromír Jágr, (who still plays for the Czech club Rytíři Kladno) also made the bottom of the list.
Here are your top ten Czech players:
1. David Pastrňák (Boston Bruins, NHL) 519
2. Dominik Kubalík (Chicago Blackhawks, NHL) 370
3. Jakub Voráček (Philadelphia Flyers, NHL) 312
4. Jakub Vrána (Washington Capitals, NHL) 301
5. Pavel Francouz (Colorado Avalanche, NHL) 281
6. Milan Gulaš (HC Škoda Plzeň) 218
7. David Krejčí (Boston Bruins, NHL) 177
8. David Rittich (Calgary Flames, NHL) 123
9. Dmitrij Jaškin (Dynamo Moskva, KHL) 107
10. Filip Hronek (Detroit Red Wings, NHL) 97
Pastrnak ended the regular 2019-20 season tied third in the league with with a career-high of 95 points. He also led the league in powerplay goals (20). The Havirov, Czech native ended the season with a career-high of 47 assists.
Check out the new Black N' Gold Hockey Podcast episode 182 that we recorded below on 6-7-20! You can find our show on many worldwide platforms such as Apple Podcasts, Google Podcasts, iHeart Radio, Spotify, SoundCloud, and Stitcher!
Please subscribe to our new Black N' Gold Hockey YouTube channel! We'd really appreciate the continued support. Click HERE for exciting Black N' Gold online content!