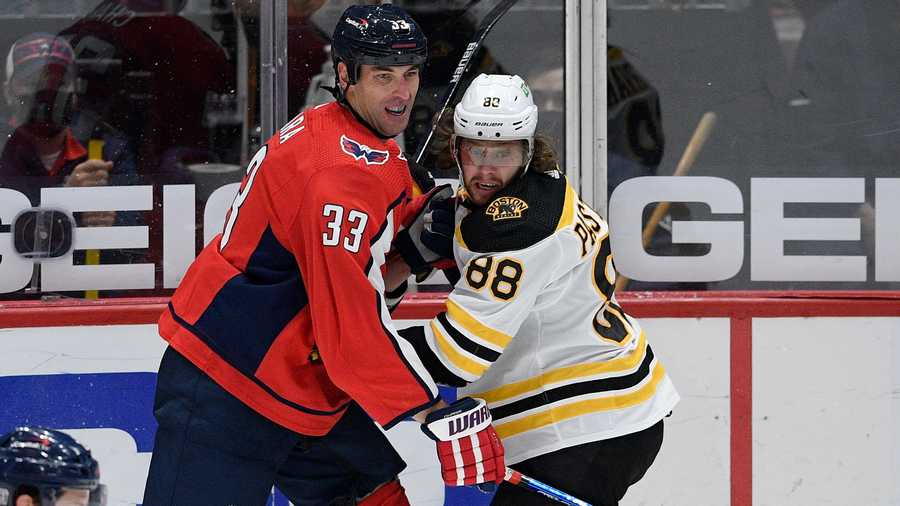 By Mike Cratty | Follow me on Twitter @Mike_Cratty
Boston's Lineup
Forwards
Marchand – Bergeron – Pastrnak
Ritchie – Krejci – Smith
Frederic – Coyle – Wagner
Bjork – Kuraly – Kuhlman
Defense
Zboril – Miller
Lauzon – McAvoy
Clifton – Carlo
Goalies
Halak
Rask
Washington's Lineup
Forwards
Ovechkin – Backstrom – Wilson
Sheary – Oshie – Panik
Hagelin – Dowd – Hathaway
Vrana – Sgarbossa – Sprong
Defense
Chara – Carlson
Dillon – van Riemsdyk
Orlov – Jensen
Goalies
Vanecek
Anderson
First Period
Jaroslav Halak was struck by a puck up high, but stayed in the game. A pretty solid start for the Bruins outside of that was tainted by an injury to Brad Marchand on the forecheck. He lost his edge and flew into the boards hard and was visibly in pain on the bench afterward. Luckily he ended staying in the game.
Kevan Miller went off for interference at the 11:42 mark, and the Bruins killed the penalty pretty swiftly outside of one of Alex Ovechkin's patented power play one-timers.
At the 8:19 mark, John Carlson sent a point hammer on net that was deflected in by Carl Hagelin out front. The Bruins challenged for offsides and won the challenge, therefore nullifying what would have been the first goal of the season for Hagelin.
Old friend Zdeno Chara made it hurt not too long after. As did Daniel Sprong (not an old friend), eleven seconds later. Then Ovechkin almost scored after that. Things were spiraling quickly.
Jakub Zboril made his way to the penalty box for two minutes for interference with 1:37 to go. Things didn't manage to get any worse before intermission on the power play. But, after a decent start, there wasn't much to love about this first period. The shots on goal were 15 to eight in favor of the Capitals.
Score: 2-0 Washington
Second Period
A holding call on TJ Oshie gave the Bruins a glimmer of hope for starting a comeback three minutes and seven seconds into the period. A delay of game penalty against Garnet Hathaway gave the Bruins a 5-on-3 for 58 seconds. All it turned into was a missed opportunity.
Jeremy Lauzon went off for hooking in a battle with Tom Wilson at the 12:41 mark. Carlson got some redemption after a Hagelin goal that he made happen was taken away in the first period. It was 3-0 Capitals with 11:25 to go. David Krejci then took an interference penalty to make matters even worse just 28 seconds later, but Washington couldn't convert.
David Pastrnak gave the Bruins some desperately-needed life on a one-timer from just above the right circle. Brad Marchand (7) and Brandon Carlo (1).
The most important power play of the game came thanks to a tripping penalty on Nic Dowd with 6:09 to go in the period, but the Bruins couldn't convert despite a decent effort to do so. That was pretty much it for the final few minutes. Shots on goal were nine to five in favor of the Bruins, bringing the total to 20 to 17 in favor of Washington.
Score: 3-1 Washington
Third Period
Pastrnak decided to score again to make up for lost time earlier in the season, letting everyone know that he can still do such a thing pretty well. Pastrnak's second of the game and the season was assisted by Jakub Zboril (2) and Charlie McAvoy (7).
Right off the draw, Trent Frederic and Tom Wilson finally squared off after the idea of a fight was seemingly brewing for the past five periods. It was a pretty fiery, short bout and Frederic handled himself well. The two sat for five minutes as a result. Frederic fears no man.
Ovechkin went off for slashing just past the halfway point of the period. Sadly for the Bruins, their power play woes for the night continued, moving to 0/4 on the night.
Jeremy Lauzon hopped into the offensive zone and send a perfect backhand pass through some sticks and skates right to Craig Smith for the tying goal. Nick Ritchie had the secondary assist prior to excellence from Lauzon to make it happen.
Brandon Carlo capitalized on a great effort from Anders Bjork, Chris Wagner, and Sean Kuraly, pinching into the offensive zone and burying the go-ahead goal. Carlo's second of the season was made possible thanks to Kuraly and Wagner's first assists of the year, in that order.
Marchand capped it off with the empty netter off of a great effort from David Krejci to find him and feed him. It was his sixth goal of the season, made possible by Krejci's seventh assist. A three-goal Capitals lead is not safe against the Bruins this season, evidently. Five unanswered goals made a tough game look a lot better. Shots on goal were 16 to six in the final frame, bringing the game total to 33 to 26. Jaroslav Halak made 23 saves. What a game. The Bruins are 6-1-2.
Final Score: 5-3 Boston