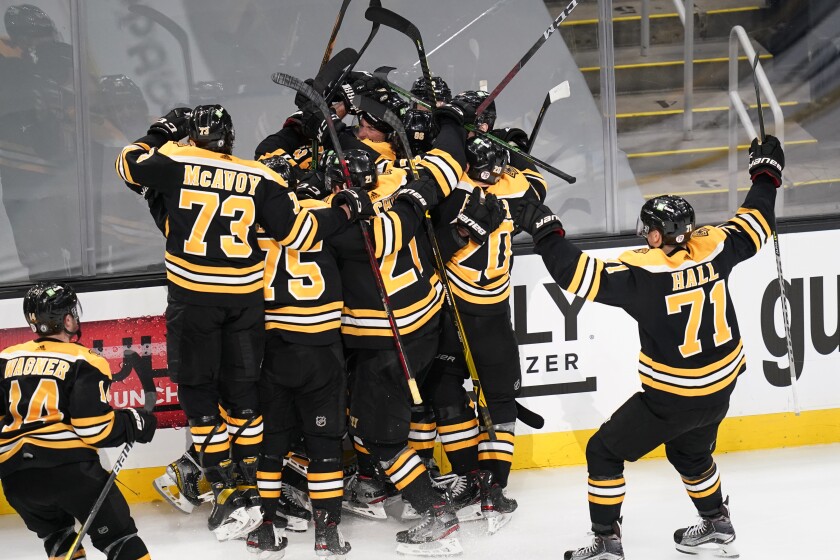 By: Liz Rizzo | Follow me on Twitter @pastagrl88
They never said it was going to be easy and tonight's game saw two teams battle it out in a physical game that saw not one but two overtimes. In what seemed like an evenly played matchup, Boston's Craig Smith would net the game-winning goal that lifted the Bruins ahead in the series.
GAME BREAKDOWN
A steady start to the first as both teams looked to set the pace and control early in the period. An odd-man rush led to a great scoring chance that caused a scuffle near the Capitals net. Boston drew a penalty as Alex Ovechkin was called for interference against Curtis Lazar. Despite the man-advantage, the Bruins were unable to score as Ilya Samsonov was forced to make some timely saves. Boston's Mike Reilly was sent to the penalty box for hi-sticking T.J Oshie. Bruins' defense kept the Washington offense in check as they were unable to score on the powerplay. Moments after the penalty kill, Boston was down a player as they were called for "too many men on the ice" penalty (served by Nick Ritchie).
Former Bruins Captain Zdeno Chara would head to the box as he was nabbed for slashing against Charlie Coyle. With 55 seconds left to the powerplay, Washington's John Carlson would get called for delay-of-game, giving the Bruins a five-on-three man advantage. Samsonov once again was forced to make crucial saves as the B's peppered the net. Washington would be on their third powerplay of the night as Sean Kuraly was called for tripping against Ovechkin. The period ends with no score.
END OF FIRST PERIOD: BOS-0, WSH-0
SHOTS ON GOAL: BOS-10, WSH-4
No rest for the wicked as both teams head into the second period. A loose puck caused a scramble in front of Washington's net as the Bruins attempted to sneak one in past Samsonov. A broken stick got in the way of a possible David Pastrnak slap-shot attempt. Brad Marchand got nabbed for unsportsmanlike conduct giving Washington their fourth powerplay of the night. Unfortunately, the Capitals struck first as Alec Ovechkin scored, making it 1-0. Seconds later Taylor Hall would wrist one in high, tying the game 1-1. Both Craig Smith and Kevan Miller were credited with the assists.
Rask did not take kindly to Washington's Garnet Hathaway as he was knocked into the netminder, causing his helmet to come off his head. Ovechkin drew a penalty as Matt Grzelcyk was called for hi-sticking Ovechkin. Brad Marchand would have a short-handed shot attempt but was unable to score as the puck went up and out of play. A bad Boston turnover led to a Washington goal as Nic Dowd tipped one in the Bruins net. The period ends with the Caps leading 2-1.
END OF SECOND PERIOD: BOS-1, WSH-2
SHOTS ON GOAL: BOS-11, WSH-16
The Bruins continue to dole out bad turnovers in the third period as the Caps looked to extend their lead. For the fourth time this game, Boston would be on the powerplay as Daniel Carr was called for tripping against Charlie Coyle. No score for either team. Washington's Nic Dowd would then be called for hi-sticking against Charlie McAvoy. Moments into the powerplay, Brad Marchand would wrist one in, tying the game 2-2. Both McAvoy and Patrice Bergeron were credited with the assists.
With the period winding down, both teams traded off shots but no score as the game headed into overtime.
END OF REGULATION SCORE: BOS-2, WSH-2
SHOTS ON GOAL: BOS-3, WSH-9
FIRST OVERTIME
Looking to end the game quickly in overtime, there was lots of back and forth action as both teams continued to put pressure on either end of the ice. A near-miss scoring chance from Marchand almost ended the game. A great rush by the Bruins saw multiple attempts towards the net however their offensive line were unable to connect. Boston controlled the gameplay however were unable to capitalize on their scoring chances as the matchup headed into double overtime.
SCORE END OF FIRST OVERTIME: BOS-2, WSH-2
SHOTS ON GOAL: BOS-17, WSH-5
DOUBLE OVERTIME
Despite both teams being tired, the Boston Bruins had some near-great scoring chances. There was a pause in the game ice as a Caps player awkwardly hit a linesman accidentally behind his legs, causing him to fall backwards on the ice. After an anxiety-inducing 85 minutes of gameplay, Craig Smith would score on a wrap-around shot ending the match-up 3-2. Bruins now lead the series 2-1.
END OF GAME: BOS-3, WSH-2
TOTAL SHOTS ON GOAL INCLUDING OVERTIME: BOS-43, WSH-37
NEXT UP FOR THE BRUINS: GAME FOUR, ROUND ONE: Friday, May 21st, puck drop 6:30pm @ TD GARDEN