By: Jake Solomons | Follow Me On Twitter @jake_solomons
The Boston Pride defeated the Harvard Crimson 3-1 on Saturday, October 16, in the second of two exhibition games. The Crimson went home with a 5-4 victory on October 9 after a hard-fought battle from both sides. The exhibition games were, for both teams, nothing more than tune-up games to work out the lines, build team chemistry, and most of all…To see who can put the puck in the net.
In-game one, we saw nine goals, so we know that isn't the issue. Boston Pride forward Christina Putigna made her presence known by netting three goals in two games against the Crimson. However, a more concerning stat which forced the coaching staff to take note of unnecessary penalty minutes. A total of nine penalties (Boston – 5, Harvard – 4) between the two games. Poke checking the puck away is effective, but not when you proceed to trip the player in the process.
Game 1
The first period was a stalemate. Both teams jockeyed for position on offense and took turns in the penalty box. Boston could not find a way to get that puck across the goal line on the powerplay. A few penalties proved to be costly for the Pride, specifically a five-minute major on blueliner Mallory Souliotis for boarding. Souliotis logged a whole zero penalty minutes last season, so it comes as a surprise when she goes to the box for a could-be dangerous play. I get nervous seeing boarding plays in women's hockey; see Denna Laing. Although that five minutes felt like an entire 20-minute period, Harvard couldn't capitalize on the player advantage.
This was the first taste of competition Boston has seen so far this year. However, the players for the Ivy League have seen a few Pride players in years past with their respective NCAA teams: Paige Capistran (Northeastern), Mallory Souliotis (Yale), Lexie Laing, and Jillian Dempsey (Harvard).
Second Period
The second frame came and went very quickly, but not without both squads going back and forth scoring goals. Harvard took the lead at 3:36 on the shorthand following a tripping penalty on #21 Keely Moy. At least someone capitalized on the powerplay. Moy collected a pair of goals and three assists in the 2020 season for the Crimson.
Boston reminded everyone that new players are not to be taken lightly. Forward Kayla Friesen signed with the Boston Pride in the offseason after finishing her rookie year with the Connecticut Whale. Saturday's game proved why she was a good fit for the roster, scoring her first goal with the team tying the game 1-1. Friesen netted one goal and one point in her first season with CT last year. Boston made a habit of doing the thing where most of their goals came from crashing the net, and rightfully so…they had a few successful attempts.
Returning for another dominant season, Christina Putigna put the Crimson roster on notice following an unbelievable 2020 season. A backdoor punch-in goal at 8:18 gave Boston the lead 2-1, finally connecting on a shot that came from the blue line but was deflected right to her stick blade. That goal was the fuel poured onto the fire giving the Pride some much-needed momentum heading into the final period. The small goals go a long way. Listen to your coach; keep crashing the net.
Putigna recorded eight points in the 2020-21 season with two goals and six assists, which established her #2 spot on the league's assist and points leaders last season.
After two, Harvard caught up on their missed powerplay opportunities from earlier as they headed to the locker room up 4-2 on Boston. The game plan for the Pride moved from strategic to slightly more physical as sticks flew, gloves dropped (accidentally), and shoulder pads were put to good use.
Third Period
A minor collision opened the third period where Pride forward Meghara McManus tumbled to the ice. Clutching her shoulder, she headed off to the locker room to get evaluated by team trainer Jerry Foster. A few minutes later, McManus returned, still shaken up but re-joined her team to try and make a comeback.
Midway through the third, one particular play in the Pride attacking zone created some confusion. Commotion in the crease after fighting for a loose puck that was nowhere to be found was swiped away and pushed aside. Harvard was discombobulated, and a false celebration by Taylor Wenczkowski before realizing where the puck actually was, earned her a very stiff crosscheck – falling to the ice. Matching minor penalties for the crosscheck and a roughing call for Wenczkowski after an understandable retaliation shove.
After a bit of rest in the sin bin, Wenczkowski wasted no time helping her team get back on the board. She created a chance with an assist on a 2-on-1 breakaway, passing to Christina Putigna and flipping it past netminder Becky Dutton for her second goal of the game, tying it 4-4. I'm agitated that these games don't count toward regular season stats with how well the Boston Pride played. But I guess it's all just positive foreshadowing to the regular season and how offensively sound this team will become on November 6th, 2021, vs. Minnesota.
The Crimson made a final rush in the last few minutes to put the fifth goal past newly-signed goalie Katie Burt. Burt replaced Lovisa Selander in the third period. An intelligent decision by Head Coach Paul Mara, giving the new netminder a look. Although she gave up a game-winning goal, Burt knows what to improve on, and by November, who's to say she can't be the starting goalie for Boston? Only time will tell…
Game 2
Boston finished up their two-game series with Harvard on Saturday, October 16, where they defeated the Crimson 3-1. The first meeting was a little rusty defensively, with nine goals crossing the line. But on the other hand, offensively, nine goals crossed the line…So it's a catch-22. I'll admit it, I did show up late on account of Storrow drive traffic, but Boston was up 1-0 when I arrived, so don't hold it against me that I have few first-period highlights.
However, it was clear that Boston picked up the physicality where Game one left off, finishing off the first period with a penalty. The Crimson stuck with the Pride with a strong forecheck, but the speed of Boston was far greater than it was last week. I don't know how much conditioning Coach Mara made his team do at practice this week, but it sure paid off.
Period 2
Boston's penalty carried over from the first was killed off with ease. Coach Paul Mara must be in the stonemason union or something because putting a brick wall in the net named Katie Burt was the smartest decision he made. Mara wanted Burt to redeem herself, and by coming out of the game holding Harvard to one goal all game, she certainly established herself as a threat. Having grown up a few miles away in Lynn, MA, Burt is more than comfortable with her "new" club. Drafted by Boston in 2018, Burt returned to the Pride after taking her talents to another hockey association in 2019.
A team wins games, but sometimes certain players step up and create opportunities to give their team the lead. Taylor Wenczkowski stayed hot with a cross-ice goal assisted by Christina Putigna. I can't really describe how perfect the setup was; not even a clothing designer could thread a needle more perfect than Putigna's pass. Putigna skating down the board, cut in just a bit, feed to Wenczkowksi glove side, flipped up to the top shelf. Pride takes the lead 2-0 at 11:19.
Like clockwork, as if there was some internal competition, Christina Putigna sees Wenczkowski's goal and raises her one of her own. Assisted by Wenczkowski and Kayla Friesen, Putigna's goal came as a lucky bounce that trickled past the goalie for a 3-0. Down the other end, only about 20 seconds later, forward Anne Bloomer joined the fun from the Crimson side, denting the twine to get Harvard on the board 3-1 at 19:40.
3rd Period
Jillian Dempsey established herself, not in the best way possible, recording two tripping penalties in the first few minutes of the period. Luckily, Boston's penalty kill was unstoppable in Game 2, killing off all four-player advantages for Harvard. Shortly after, Mallory Souliotis wanted to share the "wealth" and take a couple of minutes in the box for hooking. Making Dempsey feel less bad about two consecutive calls.
Meghara McManus. That's it. She is the subject and predicate of that sentence. Why? Her performance on the penalty kill unit provides a lot of hope for Boston being a two-way player both offensively and defensively. Her ability to take the body in the corner puck battles and laying out to block shots to preserve the lead is paramount to the Pride's success this season. McManus's first year with Boston was impactful, with two blocks and four takeaways – as well as two goals and three assists.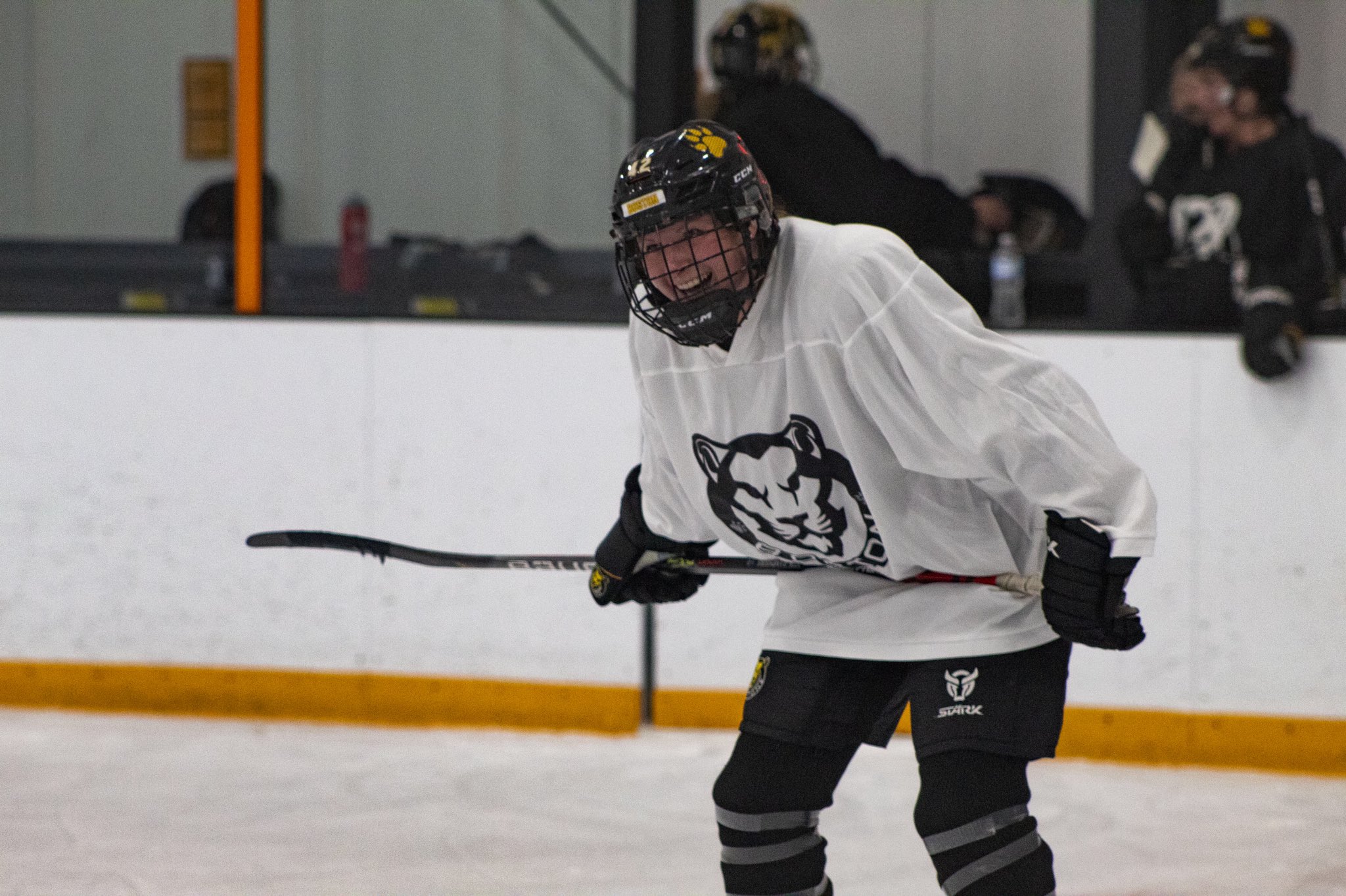 The offensive lines for the Pride were getting their reps in by taking a fair amount of shots on Harvard's backup netminders. Both teams had a few rushes in the attacking zone, but nothing connected for either side. As time in the third period came to a close, Boston skated away with a victory of 3-1 in regulation. Over the course of these two exhibition games, two points were made very clear. One thing is certain: the Boston penalty kill unit is dangerous. I wouldn't expect too many goals to be let up on the shorthand. That's not a prediction; that's a spoiler.
The second point: Christina Putigna and Taylor Wenczkowski are two players that will establish themselves early and score often in this upcoming season. The PHF leaderboard should make room for them now. Looking forward, there's more to improve on defensively. Penalties, staying onside, and giving up early goals. The season begins in 20 days. There's still time to get better, but the clock is ticking. Stay tuned as we move closer to opening weekend vs. the Minnesota Whitecaps on November 6 and 7.
Three Stars of the Series
Christina Putigna (3 goals, 2 assists)
Taylor Wenczkowski (2 goals, 2 assists)
Kayla Friesen (1 goal, 1 assist)
Please subscribe to our new Puck Lines Podcast YouTube channel for Bruins recap videos brought to you in partnership with Black N' Gold Hockey!!