( Photo Credits: Frank Lennon / Toronto Star / Getty Images )
By Liz Rizzo | Follow me on Twitter: @pastagrl88
There's a passion for hockey in Boston and there is an undying loyalty among fans. A loyalty that has more than once been tested when its GM would make some questionable moves. As discussed in last weeks article, we took a look at some of the worst trades made by Bruin's brass. And with bad trades comes along the great ones that have led to the greatest moments in Boston sports.
In no particular order, here are the top five trades in Bruins history.
1. Grand Theft Chicago
PHOTO CREDITS: (WBUR-BOSTON)
Boston Acquires: Phil Esposito, Fred Stanfield, and Ken Hodge
Chicago Acquires: Jack Norris, Gilles Marotte, and Pit Martin
If there was ever a deal that would start the golden era of ANY sport, this trade would top the list. On May 15th, 1967, "Mr. Bruin" GM Milt Schmidt would strike a deal with the Chicago Blackhawks that ushered in the era of "The Big, Bad Bruins." A phone call from Chicago GM Tommy Ivan would forever change the course of the Bruins franchise.
Schmidt called former GM Hap Emms; he advised against the deal. Emms was responsible for bringing such players Gilles Marotte, Pit Martin, John "Pie" McKenzie, Gerry Cheevers, and Gary Doak to Boston. Next stop, calling Bruins President Weston Adams, Jr who gave the ok to go through the deal.
Esposito had been centering with the Bobby Hull line, averaging 23 goals per season. However "Espo" didn't quite get along with coach Billy Reay, causing some problems in Chicago. No longer under Hull's shadow, Esposito flourished in Boston. Most importantly, both himself and Orr complemented each other. Coach Harry Sinden played Espo, Hodge and Ron Murphy on the same line. They steamrolled over opponents and produced a line-scoring record of 263 points. From 1969-1975, Esposito was a First Team All-Star; voted in 1969 and 1974 for the Hart Trophy. He also led the league in scoring in 1969, 1972-1974. And not to mention the two Stanley Cups rings he wears from 1970 and 1972 with Boston.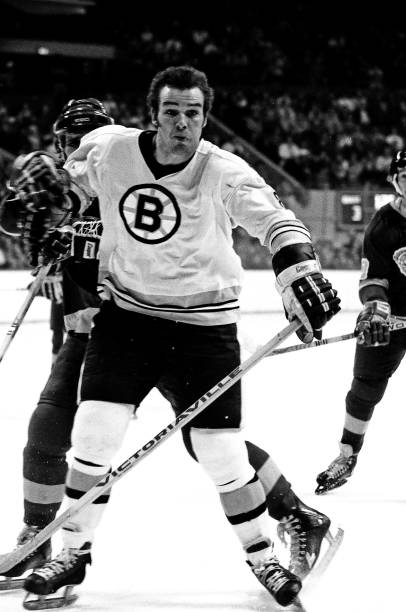 ( Photo Credits: Getty Images )
Ken Hodge would become the all-time leading scorer in Bruins history for a non-American. The English-born right-winger would post over 40 goals three-time for the Bruins. His totals after playing nine years for Boston: 289 goals, 385 assists with 674 points. Stanfield would play on the second line with John Bucyk and Johnny McKenzie. He was instrumental in helping the Bruins lead in power-play goals from 1969-1972. During the 1970 Stanley Cup finals against the St. Louis Blues, a slap shot from Stanfield would split Jacques Plantes mask in half. In six years, Stanfield would post 135 goals, 274 assists with 409 points.
And yes, Martin did well for Chicago scoring 30 goals three times and had 90 points in the 1973 season. He made the All-Star team four times and was supposed to replace Esposito. He never did reach "Espo" heights.
2. A Nifty Deal For Boston
( Photo Credits: BOSTON BRUINS ALUMNI )
Boston Acquires: Rick Middleton
New York Acquires: Ken Hodge
The then 32-year-old Hodge put a stamp in Bruins lore. The 23-year-old Middleton was a fast, young exciting player. And for Hodge, he missed Esposito (more on that later on the list). For as many goals Hodge would score with the Bruins, his gameplay would also become unpredictable. His off-ice antics were also a bit legendary. During the 1973 playoffs against the Rangers, Esposito got hurt. Hodge and fellow teammates visited their injured teammate, wheeled him out of his room, broke some swinging doors and ventured out to a nearby pizza parlor. The hospital would bill the team for the damages.
Hodge would anger his coaches and his close relationship with the owner wouldn't sit too well Coach Harry Sinden (who clashed with the owner). When Sinden left, Hodge would have a huge fallout with new coach Don Cherry. With Esposito in New York, the Rangers knew they would need another big body next to Esposito. Ranger GM John Ferguson felt the Rangers had enough young players, thus sending Middleton to the Bruins. For the young 23-year-old, in Boston, he would join former teammates, Brad Park and Jean Ratelle.
"Nifty" Middleton was put everywhere on the ice by coach Don Cherry. In 1979-1980, Middleton had 92 points, 40 goals, and 52 assists. His best season came in 1983 when he posted 105 points. That season he was ranked as the NHL's top forwards.
"He was the most exciting one-on-one player in hockey when he was in his prime"- former teammate Wayne Cashman
For coach Don Cherry, he had become a mentor to Middleton.
( Photo Credits: Frank O'Brien / Boston Globe Staff )
"Don changed my whole philosophy about hockey. I became a complete player because of Don…Grapes (Cherry) taught me how to be in the right position so I wouldn't waste any steps."
His accuracy with the puck became fodder amongst those that played against him, particularly goaltenders. For some like Rogie Vachon, (former Bruins goaltender) it was hard to read a player like Middleton.
"When I faced him, I knew that I couldn't stay in the crease. He was so quick and never panicked. It was very tough for a goaltender to outguess him."
3. New York Minute Steal

( Photo Credits: The Hockey Fanatic )
Boston Acquires: Brad Park, Jean Ratelle and Joe Zanussi
New York Acquires: Phil Esposito and Carol Vadnais
So before the die-hards come out to dispel this as a great trade, yes Ratelle did play more hockey for the Rangers than he did for the Bruins. But for a player to skate in the footsteps of someone like Phil Esposito, he got the job done. And he did it without any drama or fuss. Ratelle quickly won the hearts of Bostonians. Coach Don Cherry would say Ratelle would be "the most perfect man to play my system."
He would become the quintessential player and a man who everyone wanted to be. According to team-mate Wayne Cashman, Ratelle was "able to maintain such peace in his life. He wasted no time being a jerk…He was totally devoted to his family and that's all he needed to be happy."
What makes this trade even sweeter is the fact Ratelle out-pointed Esposito. In the 1975-1967 season, Ratelle outscored Espo by 23 points. In the following season, again he outpointed Espo by 14 points. Over six seasons in the NHL, he was 46 points ahead of Esposito. Even as he reached the ripe old age of 39, he would continue to play like a 25-year-old. New York had lost out in exploiting Ratelle's talent and the Bruins reaped the benefits.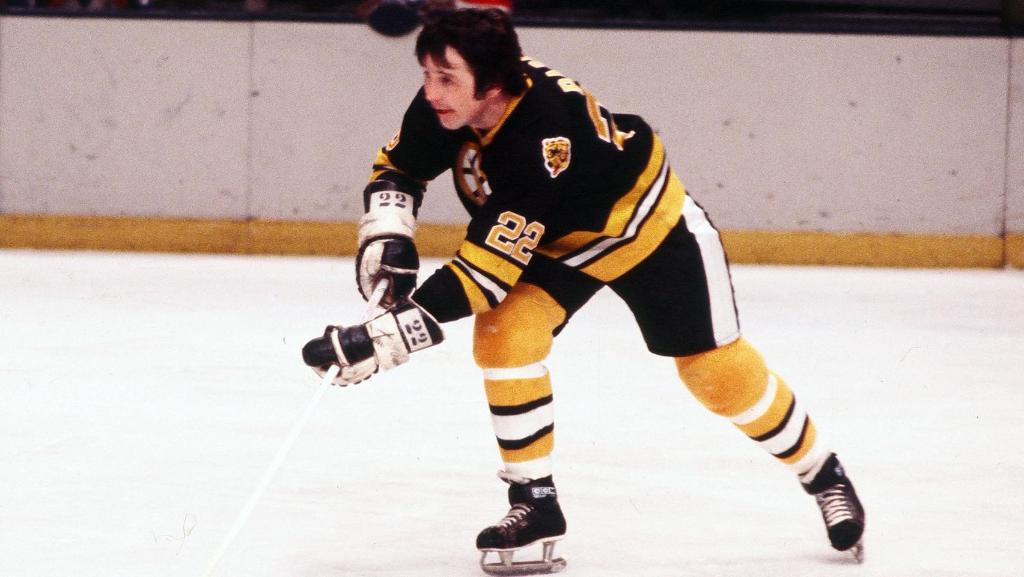 ( Photo Credit: NHL.com )Brad Park would go on to become one the league's premier defenseman. Prior to being shipped to Boston, the New York press didn't exactly have the kindest words for Park, suggesting that at 27-years-old, he was over the hill and overweight. Boston quickly embraced "Parko" and he put up some impressive numbers. In the 1975-1976 season, Park played 43 games with 53 points. For a moment, Park would play alongside Orr, however, a knee injury would force him (Orr) off the ice. There was also the trauma of Orr leaving for Chicago the following season. Luckily it was somewhat eased with Park's return (he had also battled a knee injury). Throughout the seventies, Park was voted to the First All-Star Team; he made the Second Team in 1971 and 1973.
4. In Ray We Trust
( Photo Credits: STEVE BABINEAU/GETTY IMAGES )
Boston Acquires: 1979 First-Round Draft Pick (Raymond Bourque)
Los Angeles Acquires: Ron Grahame
For the LA Kings, Goaltender Ron Grahame didn't exactly wow his new team. In just 66 games played for Los Angeles, he had a losing record. He never finished a season with a GAA under 4.19. For Boston, Bourque would become the ultimate Bruin. With speed and agility, Bourque would often be compared to another great defenseman: Bobby Orr. He would don the spoke B jersey for 20 years.
Bourque played a total of 1,518 games, with 395 goals, 1111 assists with 1506 points. He has won the Calder Trophy (1980), King Clancy Trophy (1992), Norris Trophy (1987, 1988, 1990, 1991, 1994), Lester Patrick Trophy (2003) and be inducted to the Hall of Fame in 2004.
Even though Bourque didn't win the Stanley Cup in Boston, he remains a fixture for the Black and Gold.
5. The Syrup Runs Thin
( Photo Credits: SERGEI BELSKI-USA TODAY SPORT )
Boston Acquires: Tuukka Rask
Toronto Acquires: Andrew Raycroft
In what is dubbed one of the "Worst Trades in Maple Leaf History", Toronto traded the rights to an 18-year-old Finnish player by the name of Tuukka Rask for a goalie that had struggled in his second campaign with Boston. Prior to the NHL lockout in the 2004-2005 season, Raycroft would post a 29-18-9 record, a 2.05 GAA, and .926 save percentage with three shutouts. He struggled in Boston during the 2005-2006 season. He had only eight wins and was demoted to a third-string position. For Toronto, he finished 49th in GAA and 56th in save percentage. The Leafs would place him on waivers in 2008.
18-year-old Rask had to finish goaltending school in Finland. He would watch and learn from veteran goalie Tim Thomas. Rask would continue to grow and when Thomas left Boston, he went from backup to starter. In 2014, Rask won the Vezina Trophy.
And while there is no shortage of "Rask" haters in Boston, goalies take time to develop and will undoubtedly have off days. Rask, for his part, has more than once kept the Bruins in the game, as evident in this past Stanley Cup run. After a rough start and getting a bolster from former teammate Anton Khudobin, Rask had an impressive 2017-2018 season. He would have a 21-game point streak, ending the season with a 34-14-5 record with a 2.36 GAA and .917 save percentage.
A Little Side Note of Mention
In my last article, the Joe Thornton Deal (which is still a pretty crappy trade) is worth mentioning again. I debated on whether or not to list this as a "the dominoes fell in the right place so this terrible trade actually helped the Bruins in the end" best trade in history. In a twisted way, the Thornton deal was actually a good one. Before the hockey gods strike me down, let me tell you why this was a blessing in disguise: Patrice Bergeron. Zdeno Chara. Marc Savard.
When GM Mike O'Connell traded away Thornton in an effort to rebuild, it left enough salary-cap flexibility that was later used in signing free agent Zdeno Chara (probably one of the best free agent signings ever) and Marc Savard. O'Connell felt Thornton was the not the player to build the team around and more of a "post-season under-achiever." Whether that's a fair analysis will be up for debate by hockey enthusiasts.
Enter Patrice Bergeron, one of the most well-respected players in the NHL. At 20-years-old, the Bruins saw him as a potential leader both on and off the ice. If Thornton hadn't been sent packing to San Jose, we may not have seen the potential of Bergeron. And don't forget, the Bruins won the Stanley Cup in 2011 without Thornton. As for Chara and Savard, there's no argument the impact they have made in Boston. unfortunately, Savard's career was cut short due to injury and at 41-years-old, Chara still defies mother nature and continues to put up monster time on ice.
In a list that will be up for debate, Bruins fans, who would be in your Top 5?